Infosys has announced the acquisition of the UK-based design-thinking firm, Brilliant Basics, and if it plays out according to the name, it is exactly what Infosys needs to bridge design to execution and impact.  The acquisition brings in a digital, strategy, and customer experience design capability, a global studio network, and brand name credentials including HSBC and INSEAD (online education experience) as well as new startups like CBI bank (business strategy and omnichannel touchpoints).  These are all valuable resources to Infosys and its clients, but what the service provider has had real challenges with is addressed in this quote from the Brilliant Basics web site – a framework and resources for scale:
"Our deep experience in working with talented people in the areas of service design, user experience and technology has allowed us to create repeatable processes for building digital products and services." – Brilliant Basics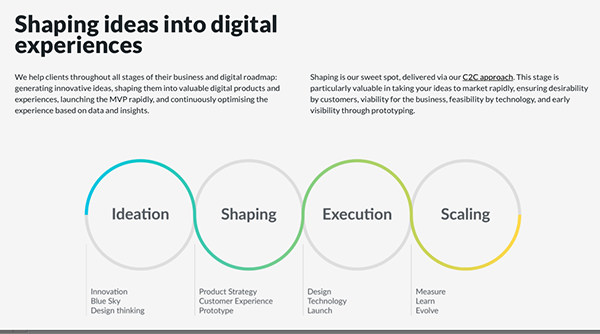 Source: Brilliant Basics web site
Infosys committed to training internal resources and using design thinking but faltered in scale and consistency
Influenced by CEO Vishal Sikka's interest in design thinking, Infosys introduced human-centered design into its digital transformation methodology called AI KI DO, which receives positive feedback from clients. And, through Zero Distance, Infosys provides a framework for account and service delivery teams to work on getting to know their customers, ask questions, and make suggestions for change. Infosys is also using design thinking to help companies identify new growth opportunities and to change its own operations as the company grew fast and got a bit stuck in the "old ways" of hierarchical, process-centric decision making. (Read further: Is Infosys Stretching Past the Growing Pains?)
However, while Infosys partnered with Stanford d.school, brought in leaders with deep design expertise, and aggressively trained its leadership team and workforce on the concepts of design, it has not been able to address three challenges that stood out in the evaluation we did earlier this year on the use of design thinking to help reorient and/or transform business operations for impact on business outcomes:
(1) project management;
(2) moving from design to execution, identifying opportunities for reusable assets to scale; and
(3) unifying into single Infosys versus a technology/digital/product-focused Infosys and Infosys BPO. (HfS Blueprint: Design Thinking in the As-a-Service Economy)
It looks like the design approach of Brilliant Basics and the influx of design and customer experience experts could help address the gaps.
This type of acquisition is overdue by Infosys but it is not too late and shows its commitment to integrating human-centered design
Even though Infosys was one of the first to appreciate the value of design thinking for human-centered service design, other service providers moved faster to acquire and integrate design firms into their companies to bring in skilled resources and re-orient their methods and cultures (see: How design thinking plays an integral role in outsourcing, service design, and delivery). This work is still underway, though, with only early results and impact. It's still not "par for the course" with any service provider yet. Infosys needs to focus on integrating Brilliant Basics into the organization, the culture, and the sales and delivery, quickly. This will be a challenge as Infosys has not done many acquisitions, and this one is very different from the traditional Infosys.
Bottom line: Brilliant Basics could be exactly what Infosys needs – the ability to manage and scale innovation. It appears to bring the kind of project management capability and design-to-action methodology that has been a missing link between the design expertise Infosys has hired and the solid engineering and service delivery capability it's developed over the years. Infosys needs to put a strategic focus on bringing this one into the fold in a way that builds on and out these capabilities that can help realize its vision to partner with its clients in a more consistent innovative and meaningful way.
Posted in : Design Thinking