Ever since IBM sold off its Daksh business to Concentrix in 2013, "call center" has been something of a dirty word to traditional service providers and software aficionados alike.
Since then, traditional IT services have flatlined as the focus has shifted to digital solutions, where the customer is front and center to emerging interactive ("digital") technologies. Having that ability to lead the customer front line and support those customer needs with real-time speed and intelligence is core to business operations.... and service partners which can deliver this has never been so crucial. So are call center providers back in vogue, or is this merely a blip as we transition to a world where we don't need many human beings anymore?
The contact center operations (BPO) services industry is growing at 4% globally, despite razor-thin margins and intense competition. So, why do pundits declare the call center on the brink of implosion into a piece of software, while the stagnant IT services market escapes criticism for perpetuating a "people-centric" model? While contact center BPO growth is hardly setting the world on fire, it's been steady over the last several years, even though the majority of contact centers worldwide are still in-house. The fact that there's still a $65 billion market for outsourcing this work begs the question why these investments are simply going away. Contact center leaders like Teleperformance and Concentrix have recently made sizeable investments in bolstering service delivery (acquiring Intelenet and Convergys, respectively), reflecting the relative importance of this market segment. The recent development in which SYKES acquired Symphony demonstrates the optimism that automation can grow, not cannibalize, the contact center business. The latter, in particular, signals a promise that contact centers can use RPA expertise to scale and complement traditional contact center services business as they pivot to become more strategic providers.
Other large business services firms are gravitating into the customer engagement market, sensing an opportunity to disrupt deals with a hybrid intelligent automation/global talent approach. Most of the Indian-heritage IT services firms with strong BPO delivery arms are gravitating back to contact centers, as they see the potential for aligning intelligent automation and cognitive assistant solutions with their global base of talent for supporting their enterprise customers. Some examples of this are with the likes of Tech Mahindra in telecoms and Infosys with order management. Cognizant, Wipro, and HCL - for example - are also competing for call center work. BPO firms that have been more focused on non-customer centric areas are gravitating aggressively back into the market, such as WNS, EXL, Hexaware, and Genpact. Even IBM has recently flirted with a few opportunities, despite selling its call center business, and we even cam close to featuring Accenture in our new Top Ten, but the firm was very adamant that is did everything but the contact center piece.
Contact centers are ripe for a renaissance, and automation is a big piece of this transformation. The common retort that a contact center with automation is an oxymoron is false. Perhaps it's our legacy view of contact centers and automation that is oxymoronic—and it's time to let go of that legacy. When "digital" is ultimately about new ways of doing things, the contact center is in a more precarious and important position than ever. The contact center for companies that want to stay competitive in a hyper-connected economy must learn how to embrace intelligent engagement, using the key change agent of automation to become a strategic hub that empowers both customer service professionals and the customers they support.
Enterprises must navigate the changing of the guard for intelligent customer experience services
There is a changing of the guard happening, as HFS analyst Melissa O'Brien analyzes in her new report Top 10 Front Office Customer Engagement Services, 2019.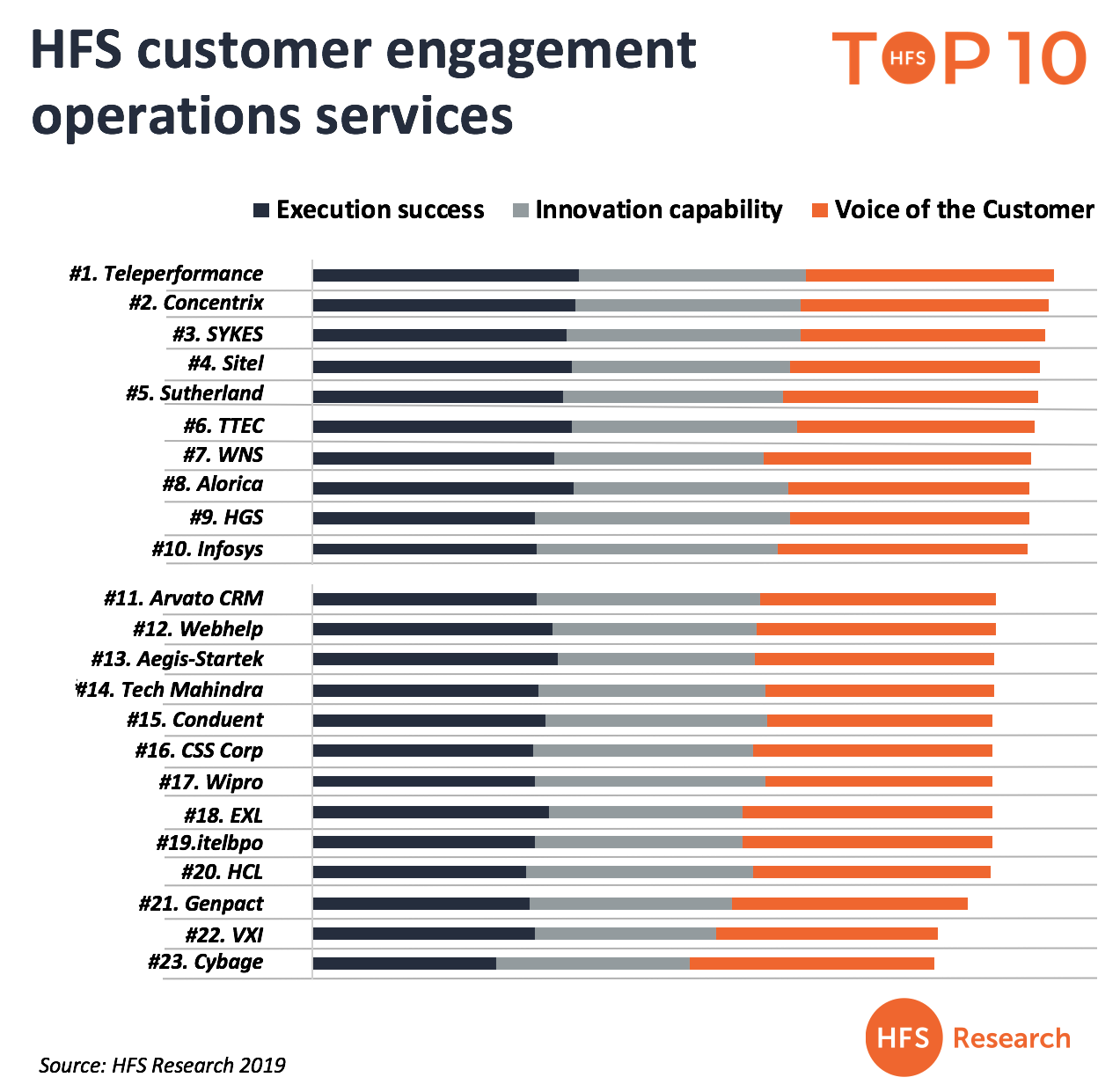 As the dust settles on our latest Top Ten, an assessment of the Customer Engagement Operations market, we've been fielding lots of questions about what this ranking means from a competitive standpoint. Our final top ten chart was chock full of what you might consider to be the usual contact center suspects, but also sprinkled with some interesting up-and-comers, as well as familiar names that aren't necessarily known for competing in this space -- the intelligent customer engagement services that are evolving out of the contact center. The
Posted in: Contact Center and Omni-Channel, Digital OneOffice, Customer Experience Management