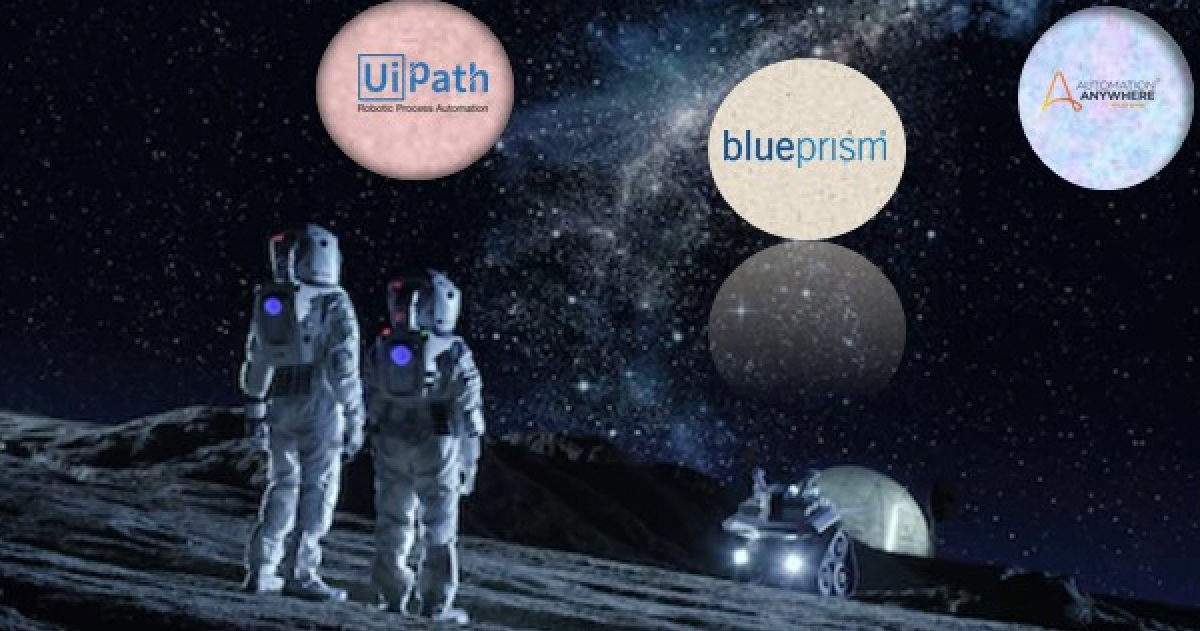 It's not been possible to escape the wild world of RPA valuations these past few months, culminating in the recent claim from UiPath and its investors that the firm is worth $3 billion, despite the reality that AA's annual revenues this past year are ~$100m, Blue Prism's ~$55m and UiPath's ~$65m (HFS estimates).
As much as I would love to celebrate my friends Daniel Dines', Mihir Shukla's and Alastair Bathgate's untold wealth, I have done my homework with my analyst colleague Elena Christopher and, while these three gentlemen and their teams will undoubtedly become exceedingly wealthy from locking up the RPA market, valuations as high as $3 billion are, sadly, pure science fiction. I welcome any of these three dudes to save a copy of this post and proclaim to me "I told you so" in a couple of years - and I will gladly accept a glass of their champagne - but we hate to burst this bubble with seven misnomers why RPA is not your typical Silicon Valley software fantasy:
1. RPA directly replaces people. This is incorrect, its all about augmenting processes and the improving the quality of the workforce, not eliminating actual employees with bots. As our recent State of Operations Study with KPMG, across 381 Global 2000 operations leaders, illustrates, only 7% go into automation expecting direct FTE reduction. Consequently, the C-Suites from 70% of these organizations are happy with the ability of RPA to reduce reliance on labor. Hence RPA augments labor, it doesn't replace it.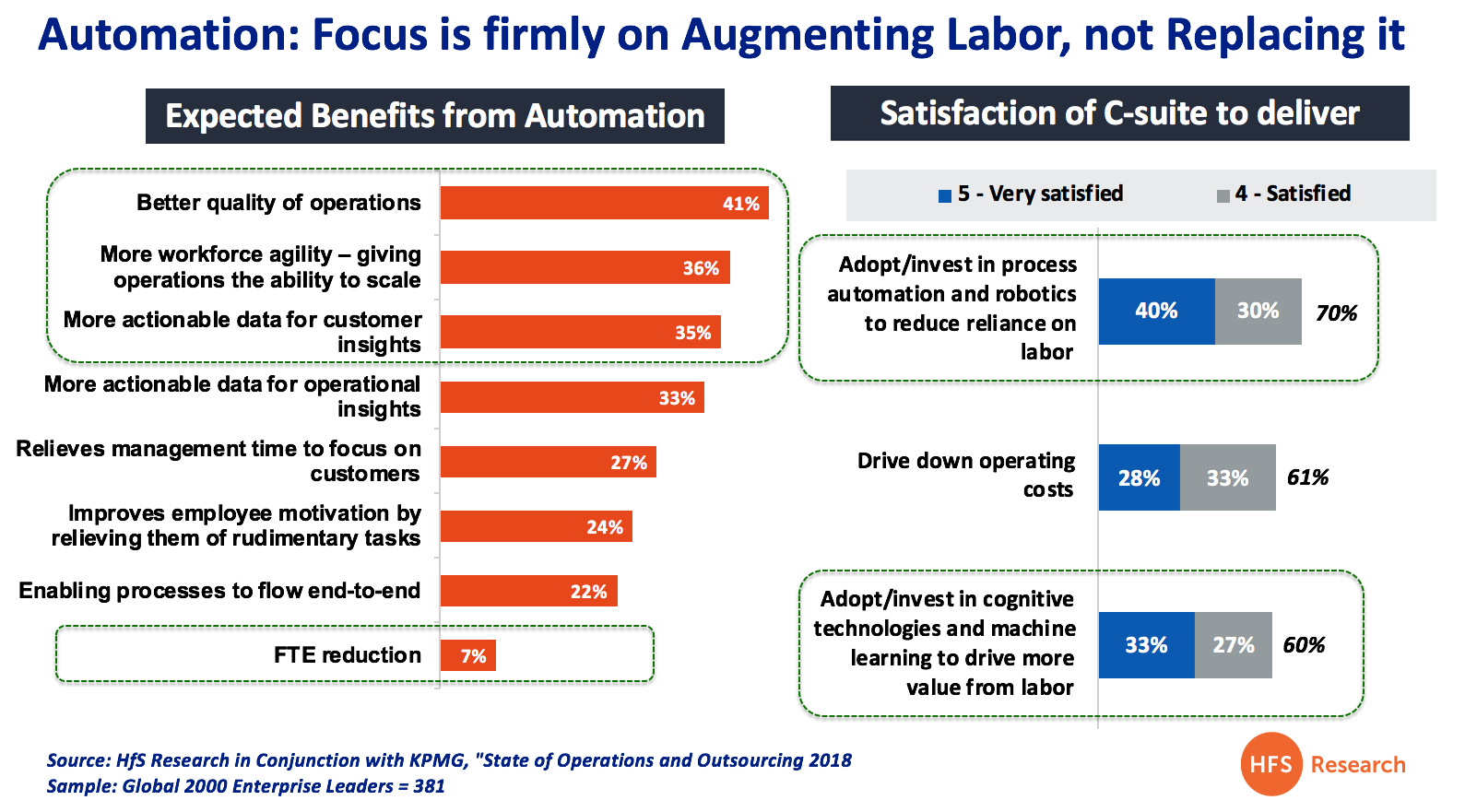 2. RPA can scale rapidly to have a dramatic impact on enterprises in months. Incorrect. The vast majority of these initiatives are project-based, not scaled - only 13% of RPA adopters are currently scaled up and industrialized, according to new data from 590 enterprises worldwide. Most RPA adopters are still tinkering with projects and not rushing towards enterprise scale adoption.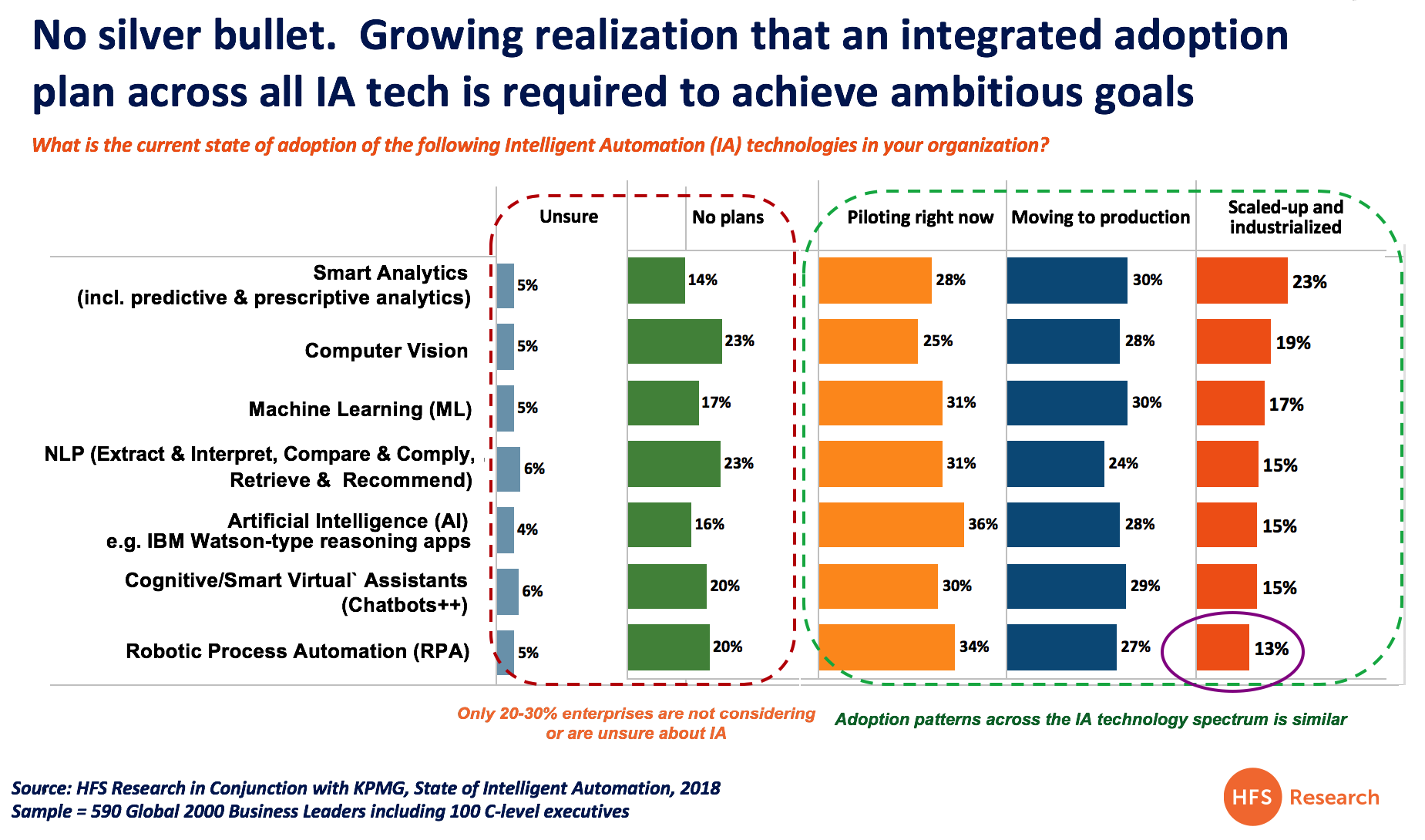 3. RPA tools can achieve amazing benefits all by their lonesome. Incorrect. RPA has to be driven by a motivated business line, and supported by capable IT. This isn't the typical software sales model where licenses are sold en masse and distributed willy-nilly across the business. Without a genuine buy-in and partnership between business units and IT, RPA fails. There has to be a balance.
4. RPA delivers intelligence. Incorrect. RPA is a gateway drug to digitize low-value processes and free up human-time to focus on higher value activities. RPA is a catalyst to drive a more intelligent enterprise operations but is not intelligent itself.
5. RPA will be a unique game-changing product in the market for years to come. Incorrect. Most organizations take a couple of years to learn and understand how to incorporate the benefits of RPA, but after that it's merely a tool in the enterprise toolbox.
6. We will still be talking about "Robotic Process Automation" in two years time. Very unlikely. The narrative is already shifting to a broader intelligent automation roadmap. RPA is very good at breathing new life into legacy processes and technologies but isn't driving genuine digital business model transformation. RPA helps digitize the underbelly that supports the ultimate digital business outcomes.
7. Valuations of $2/3 billion per firm are realistic. Incorrect. While software vendors such as Mulesoft and Marketo have recently fetched insane multiples of $5bn-$6bn, these are very established IT applications that augment multi-billion dollar industries. RPA tools are supporting backend automations that require a very unique combination of business/IT aligned delivery, as opposed to being front-end apps that can be sold to IT budgets en masse. RPA is a BandAid, not your new enterprise platform. These are not the typical products an SAP or Oracle can easy ingest into their apps portfolios - the needs are too process heavy, too consultant dependent to fit their sales models.
The Bottom-Line: Let's love RPA for what is it, not what some people, who do not understand it, pretend it to be
RPA has dramatically altered the narrative among middle/back office process owners. We predict a market approaching $2 billion this year alone and growing fast as traditional process outsourcing models are hugely impacted. We've even gone as far as declaring RPA the "new outsourcing". RPA has been a major game changer in the world of operations and outsourcing.... but $3 billion valuations of software firms barely hitting $50m in revenues? We don't think so... let's learn to keep nurturing this great business and not squeeze it until it breaks.
Posted in: Robotic Process Automation, Intelligent Automation