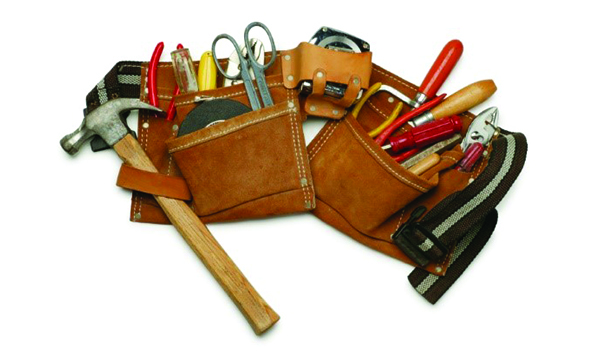 Now available in select "HR supply stores": IoT (Internet of Things), one of the five tools discussed in my latest POV – "The HR Power Tools 6-Pack for High-Impact Service Delivery." Much like the double-edged sword nature of its companion power tools, IoT in workforce management can usher in unprecedented and significant business benefits, but only when the right capabilities are selected and potential risks and adverse outcomes are accounted for. 
IoT is a process in which people, machines, and devices are connected to one another via a single network in order to automatically exchange data without any manual involvement. IoT can, for example:
track the productivity of workers in the field
confirm overall fitness or fatigue when relevant
assign tasks based on the nearest worker
tie scheduling real-time to customer flow
offer real-time training based on an employee's time on job, credentials or performance
All of this sounds pretty compelling, but a couple words of caution. The first word: Volkswagen, whose engineers illegally programmed IoT-like software to sense when the car was being tested during an emissions inspection, which then activated more costly equipment that reduced emissions. This resulted in a roughly $3B fine this year. Additionally, IoT solutions will generate lots of new, often very valuable data related to people and how they perform their jobs, and not every HR Department is adequately staffed to handle the current explosion of people data or supported by data scientists.
Cause for Optimism with Early Adopters of IoT in HR
While not many HR Technology solution providers are occupying the IoT market category just yet, one company caught our attention: Triax Technologies, and specifically with their "spot- r" solution for companies with workers in the field, particularly on constructions sites. Certainly, accidents are more common there. My briefing from Triax' COO Peter Schermerhorn enlightened me that U.S. construction companies pay out $1 billion annually for claims related to slips, trips or falls; that the construction industry pays more than twice the national average for workers' compensation insurance; and that an estimated $7.2 billion in fraudulent workers' compensation claims are filed annually in the U.S.
spot-r by Triax provides data-driven, real-time visibility into construction operations and safety incidents, leading to an improved safety culture on site and can result in reduced insurance costs. Automatic, geo-tagged "slip, trip, fall" alerts improve response time to accidents and record surrounding conditions (temperature, height, location of witnesses in the area, etc.), self-alert buttons empower construction workers to stop working due to unsafe conditions and alert supervisors to hazardous conditions, and high-decibel evacuation alerts are included in the mandatory wearable devices used on many of the company's pilot projects with customers. Peter also offered a glimpse into the near future when the company's sensors will be used in new ways to promote safety and visibility on the job site. Imagine knowing in real-time where your workers, equipment, machinery, and tools are onsite and how they're interacting with each other.
Who said technology innovations related to HR and workforce management usually lag other business areas?
Bottom Line:  As with all the other power tools (i.e., sophisticated capabilities) recently added to the HR practitioner tool belt, IoT's potential to be a game-changer cannot be overstated, but neither can the surrounding considerations for avoiding possible misuse or sub-optimal deployment.
Posted in : HR Strategy, The Internet of Things