The latest Sourcing and Procurement Horizons report is a snapshot of leading procurement service providers' sourcing and procurement services capabilities. The aim of ambitious CPOs is to realize the value of procurement beyond costs and savings if they want to avoid back-office irrelevance in today's unforgiving era. And partnering with deep procurement experts to create and manage their critical sourcing data, develop their sourcing ecosystems, and constantly fuel them with new ideas and methods can really drive impact for them.
Disruptors, Enterprise Innovators, and Market Leaders
We assessed 10 service providers on their capabilities across a defined series of value propositions, execution and innovation, go-to-market strategy, the voice of the customer, and alignment with the HFS OneOffice criteria. The new Horizon landscape (below) demonstrates the providers' positions within the three horizons. Horizon 1 ("Disruptors") refers to those providers who have been able to drive functional procurement transformation, Horizon 2 ("Enterprise Innovators") includes those who have reached the level of business transformation, and Horizon 3 ("Market Leaders") includes all those providers who have closed the gap and moved towards ecosystem transformation.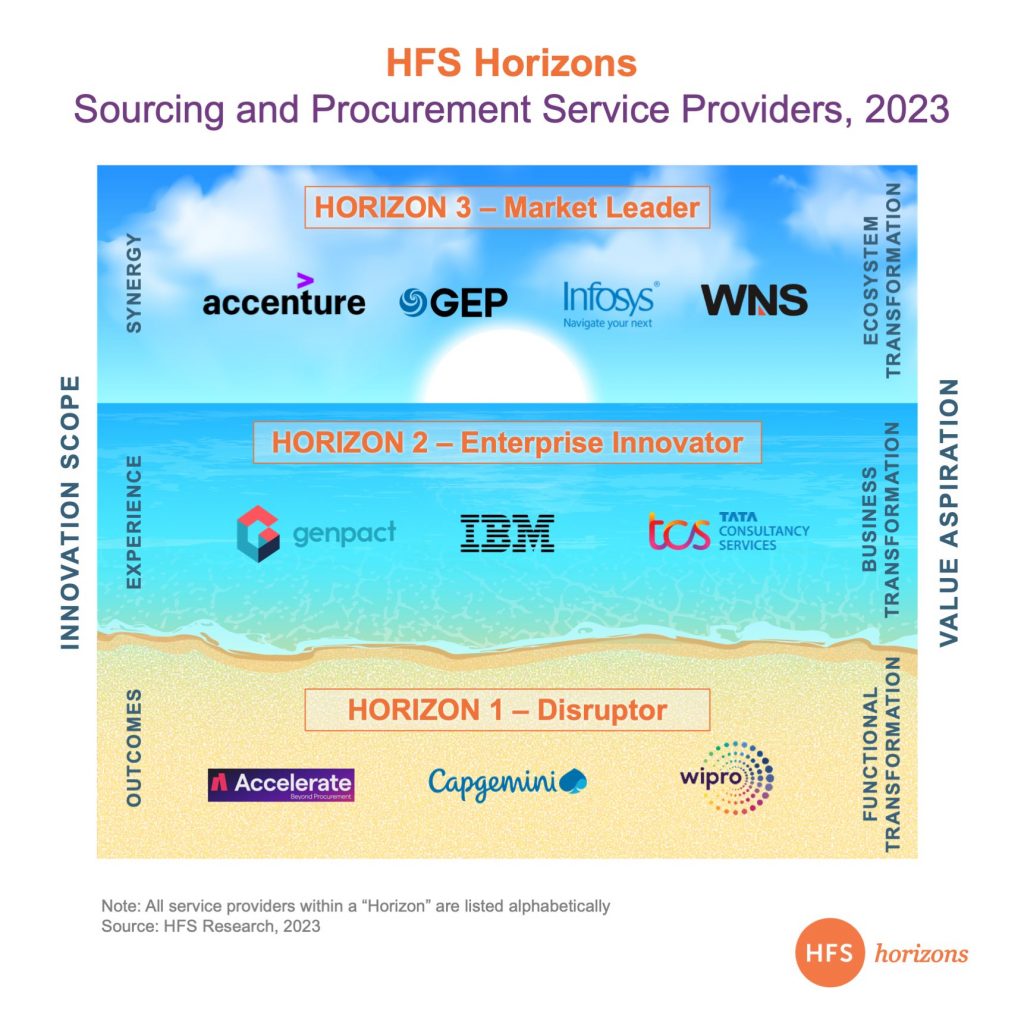 The HFS Horizons report is

aimed at evaluating the capabilities of

service provider

s

to deliver to the needs of

enterprise buyer

s

 
With global competition intensifying and new technologies emerging, we are seeing a shift towards more automated and data-driven procurement processes and investments in category management to keep pace with changing markets. At the same time, enterprises must also navigate a complex regulatory landscape and manage a wide range of risks, including supply chain disruptions and changing customer demands. Service providers hoping to play a role in their procurement clients' businesses thus require a deep understanding of their industries and a commitment to ongoing innovation. 
Also, with the recent global assault impacting businesses greatly, in many organizations the procurement function has led organizations out of the crises. The face of procurement is no more a cost-saving function, but a strategic business enabler sitting at the intersection of the organization and its external connections. The service providers supporting this function are helping procurement reshape their role by reimaging their talent, technology, and process capabilities to build this function as a value enabler for the business. 
Reshaping procurement role to realize its value beyond costs and savings

 
Driving down costs and reducing spending continue to be top priorities for procurement. Procurement's role is changing given its responsibilities in managing third parties. It now includes new accountabilities like risk, diversity, sustainability, and social performance of third parties. Procurement assembles the resources to create the services and products the enterprise brings to market, and it arguably has the closest lens on differentiated value propositions that external stakeholders and partners can offer. Enterprises need and expect to fully capture the benefits a portfolio of external partners may have. To help procurement realize its evolving role, service providers are reimagining their skills and capabilities, designing, and delivering solutions around technology, and consulting to truly build this function to become a value enabler for the business. 
Helping CPOs build ESG into the organization's sourcing DNA

 
Effectively implementing the envisaged sustainability goals is an overarching organizational challenge, and it often means change for the product portfolio and the organization, including its culture. Service providers recognize the scope involved and are helping organizations with not just a sporadic launch of individual initiatives but rather a transformation of companies' operations spanning the entire supply chain network. To ensure success and support the organization's ESG (environmental, social, and governance) priorities, service providers are building core ESG teams, recruiting ESG leaders, and developing technologies and tools to monitor ESG markers. 
The HFS Horizons:

Sourcing and Procurement service providers

, 2022

report examines the capabilities of 1

0

FP&A service providers

.

 
These service providers (in alphabetical order: Accelerate, Accenture, Capgemini, Genpact, GEP, IBM, Infosys, TCS, Wipro, and WNS) are offering differentiated approaches to meeting the transformation needs of clients. This research effort will assess how well service providers are helping their clients to envision and deliver sourcing and procurement transformation outcomes. 
We assessed and rated the transformation capabilities of these service providers across a defined series of value propositions, innovation capabilities, go-to-market strategies, and market impact. This report also includes detailed profiles of each service provider, outlining their placement, provider facts, as well as detailed strengths and opportunities. 
HFS subscribers can download the report here
(available free for a limited time).
Posted in : OneEcosystem, OneOffice, Procurement and Supply Chain, Sourcing Best Practises, Sourcing Change Management, Sourcing Locations, sourcing-change