HFS is back with its analysis of the finance and accounting (F&A) service providers, but now in the Horizons framework!
With the rush to remain relevant in the new AI era, there should be no more important function than finance as the repository for all the data that is needed to support rapid and smart business decisions.  Yes, it's pivotal in helping organizations transform to respond to changing market forces. Traditional finance remains the backbone, but strategic finance is gaining importance. Key F&A service providers are moving beyond the usual F&A functions and trying to act as strategic advisors to finance organizations.
Data is driving this change, and most enterprises seek help from F&A service providers due to the lack of in-house advanced knowledge and capabilities specific to data requirements. Real-time insights and future-proof actionability are the needs of the hour, and enterprises unable to quickly make that shift will be left behind. This is where we see rising interest in the financial planning and analysis (FP&A) and finance transformation levers of finance.
The F&A basics remain important, but newer areas are catching up 
Cost efficiency, speed, and industry expertise remain the most important selection criteria for service providers in F&A, but innovation, emerging tech, and environmental, social, and governance (ESG) prioritization are catching up. F&A service providers are integrating generative artificial intelligence (GenAI) modules into their service portfolio to minimize business risk and bring more efficiency and accuracy into the processes. At the same time, ESG KPI reporting is also making headway in bringing visibility into the ESG agenda, with accountability moving toward the finance function.
Data-driven finance combined with agility, predictive analytics, and tech-savvy talent is needed to push the boundaries toward making an impact spanning enterprises, partners, and clients.
Opportunities abound for service providers, with F&A taking on a pivotal role for enterprises at large 
We conducted an exhaustive research exercise into 15 of the key service providers (Exhibit 1) in the latest Horizons report, HFS Horizons: F&A Service Providers, 2023, by diving deep into the capabilities of each and how they have contributed to the changing F&A landscape over the last year.  
Exhibit 1: We see more and more enterprises willing to outsource finance functions to service providers for a more holistic F&A transformation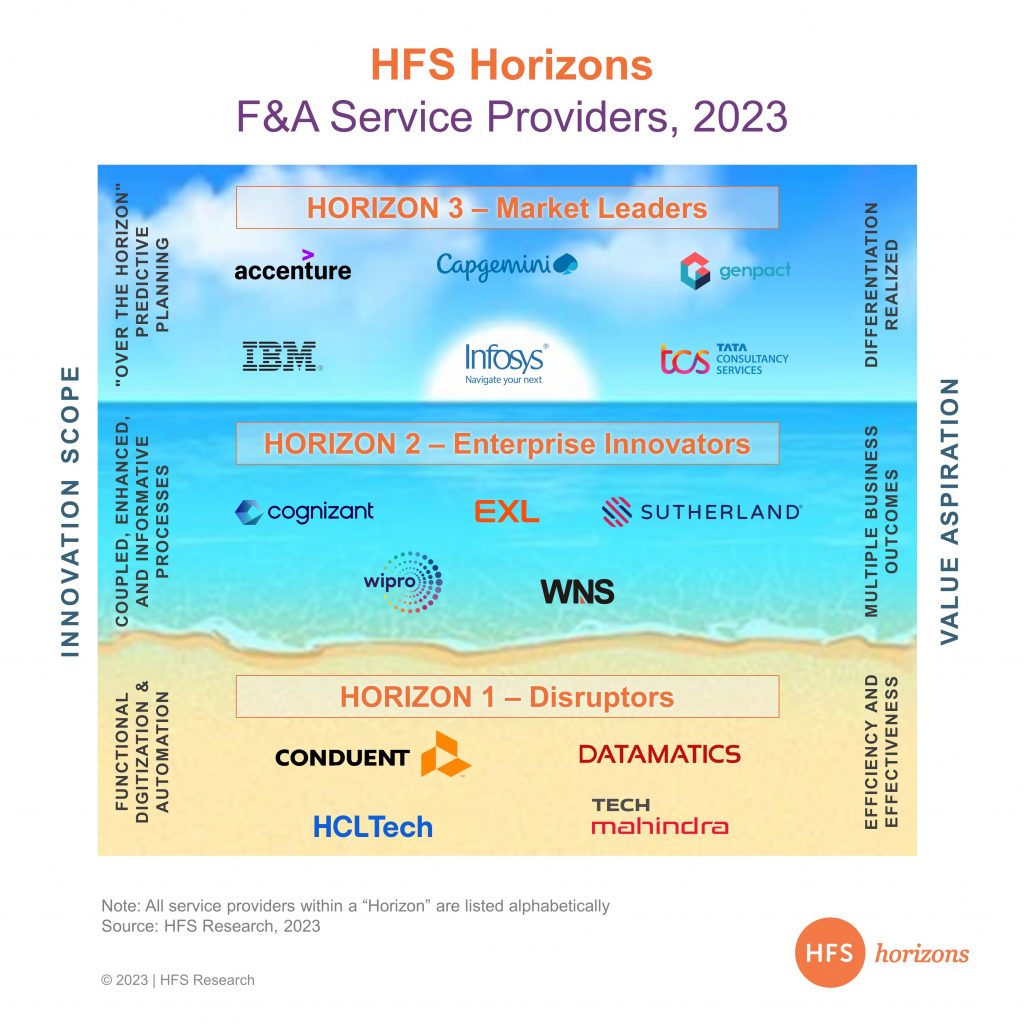 Note: Service providers within each Horizon are listed alphabetically. 
A few glimmers of Horizon 3 are making its impact felt, courtesy of the market leaders 
Market leaders like Accenture, Capgemini, Genpact, IBM, Infosys, and TCS are doing the right things, creating an ecosystem of differentiation and client impact—but it is still very early days. These service providers use data, analytics, AI, emerging tech, and strategic partnering to deliver beyond the usual F&A services. They lead the way, bringing a wind of change to how we look at F&A and where we expect F&A to go over the next couple of years. ESG is another area where some service providers are working to bring about socially responsible accounting practices.
Horizon 2 providers are well on the way to achieving multi-level outcomes 
Cognizant, EXL, Sutherland, Wipro, and WNS have taken the enterprise innovator Horizon in the 2023 edit. Some of these F&A players are moving into consulting, some focus largely on enabling data-driven finance to become a reality, and others focus on strengthening digital IP and partner ecosystems to push the boundaries further and continue to drive outcomes that span enterprises.  
Horizon 1 disruptors focus on getting the basics right and finding solutions that drive multiple business outcomes 
The disruptors—Conduent, Datamatics, HCLTech, and Tech Mahindra—are doing a great job either catering to the mid-market with agility and efficiency and winning multi-tower tech and operational improvements or building internal IP to support F&A advancements. While this is great for clients still at the nascent stage of their F&A transformation journeys, we would love to see them move beyond Horizon 1 outcomes to deliver more synergistic outcomes.  
The Bottom Line:
Finance
is no longer a boring
,
back-office
function
,
and the CFO
role
is
evolving as a strategic
partner
across
the
organization.
Each service provider is doing something
different
to drive
new sources of value
beyond the usual
. 
The HFS Horizons: F&A Service Providers, 2023 report includes detailed profiles of each service provider supporting the F&A ecosystem, outlining the service provider's capabilities, strengths, provider facts, and development opportunities. Each service provider has a unique approach to enabling organizations to become more predictive with data and insights.  
HFS subscribers can download the report here
Posted in : Analytics and Big Data, Artificial Intelligence, Automation, Business Data Services, Business Process Outsourcing (BPO), Buyers' Sourcing Best Practices, Captives and Shared Services Strategies, Digital OneOffice, Finance and Accounting, Financial Services Sourcing Strategies, Generative Enterprise, Global Business Services, HFS Horizons