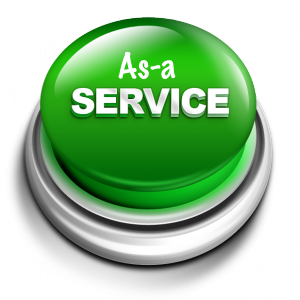 When we coined the term "The As-a-Service Economy" a year ago (remember our famous Ten Tenets post), we never quite anticipated we were helping define the future model the services industry would adopt for business, technology and operational service delivery.
As-a-Service replaces Outsourcing
We've perennially debated the (toxic) term "outsourcing", long vilified as the substitution of onshore jobs with cheaper offshore people. The outsourcing community has continually struggled to find new defining terminology, as NASSCOM replaced "BPO" with "BPM" and the IAOP has refused to shift from the past, staying true to the O word as its core identity.
The reason why we struggled with our identity was because outsourcing, by and large, has really always been about people.  It's hard to change processes, drive common standards across clients, build a utility model that can be scaled and made cost-efficient, when you're really just moving work around the world with the goal of getting it done cheaper. And that's really been the story of outsourcing to-date – service providers battling it out, at varying levels of effectiveness, to deliver people-based services more productively, promising delights of delivery beyond merely doing the existing stuff significantly cheaper and (hopefully) a bit better.
But outsourcing hasn't failed. Only 13% of service buyers in our new Ideals of As-a-Service study believe there is no more value to be found in the current outsourcing model.  Outsourcing is the starting point towards driving out bloated labor costs, centralizing the delivery staff within a service provider, and creating some basic common standards across processes.  However, it's not the end-solution for ambitious firms, it's merely the start of the journey towards this future vision of "As-a-Service".
We also hear a lot of hype about Robotic Process Automation, which is another accelerator towards As-a-Service, but like outsourcing, RPA isn't necessarily the end-solution either  – many applications have a lifecycle and are replaced over time, and many of today's processes become obsolete as businesses evolve. RPA merely acts as a further conduit, coupled with outsourcing, to smooth the ultimate journey towards destination As-a-Service.
Defining the evolution to the As-a-Service Economy with Eight Ideals
The game-changer is centered on today's services work gradually becoming a genuine blending of people-plus-technology that helps us inch towards an ultimate destination of services value, accessible on-tap, empowering service buyers to focus on proactive value-identification with help from their service partners through meaningful and secure data, enabled by intelligent automation and digital tools… all made possible by smart people working together.
So let's examine the Eight Ideals of As-a-Service, into which we delve in-depth in our new defining report, "Beware of the Smoke: Your Platform is Burning", that canvasses the views, dynamics, aspirations and intended actions of 716 service industry stakeholders:
The journey to As-a-Service is all about simplification
Business services, today, are one of speed to business impact. They are about simplification.  They are about removing the blockages and obstacles diluting this business impact.  Anything less is not taking advantage of the experience and capability that has been developed in the global services market, over the past three decades. In this time, enabling technologies, talent, sourcing operating models, and macro-economic trends, such as globalization of labor, high growth emerging markets, new business models and consumerization, enable service buyers, advisors, and service providers to engage increasingly in a more flexible and collaborative manner. The ambition is to achieve renewed business results with speed, quality, and effectiveness. When we get there, we will be in the As-a-Service Economy.
The transition to As-a-Service is all about simplification — removing unnecessary complexity, poor processes, and manual intervention to make way for a more nimble way of running a business. It is also about prioritizing where to focus investments to achieve maximum benefit and impact for the business from its operations.
The emerging As-a-Service Economy will be more agile and dynamic, featuring on-demand plug-and-play services in a one-to-many fashion targeted to impact what matters to consumers as well as businesses. The two are increasingly intertwined as consumer insights, decisions, and loyalty carry increasing weight on the success or failure of an enterprise in any industry.
The Bottom-line:  The As-a-Service Economy is a vision for the future, building on today's achievements
It's easy to deplore how poorly our business are run,  how dysfunctional are our processes, how badly integrated are our technologies, how reactively and transactionally our staff perform. But this is the evolution of business, this is how we got here today. When you talk to service buyers, they are unlikely to tell you their businesses are running worse every year. In fact, most have improved immensely over the last five years with improvements in global scale delivery, cloud computing etc.
Survival in today's global business environment, for most, is a marathon, not a sprint. Not every industry has been Uberized over-night – most are being disrupted with technology-driven business models that we can learn from, adapt, adjust and try to get ahead of. Most enterprises suffer from the same woes and face similar challenges to clear their path towards their desired As-a-Service Ideals.
The new challenge is to prioritize which Ideals really matter and how to work with the smart people and partners around us to get there. In subsequent posts to this theme, we will analyze our study findings further to understand the priorities, obstacles, expectations and anticipated dynamics to unravel how we will eventually arrive at the As-a-Service Economy, and what we can do as an industry to get there and prosper.
And Part II is now up – click here to read!
Please download a copy of our new Industry Report "Beware of the Smoke: Your Platform is Burning", authored by analysts Phil Fersht and Barbra McGann, that analyzes findings from 716 service industry stakeholders in our new Industry study that defines the future of services and the emergence of As-a-Service Economy. 
Posted in : 2015 As-a-Service Study, Business Process Outsourcing (BPO), Cloud Computing, Design Thinking, Digital Transformation, Global Business Services, HfSResearch.com Homepage, HR Strategy, IT Outsourcing / IT Services, Mobility, Robotic Process Automation, SaaS, PaaS, IaaS and BPaaS, Security and Risk, smac-and-big-data, Sourcing Best Practises, Sourcing Locations, sourcing-change, Talent in Sourcing, The As-a-Service Economy, The Internet of Things, the-industry-speaks