Remember when sourcing advisors has become the "new analysts" and dominated so many outsourcing discussions? Remember when it was the norm for clients to bring in the sourcing specialists whenever they needed a deal done, not only to get a good price, but also to make sure they selected the right partner and had a strategic view of the future? Remember when most advisors were not only contract experts, they were also strategists, researchers, sounding boards and respected brands you could hang your hat on... Just look at our 2011 study when advisors lorded the influence over everyone bar direct peer feedback: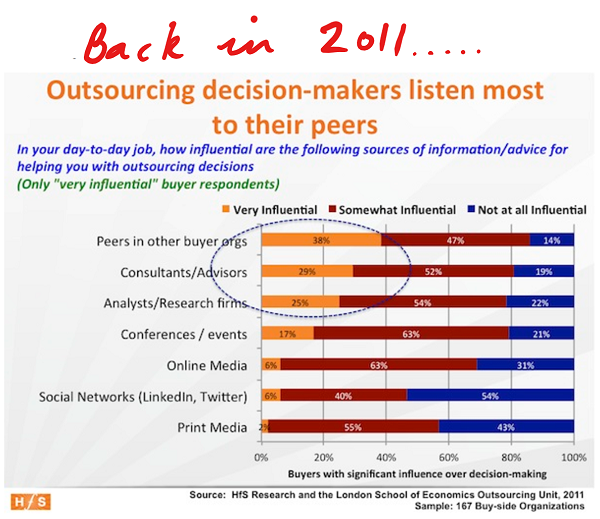 Fast forward to today, with all the sourcing advisors doubling-down in RPA to compensate for the drying up outsourcing deals and confidently hoping their outsourcing clients will immediately turn to them to help them grapple with the new outsourcing-cum-automation model. Surely their ability to craft deals for clients will put them in pole position to take their clients down the RPA path...
Let's visit our brand new (still-in-the-field) study on the 2017 State of Automation, and it's telling us a very different story when we spoke with 56 enterprises actually deploying RPA: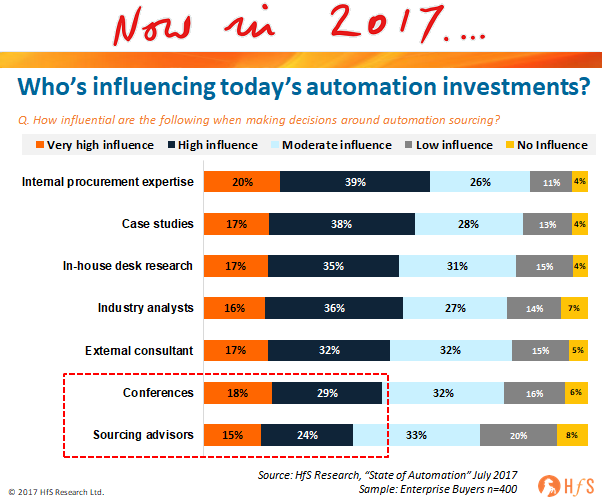 Less than half the RPA buyers view either consultants of sourcing advisors as influential in their automation sourcing. Even conferences are impacting automation buyers more.
So what's gone so wrong with advisors in automation?
Credibility. Suddenly many advisors who were previously hawking their deep understanding of HCL versus TCS's FTE rate cards are now suddenly adding their names to white papers on automation and trying to insert themselves into serious client conversations about said topic. It's just not credible.
Smarter clients. The swirl of information over social channels is so intense these days that most clients' knowledge isn't that far behind the experts. In many cases, you'll learn more about RPA talking with a client in beta mode than an advisor or analyst trying to impress you at
Posted in: Outsourcing Advisors, Robotic Process Automation