Tired of the RPA hyperbole? Well, you'd better get used to it continuing, as key industries have already made significant short-medium term commitments: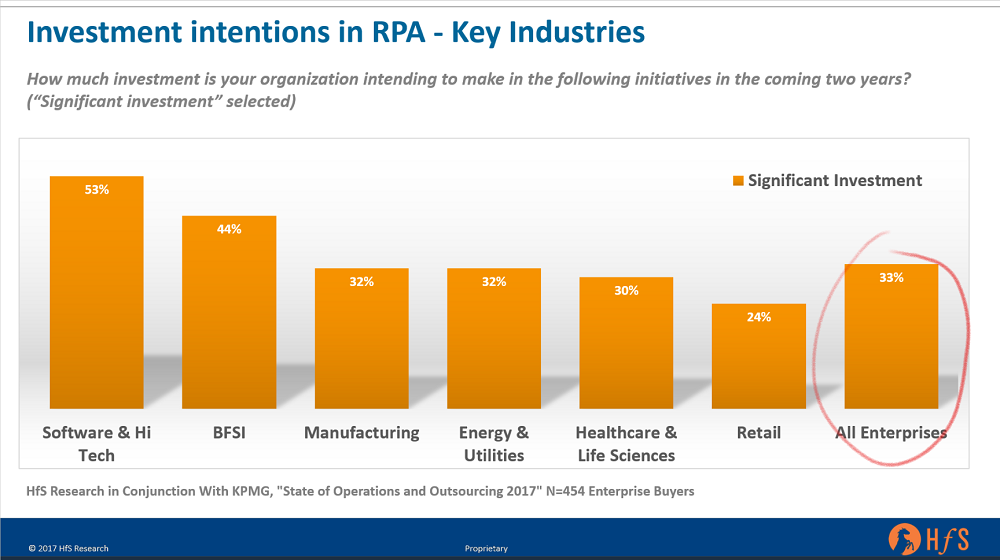 Our 2017 State of Operations and Outsourcing study with KPMG, covering 454 major enterprises, shows the hi-tech and financial services industries leading the way with, respectively, 53% and 44% already making significant investments in RPA over the next couple of years. Only retail falls below 30%, which may be a result of highly distributed organizations finding it if challenging to find high-throughput, high-intensity process where there is real tangible ROI for the investment.
The Bottom-line: The more digital your firm need to be, the greater the onus on digitizing and automating your manual processes
Quite simply, you can't be an effective digital organization if you don't have your manual processes digitized and automated. That's what RPA does. All software and hi-tech firms have to transact their services over digital channels, and most tend to be further along the change curve when it comes to automation. Net-net, hi-tech's DNA is all about automation, so having a digitized back-end just fits with how they view the world. For banks, these companies are plagued by manual processes and many have taken the plunge in recent years with large RPA teams to help them meet compliance deadlines and standards – almost every major bank has an RPA story unfolding. Insurance is catching up too, especially those with archaic claims processing workflows. Moreover, many insurers were among the first to exploit offshoring over the last 10-15 years, and moving along an RPA path is a natural progression for many of them. Energy and utility firms are all about cost control these days, while healthcare orgs are among the most backward when it comes to legacy technology and process. As patient care moves into the digital era, the need to digitize those manual records has never been more dire.
However which way we look at it, RPA is on a major growth trajectory… our forecast may be too conservative, but we believe many organizations will be surprised at how much time it will take to get their act together to adopt RPA in the right way. However, the newbies should be able to learn from the pain of the early adopters to move along the RPA adoption cycle faster.
Posted in : 2017 State of Industry Study, Robotic Process Automation, the-industry-speaks