Managed services markets in functions such as finance, procurement, and HR have matured over the years, and it's increasingly hard to differentiate across service providers… most deliver via an effort-based FTE model; they all compete for the same pool of talent, and they all have similar issues controlling attrition in this environment.  However, enterprise leaders are increasingly desperate for rapid access to centralized data to make critical decisions in a hugely unpredictable and complex business environment.
Helping firms access centralized data at speed is critical to growing value-based partnerships, and none more so in financial planning
Hence those providers engaging in financial planning and analysis (FP&A) managed services, where they are supporting these critical data and planning decisions for their clients, are getting much deeper into the high-value controllership areas for them.  This is where the whole relationship shifts from one of providing effort to one of performance and purpose.
The HFS Strategic Finance Horizons report analyzes services provider capabilities shaping the financial planning and analysis industry and their proven capabilities to help their enterprise customers access critical financial data at speed. HFS assessed 13 major service providers' prowess in the strategic areas of FP&A, based on the "Big 4" who are leading in some of the more specialized pieces of strategic finance and delivering managed services programs, and the F&A service providers with proven ability and scale to deliver FP&A work.  
The new Horizon landscape (below) demonstrates the providers' positions within the three horizons. Horizon 1 refers to those providers who have been able to drive functional FP&A transformation, Horizon 2 includes those who have reached the level of business transformation, and, Horizon 3 includes all those providers who have closed the gap and moved towards ecosystem transformation.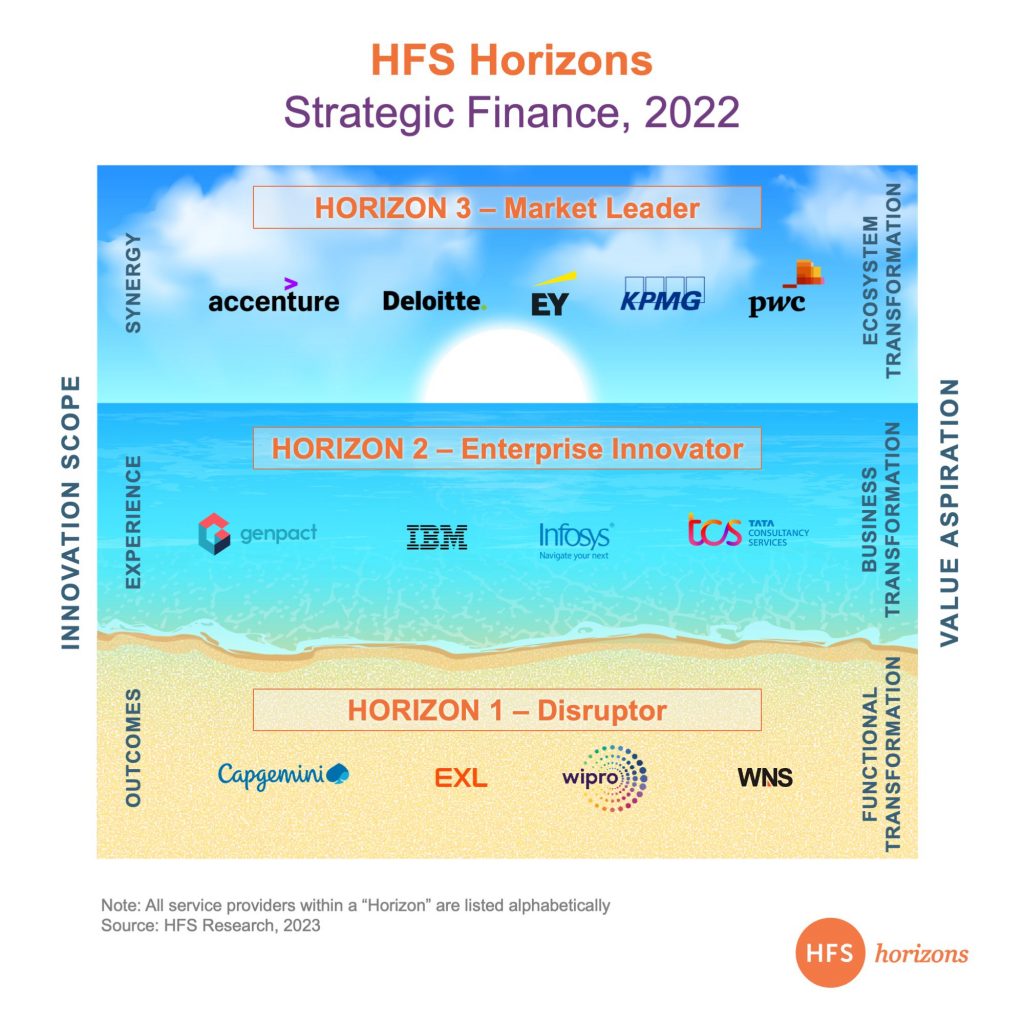 Agility

and an evolving mindset

are

key in this

ever-changing

finance landscape
The last few years have shown us just how much enterprises need to focus on staying agile through uncertainty, change, and disruption. Financial planning and analysis strategy, technology, talent, and processes must evolve to keep up with finance leaders' aspirations for helping the business navigate uncertainty and create long-term business value. In their quest for agility, we see finance and risk leaders engaging with third-party service partners not just on traditional FP&A activities but starting to move into strategic finance and performance management. 
FP&A is repositioning its role for budgets, forecasting, and business planning to become a strategic advisor for business units. These next-level, agile FP&A teams are embracing new technologies, ensuring the democratization of data on business insights across the organization, tapping into new types of talent, and launching new reporting processes. 
The service providers have reinvented themselves to support these next-level, agile FP&A teams to operate at the highest capacity and release their fullest potential.
Orchestrating internally across capabilities to unlock value for clients
Strategic finance deals are increasingly structured around targeted outcomes and delivering as a service instead of only providing skilled people. Service providers bring consulting, domain, technology, data, and analytics together to drive value for their clients. Functional domains paired with digital, data, and analytics capabilities are becoming core to delivering value in more sophisticated areas of finance. Strategic functions like budgeting, planning, reporting, and tax depend more on the collaboration of finance, IT, and business. Service providers are pulling together these disparate capabilities within their organizations to serve FP&A engagements. 
More mature F&A clients are making the transition to FP&A

 
We see mature clients of transactional finance open to sourcing their FP&A functions to their service providers. With success and proven outcomes from transactional finance, clients are open to moving many of their core strategic finance functions to offshore and nearshore locations. As digital permeates the FP&A value chain, clients are open to experiencing the benefits and value outcomes from digital in strategic areas of finance. This move is not limited to outsourcing and automating reporting processes; it includes predictive analytics, advanced modeling, taxation, predictive compliance, governance, and treasury. 
Consulting firms playing the dual role of partner and competitor

 
Service providers partner with Big 4 consultants to bring consulting and design thinking capabilities for FP&A engagements. These partnerships can become 360-degree relationships where the service provider lends its talent and digital capabilities, and the consultants bring their domain and consulting expertise. As enterprises seek integrated services for their FP&A transformation—domain service experience with digital and design thinking—traditional pure-play FP&A providers are looking to Big 4 consultants to design co-option solutions to support this need. Additionally, consultants are vying for these engagements as introductions through these partnerships are helping them win new business. 
The HFS Horizons: Strategic Finance 2022 report examines the capabilities of 13 FP&A service providers

 

 
We examined the FP&A capabilities of these service providers (in alphabetical order: Accenture, Capgemini, Deloitte, EXL, EY, Genpact, IBM, Infosys, KPMG, PWC, TCS, Wipro, and WNS) offering differentiated approaches to meeting the transformation needs of clients. This research effort will assess how well service providers are helping their clients to envision and deliver FP&A transformation outcomes. 
We assessed and rated the transformation capabilities of these service providers across a defined series of value propositions, innovation capabilities, go-to-market strategies, and market impact. This report also includes detailed profiles of each service provider, outlining their placement, provider facts, as well as detailed strengths and opportunities. 
HFS subscribers can download the report here
(available free for a limited time).
Posted in : Business Data Services, Business Process Outsourcing (BPO), Finance and Accounting, Financial Services Sourcing Strategies, HFS Horizons, OneEcosystem, OneOffice