Welcome back to the F&A business, which we've been tracking religiously on HfS since our very first blog post more than a decade ago, famously titled "Beyond Labor Arbitrage: The New F&A BPO Frontier". And how much has changed since then (ahem). However, what has changed is the rampant excitement about the new arbitrage: RPA, where many clients hope they can still avoid that true process transformation by mimicking those same obsolete processes in a piece of robotic process recording software. At some point, they will need to stop dodging the transformation bullets and actually make real investments in their underlying process and data workflows, but until that time, let's see how the market continues to shake out in our 2017 F&A As-a-Service Blueprint, so let's hear from the blueprint lead author, Barbra McGann...
The HfS Blueprint is a guide for the service buyer to learn more about what to expect by engaging with a service provider. What does this service provider bring to the table above blocking and tackling? Where does the buyer need to challenge his or her own assumptions or organizational culture to see impact beyond tactical conversion of tasks from human to robotic automation or labor arbitrage? How does the service provider need to engage to provide long-term value – beyond green light SLAs for turnaround time and data accuracy?
This year's HfS Blueprint: F&A As-a-Service reflects a time of transition as service buyers and service providers move to "finance of the future" – more strategic use of talent, technology, partnerships, and operating models to achieve high-quality, more agile, and insight-driven finance operations. Any company not thinking of how to bring together these elements to impact business outcomes is behind the curve at this point, although it's not too late to get going. And service providers in this mature services market can play a valuable role in helping broker within and across organizations to develop and/or deliver against a roadmap for "virtual finance."
The question is not whether or not to use RPA or cognitive computing but how, when, and where
Many service buyers, from our research, are mostly interested in low-cost standard delivery. What will get that next level of efficiency and cost savings – and how does robotic process automation (RPA) play a role in it? What is the balance of RPA versus lower cost delivery centers – movement from 1st to 2nd to 3rd tier cities, to use industry terminology? In too many cases, labor arbitrage conversations are being replaced by robotic labor arbitrage – a combination of lower cost delivery locations and RPA. The industry is at an inflection point -- do service buyers and service providers have a choice to make – (a) move up the value chain with strategic collaboration – defining and addressing business problems, outcomes, and designing appropriate solutions that use digital technology or (b) promise 40-50% further improvement through digitization or automation, a tactical approach. Or is there a combination in play? The industry sits on this knife's edge today.
Last year many of the finance and operations leads we spoke to for this study when asked about RPA, were, with few exceptions, in one of two camps: had heard of RPA or hadn't. This year, every client is familiar with RPA and has some kind of status to share, ranging from "discussion" of how and where to use it, working on a business case, or already using it either in-house or with service provider partners. It's driving change in how the industry thinks about operating models, contracts, governance, partnerships, talent development, and change management. Earlier adopters in the business are realizing that automation for the sake of using the technology or in trial/pilot is not as impactful as when there is a business case for change in partnership with IT to achieve a targeted outcome for a process, e.g., touchless invoicing. There is a disparity in the market as to whether clients want/will develop and keep intelligent automation capability in-house or partner with service providers. We heard examples of both decisions.
Collaborative engagement is an increasing factor in whether or not service providers have "stickiness" with clients
There is a current trend in "considering options" as contracts come up for renewal. A number of service buyers shared their stories of re-bidding parts or all of their finance BPO contracts to (a) create balance in a service portfolio to have strategic partners where there is stronger alignment on strategy and culture as well as thought leadership for finance and tactical partners to address the transaction and increased use of RPA; (b) shake up service providers that clients believe are complacent, e.g., not consistently raising the bar or challenging the status quo.
Clients are (a) kicking it up a notch in partnering for the long –term with strategic roadmaps, (b) getting impatient with service providers that seem to be "resting on their laurels," complacent, or just not aligned or insightful about the client culture or work/objectives, and (c) more willing to look beyond the traditional market leaders to "up and comers" who can prove trustworthiness, credibility and cultural alignment. This was reflected in scores for "value of engagement over time." With the increasing mix of technology – platforms for procure-to-pay, record-to-report, and order-to-cash, as well as robotic and cognitive computing – in the business process services market, clients need to be looking at where and how service providers are investing in their own and third-party software, technical and business/consulting talent, and change management.
F&A As-a-Service Winners are service providers with clear vision and momentum towards transformational finance… but face the challenge of making an appropriate match with clients culturally and having the talent to deliver on these promises consistently
Our study included over 60 client interviews as well as surveys, service provider briefings, and additional research and analysis covering the vision and operationalization of F&A As-a-Service. All of the participating service providers are making investments and progress in some way towards a more insight-driven, digital-enabled finance function. The ones that have the clearest and compelling vision and scale as well as roadmap and evidence of investment and progress toward landed in the Winner's Circle. However, there are also some unique value propositions by players on the whole map.
As always, we recommend that when you as a service buyer – finance, procurement, or operations executive – are evaluating a service provider for a new or existing business process services engagement, that you consider that best fit for your organization. Criteria, as reflected in our methodology for the blueprint, should cover culture, strategic, technical, and corporate alignment.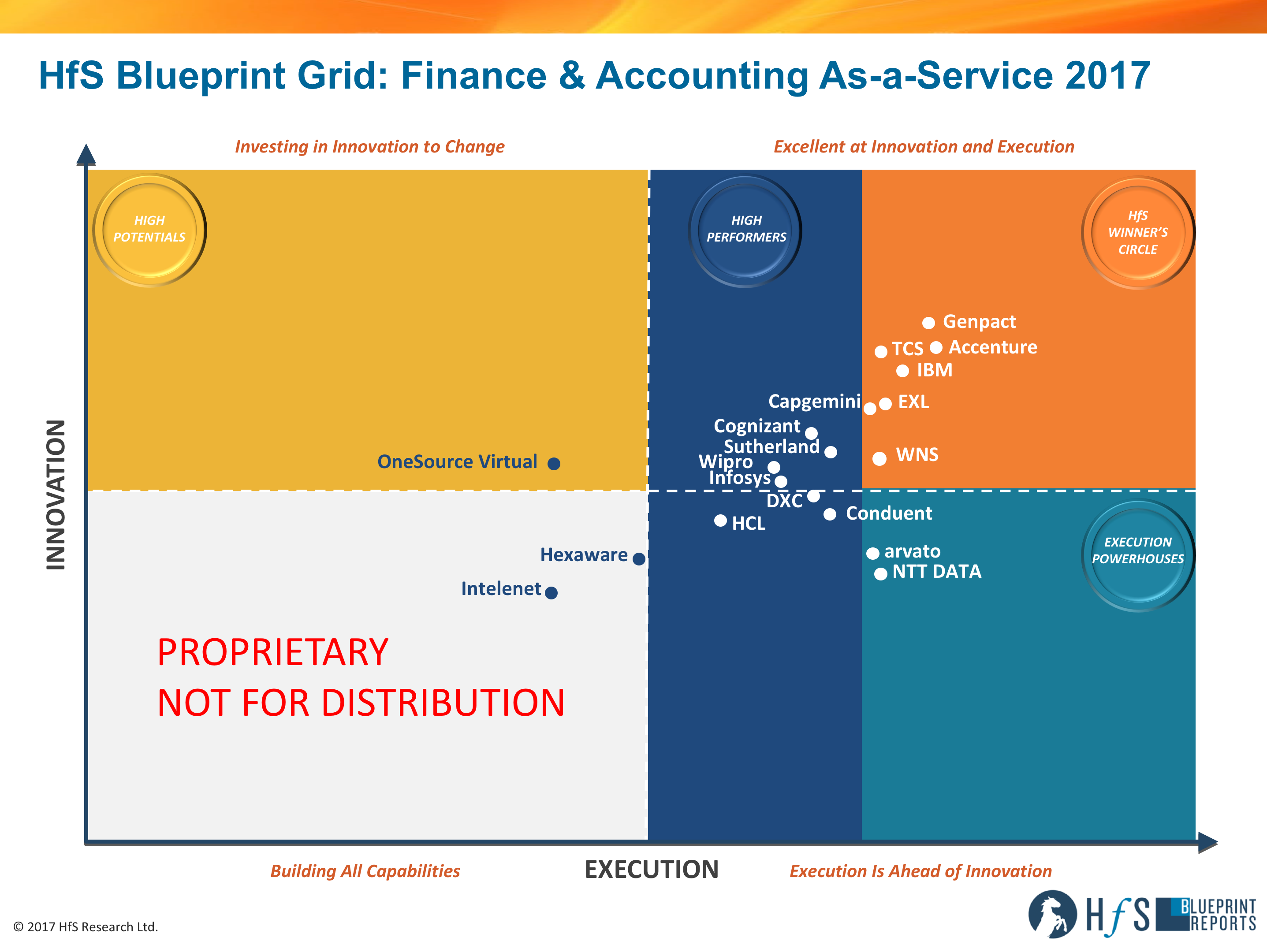 F&A As-a-Service Winner Review
Accenture: One of the few service providers that consistently through the years touts talent development as a differentiator and is working to create a more flexible workforce management approach (Accenture Agile Workforce). It's also invested in building out and
Posted in: Business Process Outsourcing (BPO), Finance & Accounting BPO, Robotic Process Automation