The convergence of SaaS and services has re-focused the ROI of software towards achieving defined business outcomes. With so many sophisticated SaaS platforms on the market - many of which offer far greater functionality than most enterprise customers need - the onus is shifting rapidly towards the business value these solutions bring to customers and how they support alignment with a OneOffice mindset. This is a major pivot away from customers simply purchasing what they are led to believe are the best features and functions and expecting miracles. Our new SaaS XXV research initiative is geared towards defining these business outcomes and measuring the leading - and upcoming - SaaS platforms against their customers achieving these outcomes.
So where better to start than looking at the leading services being built around low-code leader Pega....
"The power to simplify: What you need to crush complexity" – This was Alan Trefler's ( Pega Founder and CEO ) key-note at the PegaWorld iNspire 2021. What stood out for me in Alan's ~13-minute key-note was how to crush complexity. Simply put, it is about getting the business architecture right! This means an architecture that is organized around the heart of the business, customer and outcomes across the customer journey.
Putting the customer at the center is critical to the success of a transformation to drive meaningful and measurable outcomes. This was also a key insight from our latest HFS Pega Service Providers Top 10 2021: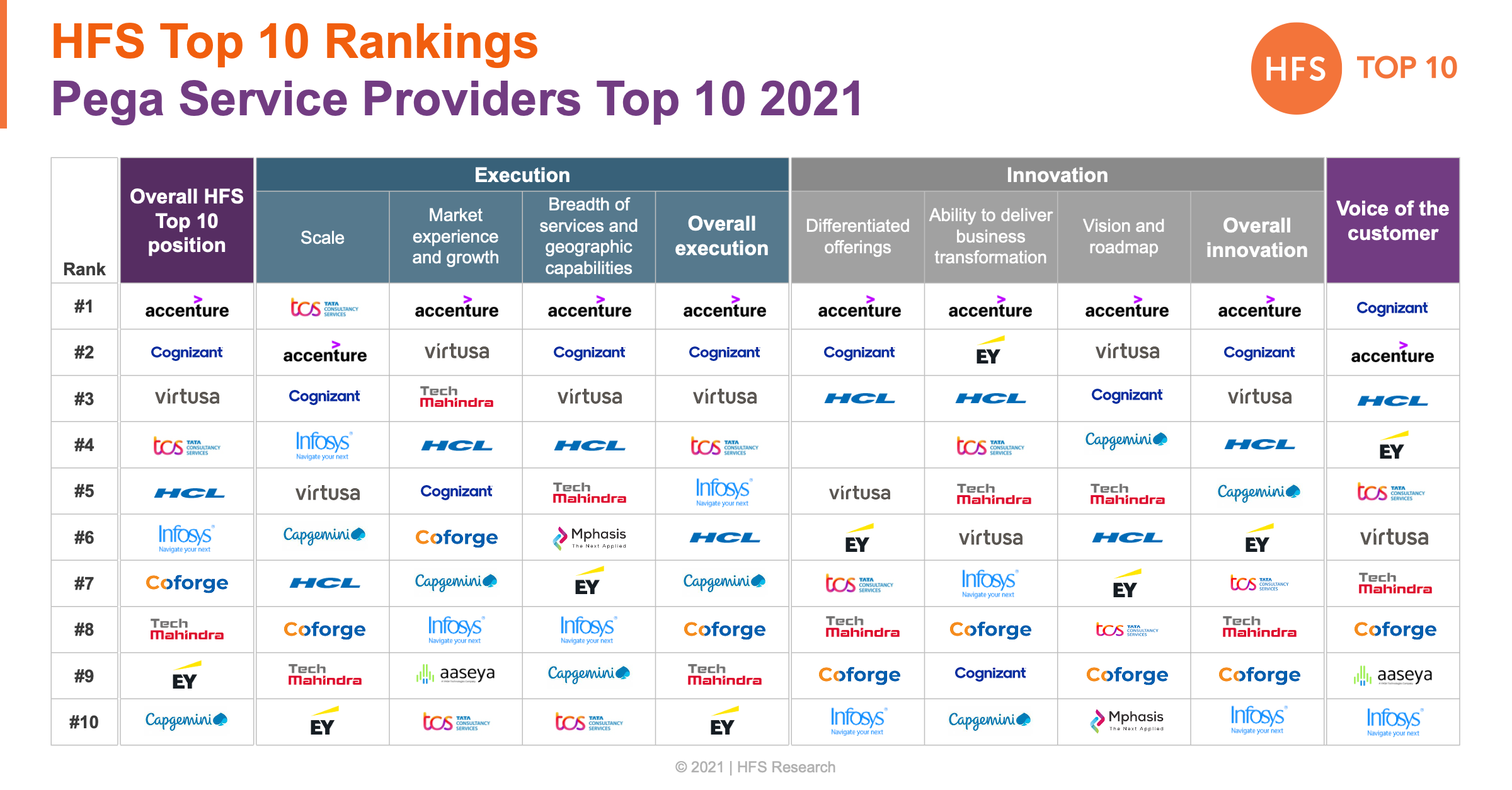 To learn more about how the Pega market is evolving, what service provides are leading the way and how clients are leveraging Pega, I sat down with analysts Krupa K S and Khalda De Souza to learn about their experiences and insights from working on this report.
Phil Fersht, CEO and Chief Analyst, HFS Research: So, Khalda – My first question to you is around understanding the Pega services market. Please can you share the highlights and significant developments?
Khalda De Souza, Research Fellow, HFS Research: Pega offers integrated back-office and front-office solutions along with automation offerings and a low-code application development
Posted in: Robotic Process Automation, SaaS, PaaS, IaaS and BPaaS, Intelligent Automation