One of the most over-criticized service providers of the past couple of years has been Cognizant. The company which rocketed from $1bn-$15bn in 15 years took full advantage of the pre and post-Great Recession offshore boom, the directionless years of Wipro and Infosys, and a lovable arrogance… which even scared the hell out of Accenture.  And all this was achieved with very few changes to its leadership team and an entrepreneurial spirit which was the envy of the IT services industry.
However, with the pressure of the activist investor Elliott Management's buy-back in 2018 shortly after its president and operational architect Gordon Coburn fell on his sword for greasing the palms of Tamil Nadu government officials to obtain building permits, the Cognizant halo quickly faded, and CEO Francisco DeSouza departed with revenue growth slumping to 5% and operating margins heading down to the low-teens.
Brian Humphries' patient approach to change has proven the smarter approach considering the complex structure of the firm 
Enter Brian Humphries in early 2019 (see blog) to take on his first IT services leadership position having spent most his career in telecoms with Vodafone and hardware with Dell and HP prior.  While many people thought Brian would cut deep, he took his time evaluating the firm's long-time leadership – it took the best part of two years for most the old-guard SVPs (known internally as "one-zeros") to take themselves out or require a gentle nudge.  Compare this to Thierry Delaporte who joined Wipro in 2020 and quietly cut 155 VP (and above) level executives after a few short months.  While many onlookers criticized Humphries for moving too slowly, he was trying to develop a renewed spirit, professionalism and culture without a traumatic break from its very impressive past.  Wipro had stagnated for years because of a very stodgy and bureaucratic structure which needed a quick, rapid fix, while Cognizant is more than twice the size and needed a more gradual pivot, especially as several former one-zeros had built huge fiefdoms that were not broken, but in dire need of discipline, direction and realignment with the broader business planning across its global business units which were too skewed to the US market.
Just when things were moving in the right direction, enter a pandemic, a ransomware attack, and the write-down of a disastrous legacy client
When you examine the challenges of incoming CEOs into very large businesses, there are not many which rival the series of events that Humphries has had to endure.  After righting the ship in 2019, along came the deep panic of the global pandemic with the seismic adjustments needed just to keep the wheels on keeping their clients' delivery functioning.  And to rub salt into an already gaping wound, the firm was hit with the Maze ransomware attack, just as its employees were being rapidly transitioned into their work-from-home environments.  And, despite these unprecedented disruptions to its business, Cognizant plowed through the worst of these impacts only to be forced to write off around $150m in Q4 2020 from a disastrous acquisition of Finnish developer Samlink, struck shortly before Humphries took the helm, which was geared at building a shared core banking infrastructure for three Finnish financial institutions.
Yet, despite these three significant setbacks, Cognizant has risen again, posting three successive high-growth quarters with a strong outlook for Q4 which should see the firm comfortably blow past the $18.5 bn level.  This will see the firm likely finish 2021 as the fourth-largest IT services firm in the world, only being surpassed by Accenture, TCS, and (marginally) Capgemini.  IBM's spin-out of its infrastructure services business (Kyndryl) and DXC's decline will likely make this eventuality happen: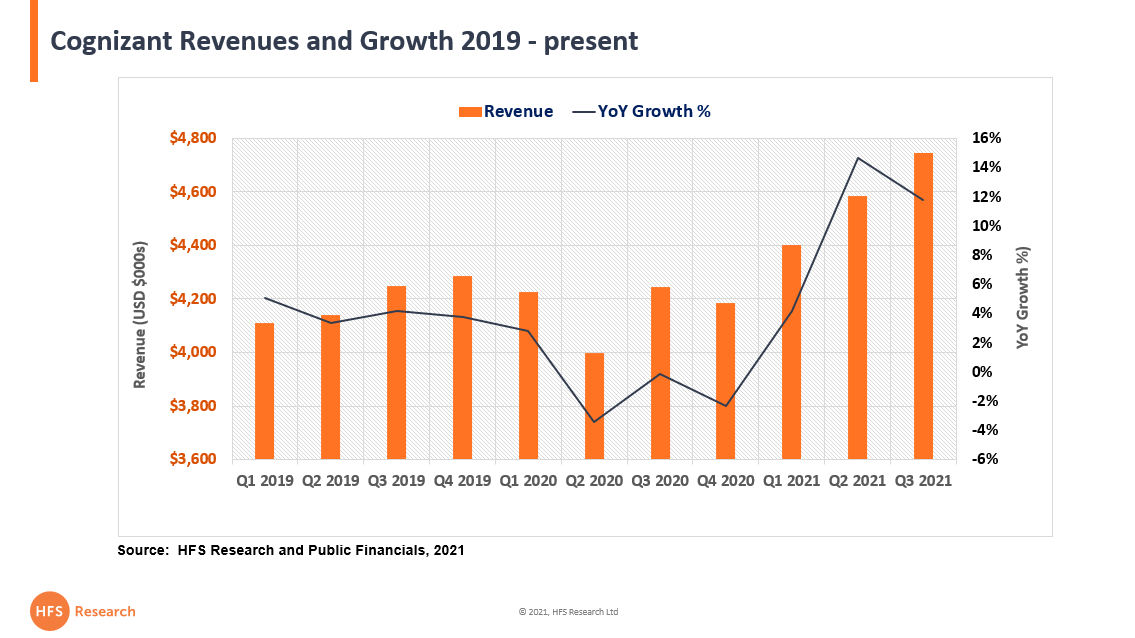 The reason for real optimism is that growth in revenue comes with positive movement in operating margins and EBITDA.  With the current issues impacting staff wages and attrition (especially in India), it's critical for providers to maintain strong margin performance to provide that ability to reinvest in staff recruitment, training and salaries: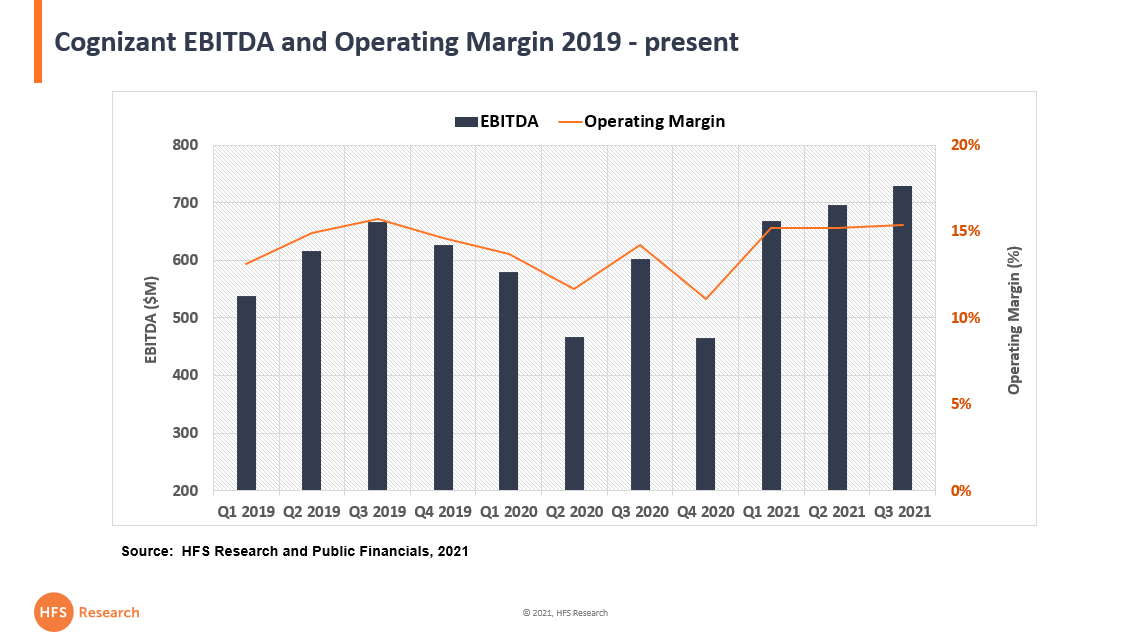 Reasons for this robust post-pandemic bounceback
Ongoing acquisitions adding specific expertise across geographic and solution areas.  In 2019 and 2020 Cognizant took specific strides to increase its cloud migration and modernization capabilities with a series of targeted acquisitions across core domains such as AWS, Pega, ServiceNow, Workday, Microsoft Azure and Salesforce.  Examples include Collaborative Solutions, 10th Magnitude, Bright Wolf, and Inawisdom There have also been specific acquisitions in engineering services areas, notably in the product and automotive realms, such as TQS Integration and ESG mobility
Flexible pricing models for apps modernization.  Our multiple discussions reveal that Cognizant's customers are happy with the pricing models that Cognizant is offering for applications modernization, and are generally happy with the talent.  The growth of digital deals is resulting in Cognizant being able to price "land and expand" pricing models that include gain share, outcome, and risk-based pricing components.
Clients see Cognizant as an "engineering-first" firm.  Focusing on its software engineering DNA and not trying to sound like a low-cost alternative to Accenture, is perhaps a less obvious aspect of Cognizant's pivot over the past couple of years. Several Cognizant clients we recently interviewed mentioned they prefer its focus on staff training and depth/scale of resources and care much less about how much it influences the C-Suite with grandiose ideas.  The new attitude, after the past 18 months of pandemic-induced volatility, has definitely seen enterprises prefer service providers with a roll-up-sleeves approach to drive rapid transitions.
Strong growth outside of US mainstay.  While Cognizant's US business grew 10% over the past year, there has been a significant 17% increase in Europe and 22% across the rest of world. Some key wins in the UK (HMRC and a major UK publisher) and Sanofi (France) contributed to the notable increase in European presence.  The recruitment of Rob Walker to lead UK and Ireland has been a notable addition, who was recently invited to brief the British Prime Minister, and Rajesh Nambiar is proving to be a stabilizing figure in India, amidst all the turbulence and staff attrition currently plaguing the whole Indian tech scene.
Continues to strengthen their capabilities across both the Life Sciences and Healthcare value chains. In Life Sciences, Cognizant's Industry 4.0 push to enhance its manufacturing capabilities is impressive and has a lot of potential. The acquisition of Zenith allows it to combine its IT expertise with Zenith's OT expertise to be able to deliver a full-stack tech integration for all LS manufacturing integration. In addition to this acquisition, it has also partnered with Phillips to be able to use data to connect medical devices, health systems and health plans on AWS using Philips HealthSuite (PaaS). This type of ecosystem connectivity will give Cognizant significant leverage to support clinical trials better, reduce fraud waste and abuse and generally optimze the use of data.
Challenges Cognizant needs to address
Attrition and wage inflation.  The "Great Resignation" is hurting all service providers with significant reliance on Indian talent and Cognizant is among the worst of the Tier 1's affected with current rates estimated in the high 30 percentile.  While enterprise customers have expressed concern over the current high rates across all service providers, we have yet to see any major delivery issues as a result and impact is being felt more with rising costs due to rising wage rates.  Cognizant has a healthy operating margin and added 17,200 staff over the last quarter, bettered only by TCS (19,690) and Accenture (55,541).  With this aggressive focus on hiring and attention from the C-Suite on combatting attrition, Cognizant should not find itself at any significant disadvantage vis-à-vis its competitors, especially in software engineering areas where its scale and depth are so important in the current environment.
Banking and Financial Services needs an injection of energy.  The sector only grew 5% year-on-year compared to 10% in healthcare and 20% in comms, media and tech.  Cognizant has recently revamped its BFS capabilities with new leadership, new offerings, and a new approach that better emphasizes transformation rather than IT partnership. We applaud the direction but Cognizant has been outpaced in many categories by its competitors. We'd like to see continued progress with consulting-led capabilities helping Cognizant make good on being more than a tech partner. We'd also like to see continued progress with Cognizant's European footprint and nearshore delivery, which is a strategic priority for BFS clients.
Create a compelling narrative for its digital business operations.  Cognizant's $2bn of revenues in the business operations arena (growing at a health high-teens clip) are two-thirds of the entire revenues of pure-play Genpact and double the likes of EXL, WNS and InfosysBPM.  However, few people outside of Cognizant recognize this capability and are surprised to learn the deep plethora of industry process, content expertise, digital business acumen and process automation experience that exists within the firm.  While Cognizant has always done a very good job of marketing its bread and butter tech capabilities, it has perennially struggled for many years to create and articulate a compelling narrative for its operations and process capabilities… which are a well-kept secret.  Key client executives need to know that Cognizant's business operations are a strong alternative to Accenture interactive operations, TCS' banking and insurance process services, or Genpact's CORA AI platform, and so on. In today's virtual environment, the ability to deliver business services in the cloud has never been so critical and having that capability to bridge process and technology services is critical.  Cognizant is well placed to capitalize here, provided it creates an identity for its business operations capabilities and aligns its practice leaders to bring the pieces together for clients across cloud, apps and process.
The Bottom-line:  The negativity is leaving the building and the new Cognizant is quietly emerging
The strong rally over the past year proves there is a lot of life and energy fizzing as the new Cognizant emerges from a slow transition and a very unlucky series of events that threatened the very essence of the organization last year.  Now we need to see the leadership team drive the company forward as we stumble (somewhat) out of the pandemic into a 2022 that could be as volatile and unpredictable as the past 18 months.  One thing is for certain – Cognizant has proved to be a highly resilient animal that has quietly found new energy and footing in this most testing of times.
Posted in : Business Process Outsourcing (BPO), IT Outsourcing / IT Services