The new HFS Digital Engineering Services (DES) Horizons report provides a snapshot of leading digital engineering service providers' capabilities in a rapidly changing market as more companies adopt digital technologies in product development and engineering processes.
Ultimately, the goal is to bring together siloed digital initiatives and look at a holistic picture of the business
Advanced technologies like artificial intelligence (AI), machine learning (ML), the internet of things (IoT), 5G, robotics, cloud, automation, data and analytics, blockchain, and alternate reality and virtual reality (AR/VR) are revolutionizing product design and development. As these new technologies emerge, there is a need for skilled talent, particularly in areas such as AI, ML, and data analytics.
Additionally, the rise of new business models such as product servitization (traditional episodic encounters being replaced by continuous personalized interactions) and platformization (making platforms data ready to drive commerce and interactions between buyers, sellers, and suppliers) has further fueled the need for providers to offer expertise in business design, marketing, customer and supplier engagement to stay relevant. This trend is driven by enterprises' needs to optimize data use, digitally enable processes, accelerate growth, achieve customer intimacy, and become true ecosystem participants.
Disruptors, Enterprise Innovators, and Market Leaders
The HFS Horizons: Digital Engineering Service Providers, 2023 report examines service providers' roles in digital engineering. The HFS Horizons model aims to align enterprise objectives with service provider value. We assessed 25 service providers across their value propositions (the why), execution and innovation capabilities (the what), go-to-market strategy (the how), and market impact criteria (the so what) to best understand and plot the value they offer to their digital engineering clients.
Here are the results.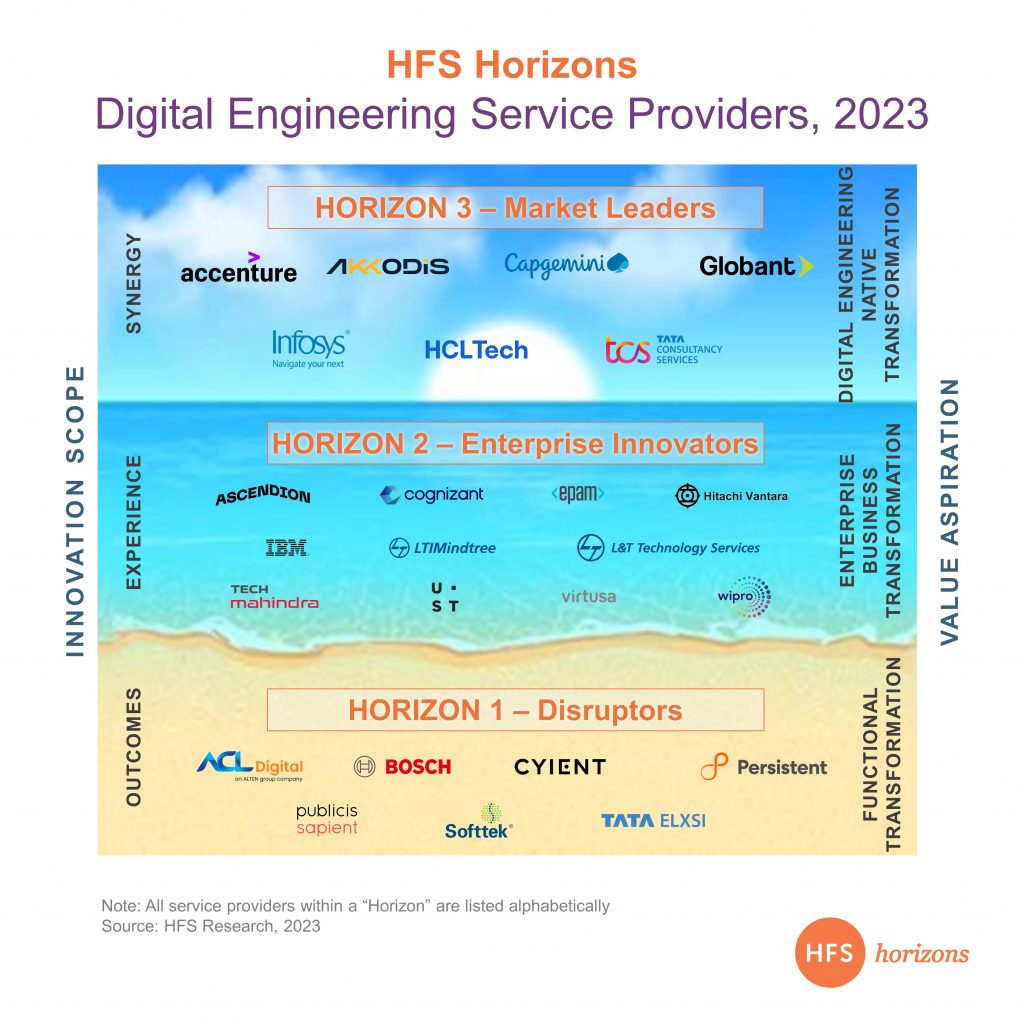 Note: All service providers within a Horizon are listed alphabetically
The new Horizons landscape demonstrates the providers' positions within the three Horizons:
Horizon 1 (Disruptors) refers to those providers who have been able to drive functional transformation with ecosystem partners and co-innovate solutions.
Horizon 2 (Enterprise Innovators) includes those creating end-to-end organizational alignment to drive unmatched stakeholder experiences.
Horizon 3 (Market Leaders) includes all providers with OneEcosystem™ synergy via collaboration to create completely new sources of value.
The Rise of Smaller Players in the Booming Digital Engineering Services Industry
The digital engineering services industry is a dynamic and rapidly evolving field, with many players offering a diverse range of technology and services. These players tend to be smaller, focusing on specialized niches within the industry. Despite their smaller scale, these service providers are experiencing impressive growth, with an average growth rate of 25%. Much of this growth can be attributed to North America's booming market for digital engineering services. As this industry expands and develops, it will be interesting to see how these smaller players adapt and differentiate themselves from their competitors to remain competitive and relevant.
Strategic Partnerships and M&A
The digital engineering services industry is competitive, and service providers consolidate through mergers and acquisitions to expand their capabilities, enter new markets, and gain a larger market share. They also partner with startups and other players in the ecosystem to develop new capabilities and technologies to better serve their customers. This reflects the evolving nature of the industry and the need for service providers to continuously seek new partnerships and growth opportunities to remain competitive and meet the evolving needs of their customers.
Innovation Is the Key to Success in Digital Engineering Services

In the digital engineering services industry, service providers need to invest in innovation and R&D to remain competitive as new technologies emerge. Technologies like the metaverse and blockchain are garnering interest for enabling new business models and revenue streams. Service providers must adapt to changing client demands and explore co-innovation and value-creation partnerships to develop comprehensive and integrated solutions. Joint ventures, strategic alliances, and co-innovation programs allow service providers to leverage their expertise for growth and value creation.
The HFS Horizons: Digital Engineering Service Providers, 2023 report highlights the value-based positioning for 25 service providers: Accenture, ACL Digital, Akkodis, Ascendion, Bosch, Capgemini, Cognizant, Cyient, EPAM, Globant, HCL, Hitachi Vantara, IBM, Infosys, LTIMindtree, LTTS, Persistent, Publicis Sapient, Softtek, TATA Elxsi, TCS, TechM, UST, Virtusa, and Wipro. It also includes a detailed profile of each service provider.
HFS subscribers can download the report here
Posted in : Artificial Intelligence, Automation, Blockchain, engineering, HFS Horizons, OneEcosystem, OneOffice