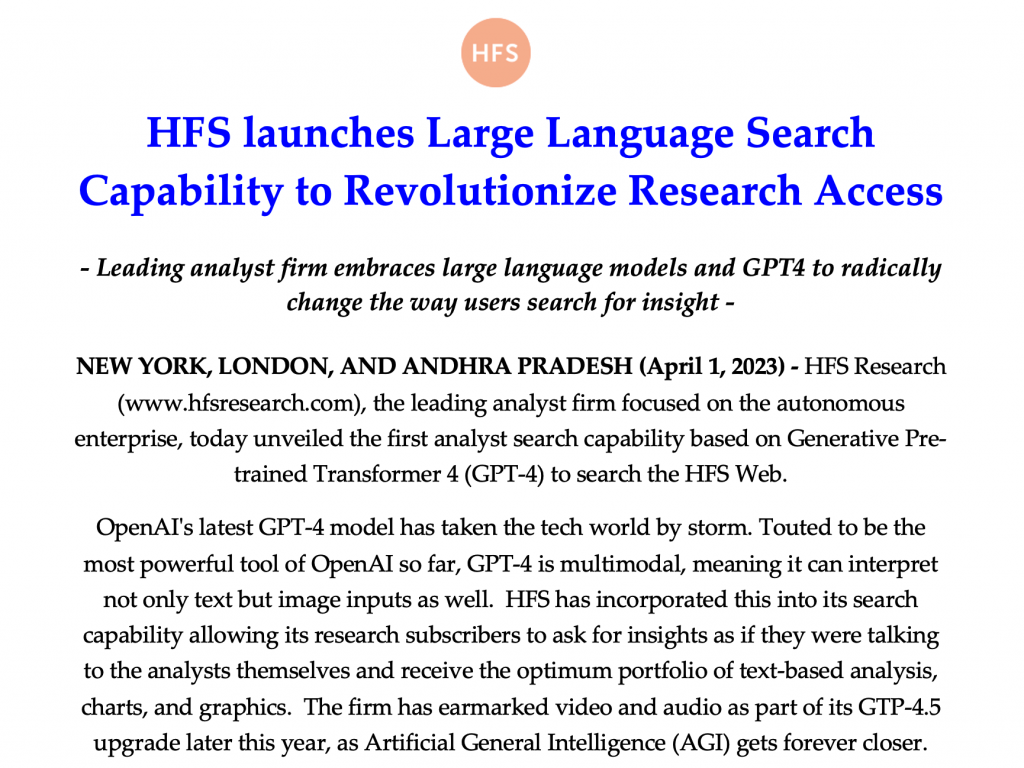 HFS has successfully road-tested the capability with several research customers, who universally declared their whole research experience had been transformed.  "It was like the research had come alive, and I was actually living it," stated one customer.  "I asked about the Metaverse and finally understood that it won't be anything until Web3 is incorporated".
To help customers navigate the HFS Web, HFS has developed an Avatar called Hillary, based on the firm's popular Horse logo: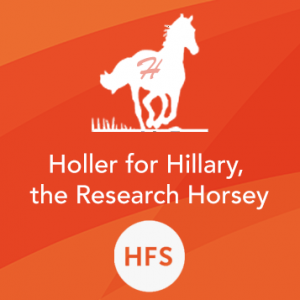 "With GPT, if you win, you win. If you lose, you still win", stated HFS CTO Jake LaMotta.  "When we tested Hillary with our customer focus group, we discovered our customers wanted to 'Holler for Hillary', so we have opted for a non-binary horse to guide everyone.  We think this is going to be very popular."
Another HFS customer, Tony Montana, was not quite so convinced. "Why do I need a damn horse to tell me about UiPath's long-awaited admission that RPA is dead.  Everyday above ground is a good day."
HFS CEO Phil Fersht, commenting on the launch, added, "We disrupted with free research and loads of brash views on the market.  Now we're disrupting with a hollering horse.  It's what I dreamed of as a young entrepreneur.  GPT-6 is the future, and it's part of us now."
To learn more about HFS Research, please email [email protected]
# # #
Note to editors: Trademarks and registered trademarks referenced herein remain the property of their respective owners.
MEDIA CONTACT:
Nobby McNob
HFS Research
And of course… this was an: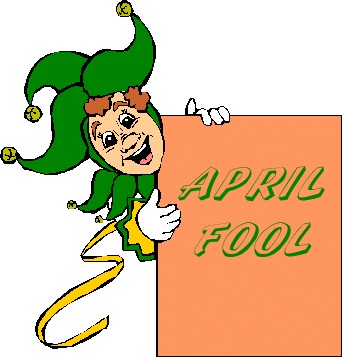 Please, please don't tell me you fell for this again for the FOURTEENTH time!  …And I know some of you did =)
And while we're reminiscing about falling for April Fools' gags, here is 2022's classic:
HFS Research partners with Zoom to Improve Employee and Customer Experiences and Eliminate the Mute Button
And 2021's
HfS Research receives $223 million in Series C Funding to become the world's favorite tech analyst firm
2020 was canceled as we were having enough drama
And 2019's
Quantum set to destroy blockchain by 2021
And 2018's
How blockchain will change the world in many more ways than you realize. It's cataclysmic
And 2017's
Yamazaki, Macallan and Redbreast lead the inaugural HfS Premium Whisky Blueprint
And 2016's
HfS launches new unDigital magazine
And 2015's 
HfS announces its entry into the outsourcing advisory market
And 2014's 
HfS and Blue Prism partner to develop automated analyst solutions 
And 2013's 
Phil Fersht steps down as HfS CEO
And 2012's
Merriam-Webster to remove the term Outsourcing for IT and Business Services
And 2011's
Painsharing exposed: HfS to reveal the worst performers in the outsourcing industry
And 2010's:
Horses for Sources to advise Obama administration on offshore outsourcing
Oh, and here's 2009's which I really hope you didn't fall for too (and many did):
Horses Exclusive: Obama to ban offshore outsourcing
Now if you fell for all FOURTEEN of these, please ADMIT TO THE WORLD YOU NEED A CRASH COURSE IN GULLIBILITY COUNSELLING AND FOREVER HOLD YOUR PEACE 🙂
Posted in : Artificial Intelligence, Automation, Autonomous Enterprise, ChatGPT, Uncategorized