First Issue Available on Newsstands Now!
Initial Printing of Groundbreaking New Magazine to be Mailed to 200,000 Subscribers
The firm that coined the As-a-Service Economy is now disrupting the analyst industry even further. HfS Research, The Services Research Company, today announced it has launched its most disruptive research offering so far: HfS unDigital Magazine.
This revolutionary publication will challenge the rhetoric and hype currently being stirred up in the IT and BPO services industry, building on the success of the radical blog "Horses for Sources," which will soon be replaced by this cutting-edge print publication. HfS is now taking disruption to an entirely new level...by revitalizing the hallowed glossy magazine. The firm believes people are so tired of relentless social media that bringing back printed words and pictures will change the research game once more.
In announcing the latest development, Phil Fersht, HfS Founder and Industry Analyst, noted that this is not the first time the firm has shaken up the marketplace.
"In 2007, when I created the Horses for Sources blog, people thought I was crazy," said Fersht. "Who would read that? Then, when I started HfS Research a few years later, people became truly concerned for my sanity. Soon after, we created the industry's best summits. Now, with well over a million hits on our sites every year, we have decided to shake things up once again. How can people still doubt us now?"
HfS unDigital Magazine will be available on newsstands around the globe and via subscription to 200,000 existing clients and community members: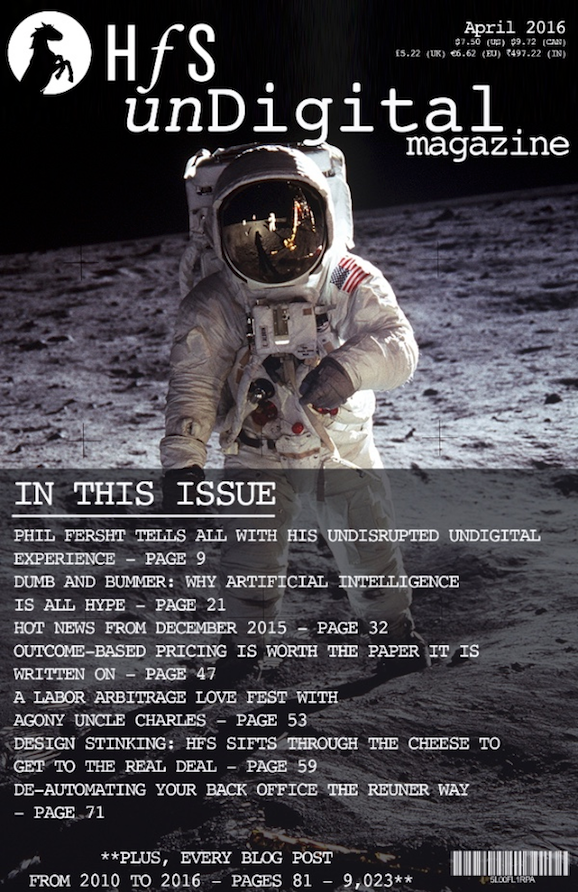 The first issue of the magazine is printed by Heidelberger Druckmaschinen AG, in Heidelberg (Baden-Württemberg), Germany, on 80lb glossy paper stock, features the following stories:
Phil Fersht tells all with his Undisrupted Undigital Experience
Dumb and Bummer: Why Artificial Intelligence is all hype
Hot News from December 2015Outcome-based pricing is worth the paper it is written on
A Labor Arbitrage love-fest with Agony Uncle Charles
Design Stinking: HfS sifts through the cheese to get to the real deal
De-automating your Back Office the Reuner way
"This is a huge undertaking," Fersht added. "But we know that a lot of our community has grown tired of staring at pixels and yearn for the feel of the printed page once again. Disruption has moved full circle and now we're disrupting back in print. Our clients tell us they miss being able to sit on the loo and flick through pages of their favorite analysts waxing lyrical. Those days are now back... so take your seat and enjoy!"
And of course... this was an: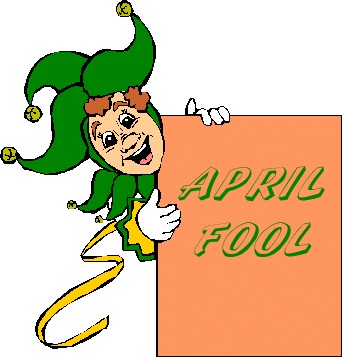 Please, please don't tell me you fell for this again!  (Even though the business model might kinda work...)
And while we're reminiscing about falling for April Fools' gags, here is 2015's classic:
HfS announces its entry into the outsourcing advisory market
And 2014's 
HfS and Blue Prism partner to develop automated analyst solutions 
And 2013's 
Phil Fersht steps down as HfS CEO
And 2012's
Merriam-Webster to remove the term Outsourcing for IT and Business Services
And 2011's
Painsharing exposed: HfS to reveal the worst performers in the outsourcing industry
And 2010's:
Horses for Sources to advise Obama administration on offshore outsourcing
Oh, and here's 2009's which I really hope you didn't fall for too (and many did):
Horses Exclusive: Obama to ban offshore outsourcing
Now if you fell for all EIGHT of these, please ADMIT TO THE WORLD YOU NEED A CRASH COURSE IN GULLIBILITY COUNSELLING AND FOREVER HOLD YOUR PEACE :)
Posted in: Absolutely Meaningless Comedy