We've talked long and hard about the extent of digital disruption of traditional business models, so we decided to extend our research coverage into growth markets where the impact of digital is always positive.  When you look at the premium whisky, for example, our research shows its impact promotes new ideas, helps foster greater team collaboration and can even provoke new Design Thinking principles. Let's have a look at how the leaders in this space are positioned, based on our Blueprint Research Methodology: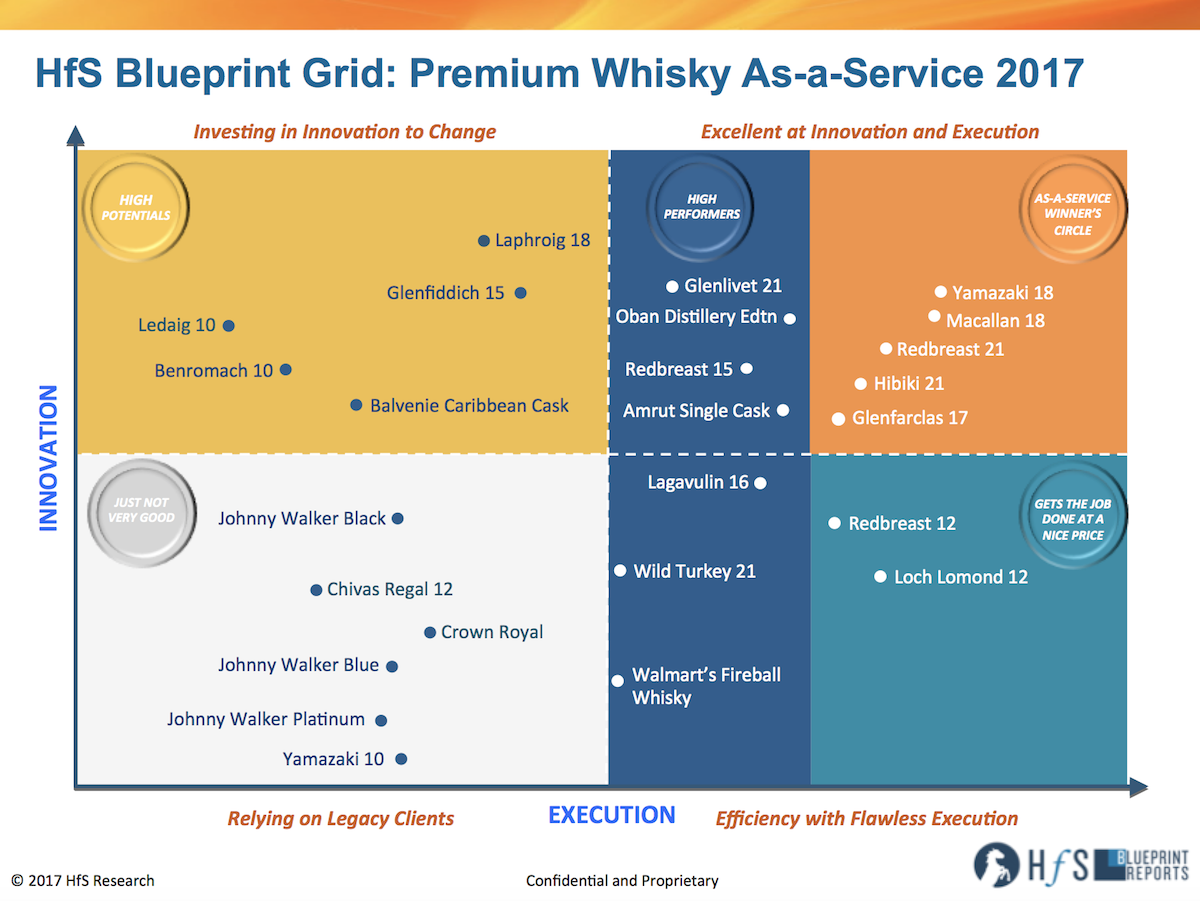 At HfS we are expert analysts at peering into markets and evaluating the performances of the major players, so we thought "why not extend our coverage into adjacent markets where some of our analysts have years of practical, hands on experience?".  Personally, I have had more innovative client discussions comparing the various merits of single malt whiskies than which automation tools vendors have better control features.  
So let's talk to a few of our contributing analysts to understand how this market played out:
Bram Weerts, COO, HfS Research:
"I've tried each and every one of these buggers and you can't beat the old Yama 18.  I do love the Mac, but Yama hits the spot everytime"
Tom Reuner, SVP Intelligent Automation Research:
"I believe I've sampled all of these whiskies, especially when I am out at analyst conferences. I haven't a clue which is the best, but wanted my name on the report, so I endorse whatever Bram and Phil came up with."
Derk Erbé, VP Research:
"I believe the whisky market is ripe for digital transformation.  Emerging brands like the Walmart Fireball are poised to rip the bottom out of the market"
Jamie Snowdon, Chief Data Officer:
"There's no way I could get through our quarterly forecasts without sampling a few of these first.  And the way the industry's going, the old Walmart Fireball will only increase in popularity"
Phil Fersht, CEO:
"We may worry about robots stealing our jobs, but those bastards will never be able to drink our Scotch."
Bottom-Line:  This is only the beginning, HfS is going to extend into new markets everywhere as digital disruption takes hold
We believe we are qualified to become experts on any market where money changes hands and greats ideas emerge. Stay tuned for our forthcoming blueprints:
"Tequila Transformation - it can really change things"
"The least disgusting low-carb beers of 2017" and
"Organic wines that you really want to avoid As-a-Service" 
And of course... this was an: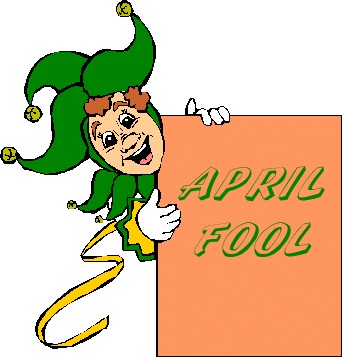 Please, please don't tell me you fell for this again!  ...And I know some of you did =)
And while we're reminiscing about falling for April Fools' gags, here is 2016's classic:
HfS launches new unDigital magazine
And 2015's 
HfS announces its entry into the outsourcing advisory market
And 2014's 
HfS and Blue Prism partner to develop automated analyst solutions 
And 2013's 
Phil Fersht steps down as HfS CEO
And 2012's
Merriam-Webster to remove the term Outsourcing for IT and Business Services
And 2011's
Painsharing exposed: HfS to reveal the worst performers in the outsourcing industry
And 2010's:
Horses for Sources to advise Obama administration on offshore outsourcing
Oh, and here's 2009's which I really hope you didn't fall for too (and many did):
Horses Exclusive: Obama to ban offshore outsourcing
Now if you fell for all NINE of these, please ADMIT TO THE WORLD YOU NEED A CRASH COURSE IN GULLIBILITY COUNSELLING AND FOREVER HOLD YOUR PEACE :)
Posted in: Absolutely Meaningless Comedy, Digital Transformation, HfS Blueprint Results