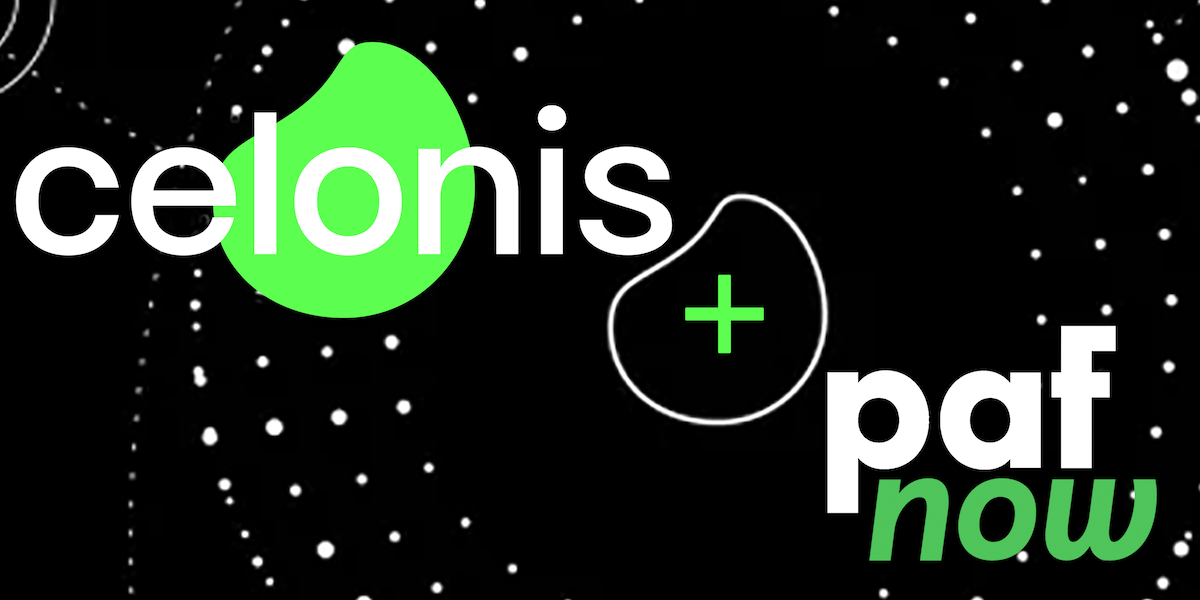 With SAP squarely in its rearview mirror, Celonis's PAFNow acquisition sets it up to tap an even bigger enterprise technology ecosystem, Microsoft
One-time HFS One Office Hot Vendor Celonis has acquired Process Analytics Factory in a $100m cash and stock deal in a move that takes Celonis deep into serving Microsoft Power users. The software unicorn is already moving very quickly to integrate PAFnow's technology with Celonis EMS, so this isn't a case of buying and killing off competition or leaving it to run independently. Moreover Celonis and PAF come from German process engineering and analytics roots, so their respective DNA will likely blend well to form a process analytics powerhouse.
Didn't Celonis already do all this process mining stuff? Why acquire a much smaller competitor?
PAFnow was founded in 2014 and is based in Darmstadt, Germany. It claims to be a disruptor in the process mining market with unique recognition for innovation through both state and federal grants over the years. PAFnow has a process mining product that is embedded in Microsoft Power BI, and it automatically learns how your business processes work, detecting any hidden deviations. In March 2019, PAFnow became available free of charge for all Microsoft Power BI users worldwide.
In our Process Intelligence Products Top 10 (see rankings below), we found that PAFnow customers clearly loved its ability to natively hook into PowerBI and the Power platform, and be up and running in weeks. A PAFnow client that is a German multinational automotive corporation shared with us their experience working with the company, "The combination of BI and process mining is the key driver. if we do projects, 80% of clients are interested in simple KPIs and numbers. if they figure out something wrong, they want deep dives, diagnostics, and figure out root causes. We can use process mining fantastically there. With other process mining tools that are also used in our company, we don't have options to create BI dashboards. For us, that combination is the key driver."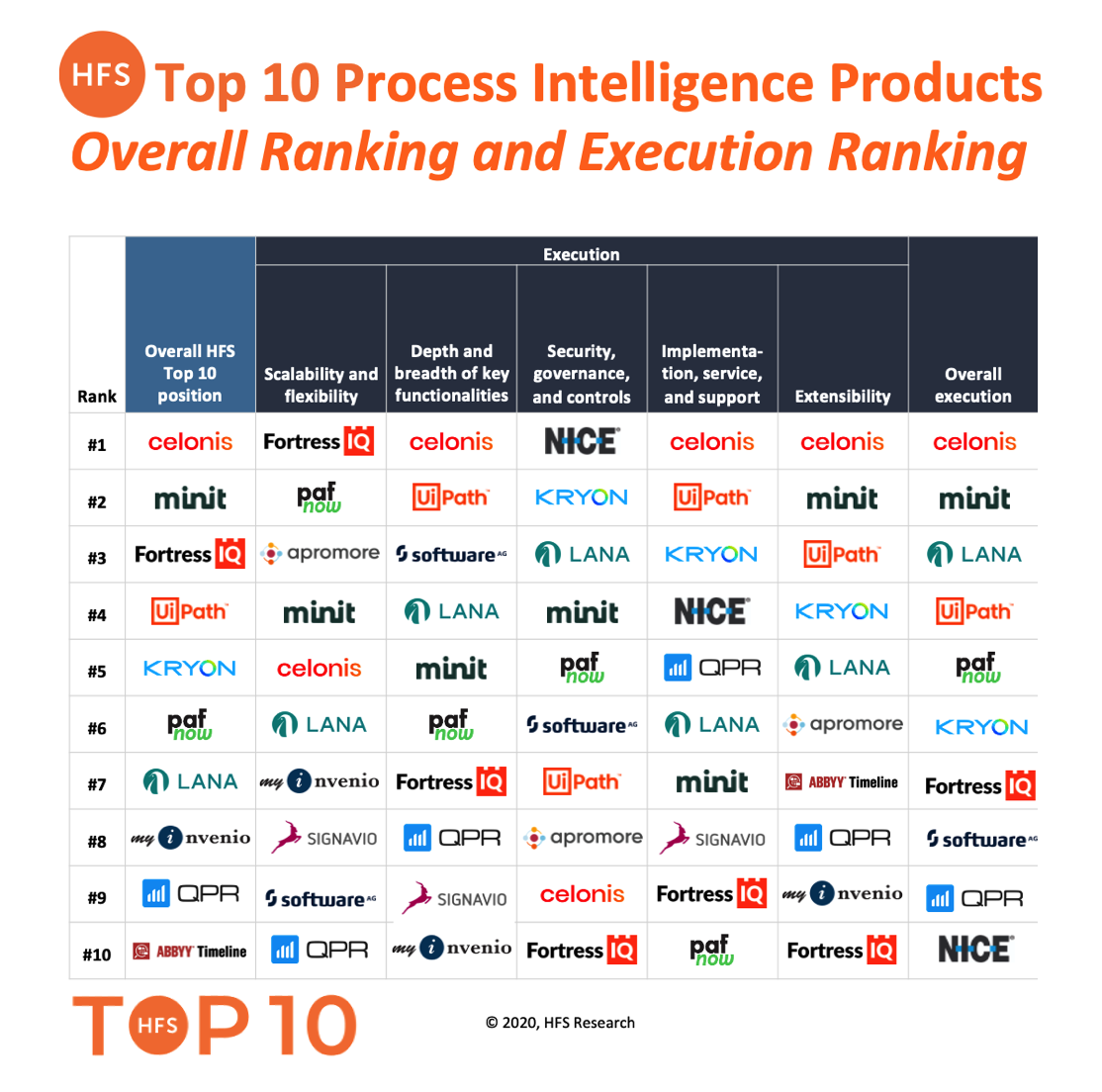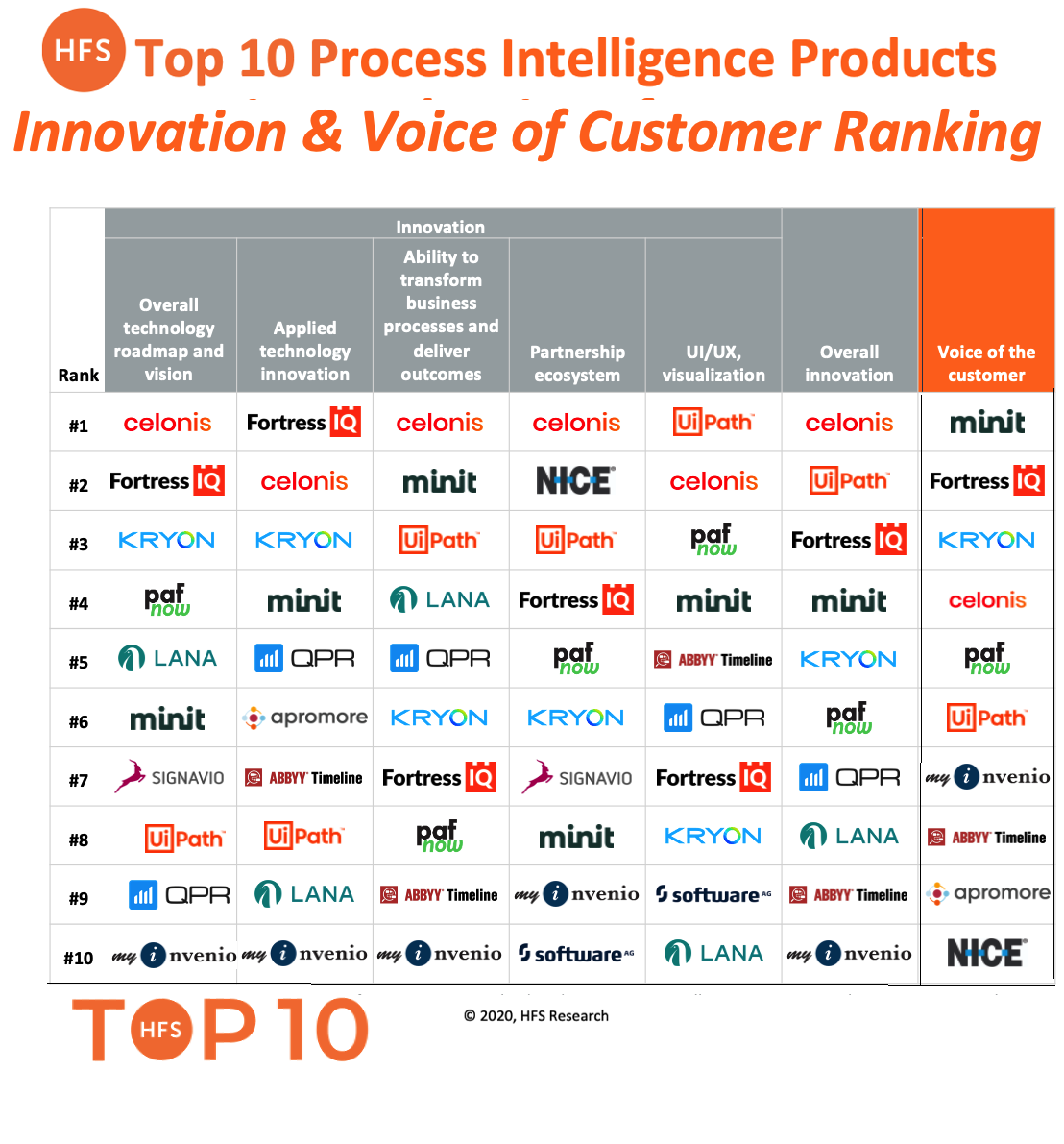 Natively hooking into a business intelligence platform like Power BI is a strong enough motivation to get started with PAFnow, as most process mining users need strong data visualization to understand the insights coming out of system log data analysis. However, the fact that Power BI is part of the Microsoft ecosystem is where the magic happens, for clients, and certainly for Celonis. The automotive client, for example, shared "The ecosystem they [Microsoft] built around PowerBI, like Powerapps and UIflows, most of which comes for free, makes it very interesting. We initially thought RPA would be a very big use case, but there is so much potential for [data and process] transparency, RPA is something smaller in efficiency potential. If you work with SAP processes, you could introduce simple RPA for automating order purchases, sure. But not that much for us… However, I know with UI flows, options of automating processes with Power BI and process mining as the backbone is possible within Microsoft."
What can clients expect? A faster way to get going on process intelligence – and beyond
Many organizations in our research have shared that their process mining projects have stalled due to challenges with getting access to system data and data integration across multiple ERPs and tech platforms. Data security, risk and compliance, and cloud concerns have held back potential process mining projects for many clients. PAFnow shone in those scenarios, not least also sidestepping tedious procurement processes by being available for free directly through PowerBI. Now the ability to use Celonis' underlying process mining engine, and eventually EMS' process orchestration capability through Microsoft opens up the possibilities for enterprises that are already invested in the MS ecosystem and want a rapid solution.
The "Celonis Experience", coming soon to a platform near you
The plan for Celonis is to integrate Celonis Execution Management Suite with Microsoft Power BI reporting, collaborate with Microsoft Teams, and trigger flows in Microsoft Power Automate. Yet, the proof here will be in the pudding. There is still a big chasm to progress from all those disparate insights to actionable insights to ultimately automation. At the same time, these insights need to be transferable between different domains and functions. Only this way will organizations progress toward the OneOffice.
It is within this context that we see automation and process intelligence capabilities moving into ISV ecosystems. But make no mistake, ISVs are not entering those markets, rather they expand their platform capabilities. Thus, from SAP to ServiceNow and now Microsoft, Celonis is getting closer to where work gets done, rather than just providing static data and insights – this was also our initial hypothesis when EMS first came out. All while steering clear of RPA. The 'Celonis Experience' as the vendor calls it is envisioning being the intelligence layer or 'brain' underneath major enterprise tech platforms… Salesforce is likely in the works, for example. SI partnerships are starting to follow this dynamic too, such as IBM's Intelligent Workflows technology-enabled solution featuring Celonis EMS under the hood for process insights.
Yet, there is another take on this expansion of capabilities. Celonis is positioning itself more and more as an automation company rather than a process intelligence. The likely focus of this positioning are possible investors who see more value in end-to-end solutions. Tellingly after Celonis announced its partnership with ServiceNow, the latter CEO Bill McDermott started to talk up automation as the next addressable market in earning calls. His vision is leveraging Celonis as an X-ray to capture process variants and challenges as well as to stream operational telemetry data. So that the ServiceNow platform can capture those inputs to design workflows in the cloud and ultimately offer actions and automation. The Holy Grail is to progress to actionable insights not just vast repositories of data.
The Bottomline: Celonis has opened itself up as the leading multi-environment process intelligence platform
Celonis' next round of growth is going to look very different from its past, and it's all about close integration with major enterprise tech darlings. The next frontier is about demonstrating actionable insights and automation on those inputs. Celonis just added another ecosystem where it can do exactly that.
Posted in : intelligent-automation, OneOffice, Process Mining