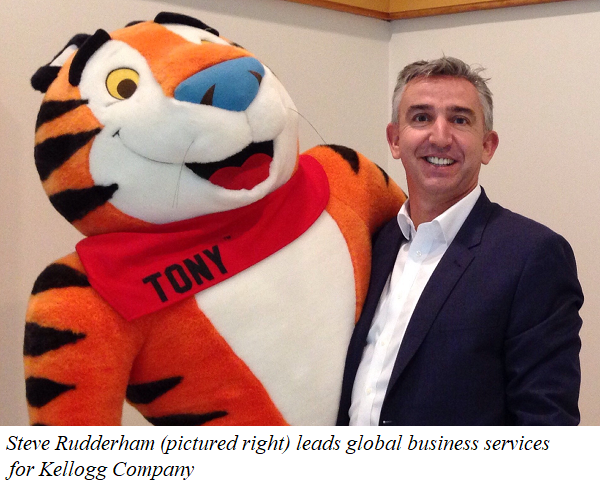 There is only one Steve Rudderham (thank the Lord). One of the most traveled and fun guys in the world of operations and services over the last 15 years, who's managed to somehow lead major BPO operations for leading service providers in both India and Latin America, run service delivery centers across the southern parts of the United States, before winding his way to the lovely Kalamazoo Michigan, where he today is devising the next phase of global business services for the Kellogg Company. And all this having grown up in the small cathedral town of Lincoln in the English East Midlands. So let's pin Steve down for a little while to find out what he's up to and where the world of global business services is taking us...
Phil Fersht, CEO, Chief Analyst, HfS Research: Good morning Steve, it's great to have you on HfS for the first time. You've had a colorful career in and around the process and operations world, can you give us a very quick run-down of where you came from and how you got to where you are with Kelloggs today?
Steve Rudderham, VP Global Business Services: Absolutely, I grew up in GE Lighting in the UK, 17 years ago I moved over to Kansas, US, to work in their Insurance business. Started off within process excellence, I was a black belt there, then went over to India to run their back office operations for what is now Genpact. I moved over to Genpact to run Latin America. I've also had terms with CapGemini running the Americas then more recently within Accenture doing Finance and Accounting globally for them as their product lead. I now run the global business services for Kelloggs.
Phil: How do you feel about being client side, having spent so long on the other side?
Steve: It's been very interesting coming over to the buyer side. I think the advantage I have is that I come with a lot of knowledge of what's available and the best practices. I also have insight into what the providers have been doing for other companies, not just within the food industry, but outside as well. If you think about Accenture, they are very strong within oil and gas, you can bring a lot of best practices over and into Kelloggs. It is slightly different in that
Posted in: Global Business Services, Outsourcing Heros