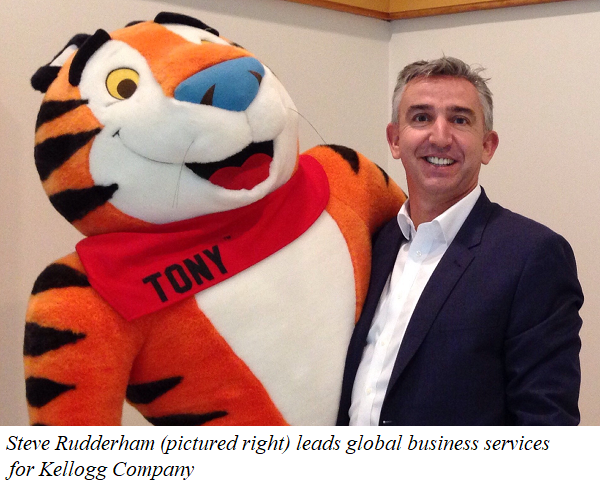 There is only one Steve Rudderham (thank the Lord). One of the most traveled and fun guys in the world of operations and services over the last 15 years, who's managed to somehow lead major BPO operations for leading service providers in both India and Latin America, run service delivery centers across the southern parts of the United States, before winding his way to the lovely Kalamazoo Michigan, where he today is devising the next phase of global business services for the Kellogg Company. And all this having grown up in the small cathedral town of Lincoln in the English East Midlands. So let's pin Steve down for a little while to find out what he's up to and where the world of global business services is taking us…
Phil Fersht, CEO, Chief Analyst, HfS Research: Good morning Steve, it's great to have you on HfS for the first time. You've had a colorful career in and around the process and operations world, can you give us a very quick run-down of where you came from and how you got to where you are with Kelloggs today?
Steve Rudderham, VP Global Business Services: Absolutely, I grew up in GE Lighting in the UK, 17 years ago I moved over to Kansas, US, to work in their Insurance business. Started off within process excellence, I was a black belt there, then went over to India to run their back office operations for what is now Genpact. I moved over to Genpact to run Latin America. I've also had terms with CapGemini running the Americas then more recently within Accenture doing Finance and Accounting globally for them as their product lead. I now run the global business services for Kelloggs.
Phil: How do you feel about being client side, having spent so long on the other side?
Steve: It's been very interesting coming over to the buyer side. I think the advantage I have is that I come with a lot of knowledge of what's available and the best practices. I also have insight into what the providers have been doing for other companies, not just within the food industry, but outside as well. If you think about Accenture, they are very strong within oil and gas, you can bring a lot of best practices over and into Kelloggs. It is slightly different in that you don't have multiple clients that you are looking after, you have your internal clients, but the focus is within one company and it's a mixture of internal staff and leveraging third party providers.
Phil: The industry has been through quite a few inflection points in the last few decades, are we really going through another one, or do you think this is a product of too much hype and rhetoric on social media and conference topics?
Steve: I think the difficulty, from a client perspective, is how you get through that hype, there are a lot of conferences around and social media is driving a lot of content as well, people want to be out there talking about what is going on in the digital environment and automation and AI. The key is to understand what is real, and how you apply that to the global business services I run – that's the difficult piece.
Phil: Coming at it from the client perspective is there a burning platform in our own environment to jump on RPA, digital and more technology based solutions. Is it something that has a strong velocity behind it, or is it more exploratory at this point?
Steve: For automation and cognitive computing there is a lot of exploratory work taking place. To answer your question around the hype – we hear a lot of how other businesses are doing it, for us, it's how do we leverage that best within Kelloggs. We are similar to a lot of organizations, we have a lot of transactional processes, as well as the higher value ones. We want to be spending our time on the higher value pieces. We are exploring where we can leverage automation to drive accuracy. If you consider an order to cash process, we want to be spending our time at the front end with the customers developing those relationships, not spending the time working out how we code deductions when they come in. This will be automated to drive accuracy and then we can spend our time elsewhere.
Phil: Do you think this current state of hype is the new normal, or are we going through a transition period as people get more knowledgeable about what is out there, and everyone becomes an expert in everything?
Steve: it will be interesting to see how fast people can get up to speed. I don't think it's just this industry – you touched on earlier – social media as a phenomenon is driving a lot of content out there – it's driving a lot of knowledge as well. Often you are spending the time trying to see the wood from the trees, how do you actually know what's real? I think it's the social media environment we live in – how do you get to the information that is relevant to you, in a timely manner.
Phil: For you personally having spent time at Genpact, Capgemini and Accenture, going over to the client side and getting stuck in with lots of your colleagues and very experienced GBS shared services professionals, what advice would you give to service providers on what they are doing wrong and what they could do better? What are they doing well as they look at what is facing them in the next 6-12 months?
Steve: I think within the client side there is definitely a hunger for information. The data analytic side is very important if the providers can show the value with that, but I am always asked for where companies have had successful implementations on innovation. If a provider can show examples, then connect people with references in those companies that you can talk to, this will result in a comfort feel that you are not necessarily the first and innovative partner, and a sense of safety in that it has been tried before, it is an approved process and we can go after it in a very timely manner. On innovation, the data analytics and bringing the examples through, regardless of whether that is analytics, RPA, cognitive computing etc, if they get that right it's a much more powerful selling proposal.
Phil: There has been some debate in the industry – "Is there an obsession about companies scaling themselves on a technology backbone as opposed to a talent backbone?" Do you think this is a potentially damaging time and what advice would you give to your fellow professionals who may be feeling uncomfortable at the moment?
Steve: Going back to the comment around the hype, organizations are trying to understand what they can leverage on the technology side v's the people side. You're always going to want your people to do the higher value work as much as possible, but without a completely clear road map of how you get there from the providers and from the industry, that makes it difficult. I think that some of the clarity we need, certainly as a buyer and a consumer organization, is what is real, what can I leverage and where can I focus my people and my resources on. Technology is obviously an enabler for us to drive the improvements, but to what degree we use is still in the exploratory phase.
With regards to your second point, I don't know if there is a focus away from talent. Technology gives us an opportunity to develop our talent a lot more. You are getting people to do the higher value work as well. If you have organizations that are looking to leverage the technology you have to get with advisory groups or providers that cut through all the smoke and mirrors. That comes back to my comment about best practices, examples and references, the more you can bring the more comfort client organizations are going to have.
Phil: As you look at the future for service providers there is a lot of pressure to maintain margins and growth. Do you think there's enough business for them to keep solvent at this pace? What do you think will happen to service providers in the next couple of years?
Steve: Service providers in the last few years have spoken about innovation, what they can bring to a client, This has to be stepped up on the client side and I'd be more than happy to look at gain share models. We have been talking about gain share models on business outcomes for a long time, but I still don't see a lot of them. Service providers seem to be a lot more comfortable talking about consultancy rates, hourly, or project costs, etc. I think for service providers to have skin in the game and they must really drive a true gain share model, I think that will gain the client interest. That's certainly where I'd like to see them and see some growth of their own.
Phil: What do you think will happen to RPA software companies that have sprung up recently? Will they continue to be the flavor of the month, or do you think that industry is in for a rude awakening in the short to medium term?
Steve: Depending on how innovative and disruptive they are, I can certainly see some of the big BPO providers buying into that talent, so you will see a concentration of the RPA providers. The big 4 BPO providers have each got their own RPA arm. I think it's very fragmented at the moment, but I see some consolidation ahead.
Phil: You think the BPO's are going to become the services arm, more than the advisers and the big 4 at this point?
Steve: I think they are going to want to drive to that, yes.
Phil: Finally, you have been in and around the industry a while now, if you were crowned the Emperor of the Service Industry for one week, what one change would you implement to make this industry a better place?
Steve: Emperor for a week? That's dangerous, I think getting to this clarity of what is out there and what is real. What people can say v's what you can actually get. What is the true value that service providers can deliver. That would certainly get the client side more comfortable with the service industry. Being able to put out very clear benchmarks, what's being delivered, being very transparent, that would be what I would push for.
Phil: How well is Lincoln City going to do next season, back in the football league?
Steve: Interestingly it's a 10,000 seater stadium, they have sold 6,000 season tickets, 2,000 for the away supporters and I think about 1,500 junior tickets it's almost a sell out every game now. So the City is definitely excited about it. If they can hold on to the players, I think it could be good season, there's a lot of optimism.
Phil: Well let's hope those Imps have a decent run at it! Cheers, Steve!
Posted in : Global Business Services, Outsourcing Heros