Recently I attended the GSA Symposium to get to grips with what's going on in the global sourcing industry. In a debate, the topic of robotics and automation and its economic impact was tackled head-on by a panel that included union leaders and automation luminaries including HfS' founder Phil Fersht.
The core focus of the debate was the impact of these technologies on employment, and what could be done to mitigate them. The discussion was broad and covered a full spectrum of topics including universal basic wage and the plight of low-skilled labor. It is the latter that caught my attention.
The bulk of the argument was how organizations should protect low-skilled positions to avoid such sweeping economic change. One union leader argued that if low-skilled jobs were to leave his region, it could never possibly recover as the range of employment options simply weren't available.
The trouble is, I disagree and do so with relatively little knowledge of the region in question. Simply put, I think the future looks bright for all workers, regardless of skill, for two key reasons. Paradoxically, technology is at the center of both – except where others believe they'll make people redundant, I think they'll empower them to do greater things.
Technology up-skills and empowers
In previous blogs, I've argued that technologies like automation free people to do amazing things by doing the tedious and low-value work that nobody wants to do anyway. This time, however, I want to look at things from the other side of the coin.
I believe technology empowers people to do high-skilled work, regardless of their experience and education. Historically, individuals found themselves pigeon-holed to specific forms of work because of their academic background or employment history. It may be that they didn't study the course they needed to get the dream job, or hadn't ticked all the experience boxes needed to get where they wanted to be. Now, technology can balance the field.
Take a car mechanic as an example. An enormous amount of training and experience is required to be successful in the role. Fixing a Ford Mondeo with a dodgy head gasket isn't something you can just walk into after all. However, with new analytics technologies and the increased computerization of vehicles, it may be something that can be diagnosed by a relative novice. With the right integrated knowledge management system, it might be something they can fix while reading a walkthrough or watching a video.
What's key here is that the technology available to us now provides us with opportunities that were historically never available. So, the fear of low-skilled labor taking the brunt of the automation fallout is unlikely to be as simple as people make it sound. The parameters of what is considered low-skill and high-skill are blurring significantly.
Technology makes us more mobile
Access to these opportunities makes the average employee more mobile, as long as they have the right tools and access to knowledge most doors can be flung open. But technology makes us more mobile in another way. I'm writing this piece from home, approximately 50 miles from my nearest colleague, Jamie. Nevertheless, I'm happy talking to Jamie right now using technology that's available to pretty much anyone. I'm accessing documents and collaborating on a report with colleagues in three continents. Of course, some jobs and professions require a physical presence (even I'm struggling with the concept of a surgeon operating from home) but more and more will utilize new mobility and communication technologies to allow employees to work from anywhere in the world.
The future of work is a complex beast, but if one thing's clear it's that technology will play an enormous part.
So, will technology be a terminator or our salvation?
Both. Technology will make some jobs redundant, improve some and create others – as it has always done. When I discussed this blog with our Head of Research, Saurabh, he mentioned the example of candlemaking's decline at the advent of electricity and the light bulb. Sure this was undoubtedly upsetting for those who had dedicated their lives to candle making and had little other skills to transfer into another role. But these days, when we're surrounded by knowledge, tools and technologies, we have a much broader range of transferable skills.
Crucially, as Phil Fersht has pointed out in his popular blog, the digital worker has a broader range of considerations rather than a particular strength in a craft – the key considerations are captured neatly in the image below which I've ruthlessly plagiarized from Phil's original blog.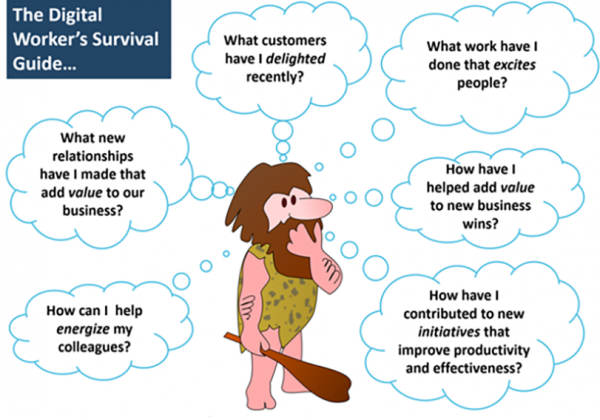 When did we start missing the point?
What I want to know is when did we start being so miserable? Everywhere I turn people are sharpening pitchforks for the imminent robot invasion. I answered a survey recently that asked if I was preparing for a world domination bid from an AI overlord. Amongst the hype and hysteria, we've lost sight of what's really going on. By and large, technologies have been invented to improve on what we currently have. Sure, dependent on your perspective you can reel off a list of offenders that have been damaging, but for the most part, they improve how we live, work and play. And increasingly seek to secure the future of our planet.
Frankly, and if the hype is to be believed I may be in the minority, I'm looking forward to the future and what new and innovative technologies will bring.
Bottom Line: The truth is that technology may have a negative impact in some areas of the economy, but it will also have a positive impact on many more.
Posted in : intelligent-automation, IT Outsourcing / IT Services