Finally... exactly four years after HfS introduced the concept of Robotic Process Automation (RPA) to the services industry, we can reveal to the world how our service provider and advisor friends are performing with the industry's inaugural HfS Blueprint report on Intelligent Automation.
Back in 2012, HfS brought the topic of RPA (see link) to the attention of the sourcing industry by challenging its dependency on low cost labor made widely accessible through the ubiquity of global sourcing resources. The report, "Robotic automation emerges as a threat to traditional low‐cost outsourcing," examined whether affordable, easy‐to‐develop software robots would eventually supplant many offshore FTEs to drive down the cost of outsourcing to an entirely new digital level. We concluded that robotic automation, or Robotistan as we affectionately called it nack then, had immense potential to be a highly disruptive and a transformative technology for buyers and service providers that would forge a whole new services industry landscape that incorporated truly global operating models that not only took advantage of globally available labor, but also accessible technology that could help digitize, streamline and standardize business processes. This wasn't only about making thing run more affordably, but this was about helping enterprises digitize their business operations more effectively to respond to their customers', partners' and employees' needs... as those needs arose. That was then, and was just RPA.
Fast forward 4 years, and the broader notion of Intelligent Automation (IA) is not only top mind of BPO executives but across the whole industry as all the facets of IA are about decoupling routine service delivery from labor arbitrage. However, despite the high profile, the understanding of how IA is impacting the industry is at best blurred as the marketing communication is both scarce and often confusing. Normally, no topic is small enough to be hyped, to be shamelessly exaggerated. Yet, in the context of automation the usual suspects, the service providers, ISVs and sourcing advisor remain coy and largely on the sidelines. Probably the two key reasons for that are that the impact on revenue models is not well understood and the disruption among workforces, the fear factor, the connotations around the topic. As such as our own Lee Coulter aptly put it, in the context of IA we have something akin to the Tower of Babel. We have many languages but can't understand each other. Enough reasons for our Intelligent Automation expert in residence, Tom Reuner, to take stock as to where the development of IA has advanced to.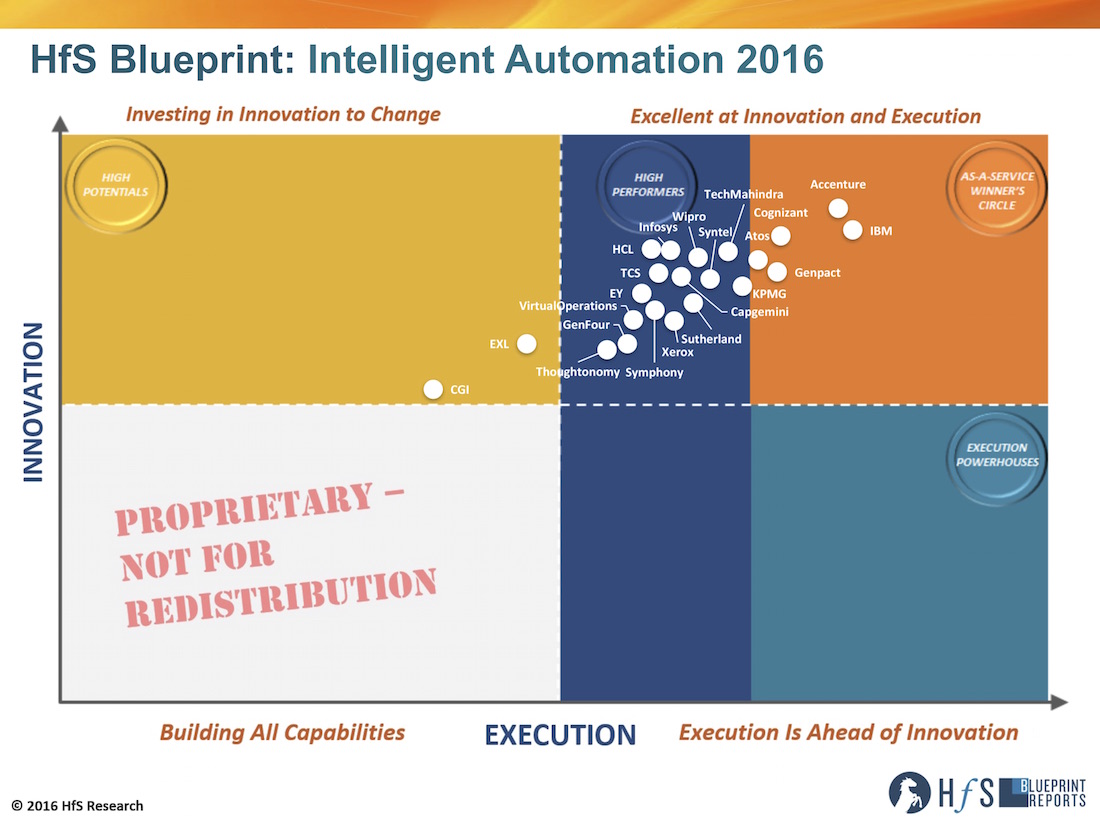 Tom, there appears to be a lot of noise around Intelligent Automation in the industry? Is the hype justified and where does it fit in strategically for buyers?
Noise is probably a good way of putting it, Phil. While many talk about automation or least refer to it, few actually provide insights about the market dynamics or even educate stakeholders about the many implications of IA. In my 20 years of being an analyst and consultant I can't
Posted in: Business Process Outsourcing (BPO), Cognitive Computing, Digital Transformation