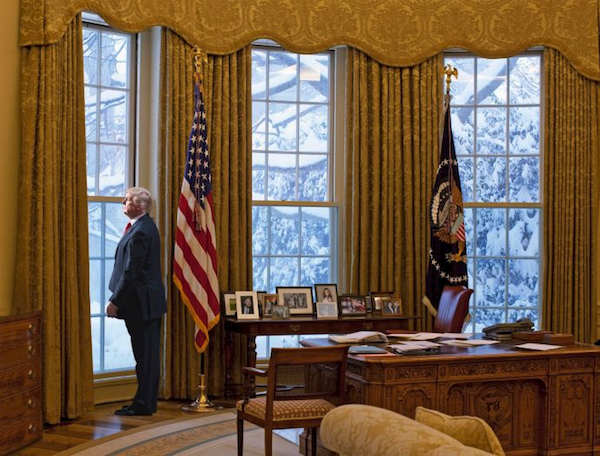 Addendum note:
Since I penned this blog, Senator Chuck Schumer has been made Senate Minority Leader.  Schumer has been the biggest and most active opponent of offshore outsourcing, in the US government, for the last several years – we even wrote about his failed H1B bill back in 2010 after his infamous branding of Infosys as a "chop shop".  Net-net – with Trump's aggressive stance on protecting US jobs, massively raising the H1B minimum wage, combined with the determination of Schumer leading the Democratic Party faction, this does not bode well for the future of the offshore business for at least the next four years.
President Trump is the death-knell for traditional offshore outsourcing… as we know it
The traditional Indian-dominated offshore IT services market was already in the throes of desperation to find a new path for itself. Much of the global 2000 has already been pulling back on the traditional "mega deal", amidst intense competition between a surplus of IT services providers and an increasingly desire to parse out smaller contracts to multiple suppliers.
The election of Mr Trump to the Oval pretty much just hammered in the final nail in the coffin for the traditional IT outsourcing market as we know it. The Republicans control the House, the Senate and Trump has a huge mandate to impose his will, not dissimilar from Obama and his healthcare reforms.  Change is going to happen and it will likely have a very significant impact on global IT and BPO service delivery.
Why is this bad news for offshore services industry? 
Temporary IT workers will likely be massively hit. Trump's campaign has already outwardly promoted raising the H1B minimum salary to $100,000 per year (from $60K). This makes managing complex IT projects a lot more expensive and negate much of the cost advantage for complex engagement requiring "landed" IT staff. For the IT community of several hundred thousand H1Bs, L1s and B1 holders currently residing in the US, many of them will come under scrutiny if Trump holds true to his number one campaign promise – curbing immigration and protecting American jobs. So this doesn't just spell bad news for the competitive of new IT services deals, it also threatens the viability of existing long-term engagements. 
Enterprises will increasingly look to cloud-based solutions. With the cost of maintaining legacy ERP systems likely to spiral, many enterprises will be forced to write off legacy sooner than they may have wished and invest in cloud-based enterprise solutions that require less offshore labor components. Much of the Indian IT services industry, for example, grew up on supporting and maintaining now-legacy IT environments, such as on-premise SAP systems. While many long-term engagements will have already be well past the "labor arbitrage stage" and hard for the Trump administration to police, all US businesses engaging with large numbers of offshore services will become under increasing scrutiny.  If there was ever a time to make investments in standardized IT solutions that do not have a heavy offshore dependence, this is it.
Automation is now the new labor arbitrage – and Donald just made it happen. Forget Brexit, Trump is now the new true friend of the fledgling automation industry (and he probably doesn't even realize it). One of his last speeches was centered on his berating of IBM for offshoring a bunch of jobs from Minneapolis.  Offshoring is often a prerequisite to automation… just look at the manufacturing industry where the work is initially moved to overseas factories, before being automated within those factories (or brought back on shore to factories employing a much smaller workforce).  Just look at many car plants today which may have employed thousands of workers just 20 years ago, which now only need to employ barely a hundred.  IT is no different and the tools are now in place to accelerate automation of IT and business processes faster than most people realize.  With the use of IT labor now under so much more scrutiny, the service providers can no longer ignore the fact they need to pivot their delivery models away from labor scale even faster than they had feared.  As we analyzed earlier this year, 9% of outsourcing jobs are likely to be displaced by automation over the next 5 years, but that number could be reached in two or three in this new climate.  
What can the offshore industry do to survive this?
Invest in US companies employing skilled US IT and consulting staff.  Wipro must be tickled pink it acquired US cloud services firm Appirio the other week.  The best way to protect – and upskill – Indian based IT workers is by making investments up the value chain to front end new generation IT projects.  Wipro can support many new engagements from this investment, where the client facing staff are all US natives, without the scrutiny of the offshore police.  Other Indian-heritage IT services majors need to follow suit with US investments, especially in consulting domains.  Consultancies like Bain and AT Kearney – while very expensive – could be very attractive acquisition targets for the likes of Infosys, TCS, Cognizant et al.  In addition, cloud services niche providers, such as Onesource Virtual, Collaborative Solutions and Sierra-Cedar are possible targets to diversify and de-risk the traditional offshore model.
Invest in intelligent automation capability and embrace start-ups. Enough of the rhetoric… the leading offshore-centric service providers have to go down this path or face extinction in the future.  President Trump may be able to make deployment of offshore workers unattractive, but he will really struggle to prevent the automation of processes and technology.  The successful IT engagements of the future with traditional enterprises beset with legacy systems are already being increasingly dominated by the need for greater automation capability.  That is bread and butter.  The emerging wave is being able to make automation more intelligent with smarter analytics algorithms and cognitive technology.  This means major investments need to be made in internal training to develop these skills and capabilities, in addition to smart partnerships with tech firms and startups.  The huge bright spot here for India – and other developing nations like China and Eastern European countries – is the emergence of the start-up tech culture. Many investors are already fed up with the insane cost of priming start-ups in Silicon Valley… and are more than keen to look overseas for more fruitful, lower risk tech innovation initiatives.  
The Bottom-line: This is the new reality for outsourcing and it's time to pivot
The FTE model dies with the Donald – the offshore outsourcing industry must look to develop new generation engagements that do not involved labor-dominant pricing.  The surviving service providers will start providing services and not "people".  Love or hate the election result, this happened.  The one bright spot, in my view, is that these changes were happening in any case, and Trump's protectionist policies are merely going to accelerate reality.  The key now is to recognize what is going to happen and get ahead of it… get ready to pivot.  This is real disruption hitting the IT services industry and it's never going to be the same again.
Personally, I am desperately hoping Mr Trump embraces an amazing opportunity to unite the country – this will either be his defining moment, or a sad mess. Whatever we think of the man, what an amazing achievement.  He was just relentless!
Posted in : IT Outsourcing / IT Services, policy-and-regulations