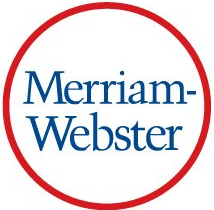 Pressure from buyers to create more accurate terminology for what we commonly, but incorrectly, term as "outsourcing" for IT and business processes has spurred dictionary publisher, Merriam-Webster, to remove the term from their next edition.
Instead, when firms purchase services from technology or business services providers, these engagements will be termed as "expertise augmentation" services.  The heritage dictionary publisher, which has provided language information since 1806, finally made the decision to remove the term, based on the latest survey conducted by HfS Research, where three-quarters of buyers emphatically declared their wish to drop the term: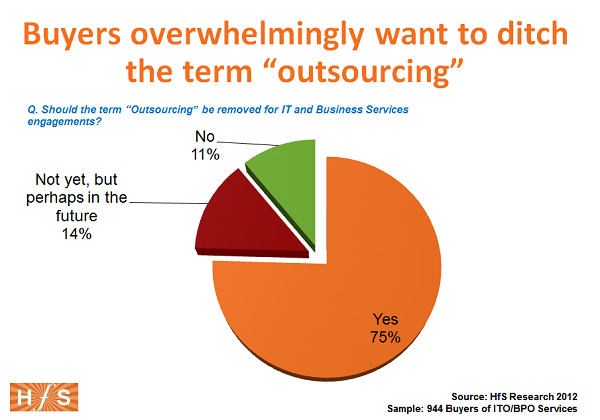 HfS Research has been agitating to ditch the term since 2008, with our now-famous post "Is it time to dump the term 'outsourcing?'" which first caught the dictionary giant's attention.  However, it was our recent piece accusing the whole outsourcing industry of being a "sham" which finally forced the issue.
"When HfS first raised the issue back in 2008, we didn't feel it was the right time, but that last piece, coupled with their latest study, finally forced the issue", commented Ashley Webster, President and CEO for Merriam-Webster online. "The HfS team has been really helpful advising on these terminology changes with their research and insight into what people want to do with that awful word."
And the exciting news is that we can give you a sneak-preview of the following changes, to be published for common use in the English-speaking business world: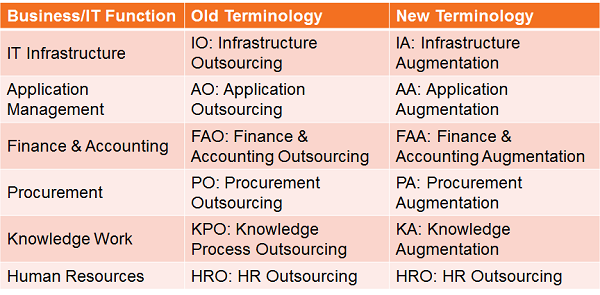 As you can see, the term "augmentation" has been widely adopted for most of the major business functions that have endured "outsourcing" in the past, with the exception of HR.  "When we looked at the data, we found that most companies didn't want to augment HR, they just wanted to get rid of it", added Webster.  "So we felt it more appropriate to stay with the term "HRO".
We felt this move may be a bit of a political hot-potato, so we managed to catch some time with Republican presidential nominee-hopeful Rick Santorum, while we was canvassing voters in Yankton County, South Dakota.  "This is simply Obama painting over the cracks of his failed presidency as our jobs continue to flood out of our country.  Removing 'outsourcing' from the dictionary is not going to solve the problem; removing Obama will.  When I am President, I will make sure these outsourced jobs come back home and the only outsourcing we do will be the current residents of the White House."
Conversely, Democratic senator, Charles Schumer, whose political brilliance has been frequently lauded on HfS, welcomes the move.  "Removing outsourcing from the dictionary is proof that all my proposed policies have worked.  Now outsourcing ceases to exist, I can go back to campaigning for the 35-hour working week."
Just remember folks… you heard it here first!
Oh, and by the way….
And while we're reminiscing about falling for April Fools' gags, here is 2011's classic:
Painsharing exposed: HfS to reveal the worst performers in the outsourcing industry
And 2010's:
Horses for Sources to advise Obama administration on offshore outsourcing
Oh, and here's 2009's which I really hope you didn't fall for too:
Horses Exclusive: Obama to ban offshore outsourcing
The question I now have is whether we have anyone here who's been suckered by all three…
Posted in : Absolutely Meaningless Comedy, Business Process Outsourcing (BPO), IT Outsourcing / IT Services