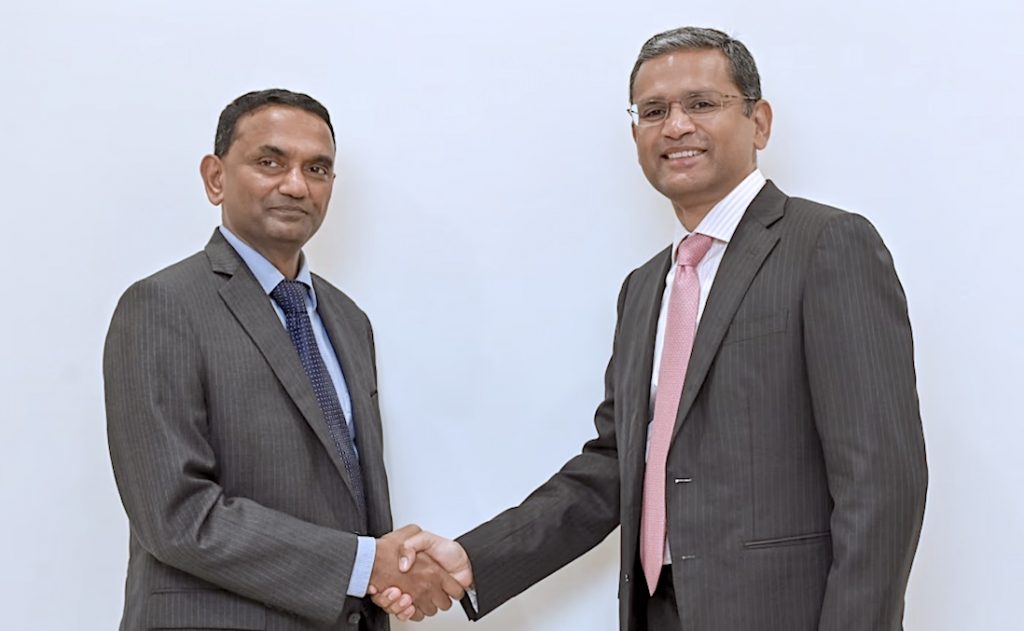 New TCS CEO K Krithivasan (left) taking the reins from Rajesh Gopinathan
So new(ish) TCS CEO MD K Krithivasan (or just "Krithi" to those who know him) has made his first move in his new role – to re-jig the familiar cast of TCS characters and move back to the more industry-centric structure that made TCS so successful in the past, including Krithi himself as their financial services leader.  As expected, no one new is brought in, and it feels very much like a TCS re-org… focusing on the familiar tenured gentlemen and focusing on what worked in the past.
Is this new structure really going to propel the company forward in the AI-driven era where scarce skills in areas such as GenAI are at a premium and intra-company collaboration and training are more critical than ever?  Does having an all-male leadership team send the right message to clients and employees, where diversity is so important to its culture and enticing the best young talent?
Krithi is doubling down on an industry-led go-to-market
TCS announced a new operating structure for the company that organizes its 40+ Industry Solution Units (ISUs) into seven verticalized business groups – BFSI US, BFSI RoW, CMI, Life Sciences & Healthcare, Manufacturing, Retail, and Technology and Services. With this change, Krithi has pretty much wiped away Rajesh Gopinath's (his predecessor) 2022 re-org, which was structured mainly by client size categories and has returned TCS to a tried-and-tested model.
Going back to familiarity can paper over the cracks
For TCS, the recent structure has caused a lot of internal politics and issues with access to scarce resources, so going back more to what they are familiar with should help calm the waters as they target more client wins and expansions.
The pros are increased specialist skills in certain industry verticals where TCS is well-resourced to win smaller deals as opposed to accessing a generic talent pool – assuming each vertical has an adequate scale of talent.
Going back to industries spells a re-emergence of old-world fiefdoms, which can stifle collaboration and neglect emerging business opportunities
The cons of this structure are that specific industry units get preferential access to talent, making it harder for emerging industries to have the investment needed to be competitive. In addition, industry segmentation like this can lead to fiefdoms and poor collaboration, which ultimately could stunt the growth of TCS.  Moreover, reverting to the old "vertical fiefdom" approach doesn't bode well for TCS investing in smaller-scale opportunities with emerging clients, which could deliver longer-term growth potential, and places the emphasis on the same old slow-moving juggernaut clients which suck up resources and often do not want to move beyond the butts-on-seats Walmart model.
While it's understandable Krithi wants to revert to a structure that made him very successful, this signals a sideways move in contrast to the likes of Accenture, which focuses its structure heavily on geographic localization of resources that has spurred huge growth for the firm over the past couple of years.
This latest re-org doubles down on execution focus versus innovation focus.
The industry focus allows them to be close to their clients, understand their context, and ensure delivery is flawless. But to drive innovation, you need a OneOfficeTM model – where they need to seamlessly integrate their IT, business, engineering, and consulting services in an easy-to-understand and simple-to-consume way. Accenture is driving this with "One Accenture for shared success," and Wipro's latest re-org is trying to achieve this OneOffice mindset.
For TCS, creating the OneOffice will be difficult to achieve in its new (or back to the old) industry-led model where the biggest verticals get the brightest resources and drive innovation in silos. It is also complicated for clients to navigate.
We've interviewed nearly 50 TCS clients over the last 2-3 years for our Horizon studies. Their clients' average scores is a strong 8.7/10 for execution but drops to 8.0 for innovation. We doubt if that will change significantly with this new model.
With Generative AI promising to change how services are consumed and delivered, we were expecting a bit more forward-thinking from TCS versus going to back to a decades-old tried and tested model.
The re-org does nothing to drive forward TCS' gender diversity while promoting long-time company servants
Executives like Abhinav Kumar, Ashok Pai, and Harrick Vin are very strong leaders in their own right and will surely do well in the new regime. However, it's very disappointing to see the lack of gender diversity in the appointments, and Rajashree has performed very well as CMO, with some smart branding, especially the extensive sponsorships of marathons which has gained real visibility and alignment with health and wellness across the world.
With Rajashree's demotion, TCS now has an "all-Indian male" leadership team. This does not augur well for a company that is considered by many as the bellwether for the IT services industry.
Bottom line:  This structure is designed to embrace the tried and tested ways that have yielded success for TCS in the past.  However, it is likely to create vertical stove pipes and stifle innovation required for changing the status quo
Will the TCS factory model continue to roll on? Most likely. But is it going to be an exciting journey? No way! The dawn of GenAI has created a unique opportunity for the IT and business services industry to jump to a new S-curve of value creation for enterprises. We wished TCS looked at this as an unmissable opportunity to create a forward-looking org structure versus a conservative back-to-the-past re-org.
Posted in : Artificial Intelligence, Banking, Business Process Outsourcing (BPO), Buyers' Sourcing Best Practices, Generative Enterprise, IT Outsourcing / IT Services, Sourcing Best Practises, Sourcing Change Management, Sourcing Locations, Talent and Workforce