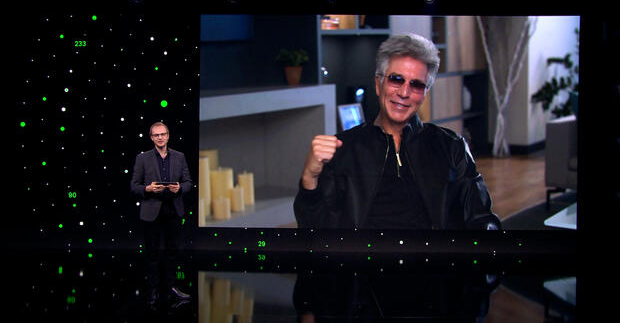 The new Celonis–ServiceNow partnership blends operationalizing data science with the capability to design workflows in the cloud.  We are witnessing a determined partnership between the leading IT Service Management vendor and the leading process execution platform. This is a true first in combining an IT-centric workflow mindset with an operations one.  This is where we combine IT orchestration with process modeling, mining, discovery and execution.  And even RPA.  The likes of SAP, Pega, Appian and UiPath will be feeling very nervous right now and surely have to make massive investments to keep pace with what we've just witnessed.
This is the boldest move yet to automate complex data with process intelligence
Against this background, Celonis' strategic partnership with ServiceNow is a bold step that could reshape many IT and business operations discussions across major enterprises. The announcement spans initially a reseller agreement, a deeper integration of both platforms as well as a joint go-to-market.
Notably, ServiceNow is making a strategic investment into Celonis, and partners are expected to launch joint products as early as the first half of 2022. The strategic intent is to link Celonis' data platform with ServiceNow's workflow ecosystem to advance toward the broad execution and ultimately automation of complex data ingestion and process intelligence.
From a Celonis perspective, it is the logical evolution of its ambition to offer a powerful execution management system. Or in plain English to position itself more as an automation rather than a data company. Figure 1 outlines the strategic intent as well as the integration into the leading cloud platforms.
The Celonis EMS ecosystem straddles data, automation, and intelligence to deliver more value from core ERPs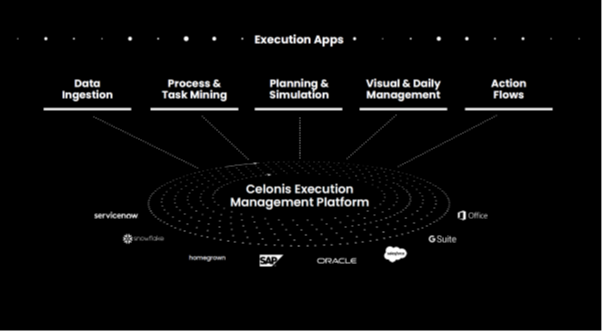 Source: Celonis 2021
Celonis' product investments are seeing it double down on big, hairy data and automation problems (process mining who?)
The other big announcement during the 'Celonis World Tour' digital event was the acquisition of DataOps provider, Lenses.io. This addition brings streaming data from any Apache Kafka project into the Celonis EMS platform. This enhances the platform's data ingestion capability to most data types and crucially provides the basis for real-time operational intelligence.
The approach that Lenses takes to dataops is almost as important as the streaming data technology itself. The vendor allows solutions to be built by analysts and engineers without necessarily needing them to be experts in Apache Kafka and stream processing through a low code, UI-based interface while allowing monitoring and governance to ensure performance.
Operating with real time data is an aspirational goal for many enterprises as they become more and more data-driven. As a supply chain executive shared in our recent process intelligence Top 10 research, "I want to jump on digital supply chain management, but I can only do this if I have access to real-time data."
At the same time Celonis positions itself to advance with convergence topics as Lenses can also integrate data such as the telemetry provided by AIOPs and Observability tools that shape the IT Operations discussions.
Celonis must also keep investing to help clients at the bottom of the tech maturity curve
While it designs the bright and shiny new future of enterprise operations with EMS and ServiceNow, Celonis must also meet struggling enterprises where they are and invest to bring them along for the ride. Automation, data, and process intelligence technologies are seeing significant investments from the Global 2000. But from our research, including conversations with enterprise clients, global SIs, and consulting partners, the ground challenges of implementation are substantial. For many, data integration is the big element that is a roadblock to the adoption of products like Celonis. While the vendor invests in streaming data, process simulation, and execution graphs that get into more and more sophisticated uses of emerging technologies for business processes, it must make it easier for the average company to get the basics in place.
To this end, we do see Celonis releasing new features, such as new connectors and data sources. The ServiceNow partnership will also go a long way in easing integration challenges and delivering value to clients using both technologies across business and IT. Ultimately, to drive mass adoption, these tools need to enable faster and less painful ways to deploy across the organization. As one of the enterprises in our research shared, "These newer offerings [in the process intelligence market] are completely new to us. As a company, we are far behind. We can't fully grasp technologies like AI/ML – they are almost too innovative."
ServiceNow doubles down on foothold in business operations
Even though 40% of its revenues come from non-IT workflows, with the Celonis partnership, ServiceNow opens a completely new buying center. Most of its business-centric deployments are in customer and employee services. Yet, the potential for the collaboration is indicated by the fact that ServiceNow's most innovative clients such as Japan Tobacco are managing GBS operations with ServiceNow end-to-end. Clients are attracted by ServiceNow's holistic data model and by cross-functional workflows capabilities. Thus, ServiceNow is central to the notion of operationalizing the OneOffice (For more details of the dynamic of the ServiceNow ecosystem, see our blog.) Lastly, by partnering with Celonis, ServiceNow is also building a buffer against Salesforce encroaching on its established ITSM patch.
Bottom line: The Celonis-SNOW partnership centers on operationalizing the OneOffice, furthering Celonis' strategy of expanding data capabilities to design workflows in the cloud
If both partners can execute against the strategic intent, the announcement could herald a new phase in the battle for dominance in the back-office. Blending operationalizing data science with the ability to design workflows in the cloud, would put both organizations beyond the often myopic RPA-centric discussions. And if both partners get comfortable with each other despite contrasting organizational cultures, the future could move from courtship to a financially secured relationship.
The market dynamics in business operations are at a tipping point. RPA providers that used to dominate the discussions are moving toward ISV ecosystems to provide extensions to legacy applications as part of a much broader value proposition. Salesforce acquiring Servicetrace and ServiceNow picking up Intellibot were the most recent examples. But perhaps the most telling event was that the poster child of RPA, Blue Prism, put itself up for sale to be consequently acquired by private equity just to be merged with Tibco. Tibco a data-centric provider has lost much of its relevance. Yet, operationalizing data science in particular in the guise of process intelligence is taking center stage of the operation discussions.
Posted in : intelligent-automation, Process Discovery, Process Mining, Robotic Process Automation, service-management