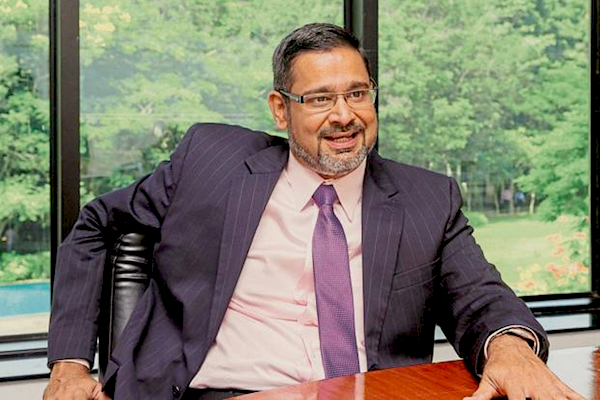 One of the astutest CEO appointments in recent times was Abid Ali Neemuchwala (or simply "Abid" as most of us call him) being elevated to the hotseat at Wipro. I, personally, have known Abid since his TCS days, when the firm acquired Citigroup's Indian banking operations in 2008, where Abid was instrumental in building a stellar BPO capability for the firm... and first interviewed him right here in 2010.
Cutting to the chase, Abid was the perfect hire at the perfect time for Wipro. With the Indian-heritage service providers scratching their heads trying to figure out how to keep growing, as those legacy $500m IT infrastructure deals and $200m SAP roll-outs dry up, the only true way forward is to build out an As-a-Service delivery model that caters for the modern enterprise needing to access talent, technology, analytics and automation capability as part of an integrated solution, tied much more to outcomes and efforts, than headcount numbers. Being able to manage the traditional enterprise's needs, while investing in the emerging enterprise of the future, is the Holy Grail for the Indian-heritage majors seeking to get ahead of a market in transition.
In my view, today's services providers need to be led by process people that understand technology and how to bring the two together effectively. If you're just selling tech, you'll end up with a commodity service, and if you're just selling process, you'll end up with something completely unscalable and unprofitable. So you need a CEO who gets right into the weeds of the operations and figures out how to technology-enable business services. You need someone who built a billion-dollar BPO business out of a tech-dominated service provider (TCS), where you had to train IT people to manage processes, and process people to understand how to enable them effectively with technology underpinnings. You need someone who's going to mastermind one of the potentially shrewdest acquisitions yet by an India-heritage major in Appirio.
You need someone who prefers to play chess than golf... you need Abid.
Phil Fersht, Chief Analyst and CEO, HfS Research: Good afternoon Abid... it's been quite a journey for you to make it to the CEO role at Wipro. Maybe you can share a little bit about your background and career path just for our readers, so that they can learn a bit more about you...
Abid Ali Neemuchwala, CEO and Member of the Board, Wipro: Certainly. Phil. So I've been part of this industry since I came out of university at IIT, Mumbai, in 1992, and now, my goodness, that makes me feel old! I've spent 24 years in this industry, the last two at Wipro—as Chief Operating Officer, at first, and then as the CEO since the beginning of this year. The fun part of being in this industry was to be able to wear many different hats. I started as a developer, quickly moved into project management and then I got an opportunity to do some very strategic projects, especially as part of the financial services industry in India as it was just growing.
I also had the opportunity to live in multiple places around the world and experience various cultures. I went to work in South Africa immediately after Nelson Mandela was sworn in. At the time, the South Africa market was just beginning to emerge for Indian IT, and I was lucky to be one of the first IT people there.
I lived in Japan as well which taught me a lot about program management and sales as we expanded our business. The Japanese market teaches you a lot. It is, in a way, the perfect training ground for sales guys because it not just teaches you perseverance, but also helps you learn the value of relationships and cultural diversities. Thereafter, I moved to the US and as a general manager in the US Midwest Operations I ran some key large accounts, before I moved back to India in a general management role. In my last stint at my previous employer, I was running the BPS business. There, I got a great opportunity to integrate a large acquisition, which exposed me to the need for being bold about acquisitions, all of which worked out well. And then, surprisingly, I got an opportunity to move to Wipro, which brought me in as the Chief Operating Officer.
So, all along it has been a great ride and a journey of many opportunities. And throughout, I continued my passion and hobby for traveling to places. The industry helped me do that. I love walking on the streets of new cities that I visit because I think conference rooms, all around the world, are exactly the same. I ask my teams to do that as well. You've got to experience the culture, the people and the places. I have always been like that, meeting people, absorbing cultures and the world around us.
My love for travel has taken me to cover about 100-plus executives amongst our top 100 customers, which helps me talk about Wipro's strategy and understand what is most relevant to them. This also helps me get their feedback on the organization as I steer Wipro through this wonderful transformation.
Phil: So you acquired Appirio. That's a company we know very well and what a very quick transaction that was! Can you talk about the core factors in this decision?
Abid: As I said, we're going to take bold strides as we rev up the engines for digital transformation. The future, which is going to be quite different, is already here in terms of Cloud, As-a-Service business models, Automation and Artificial Intelligence— not only Robotic Automation but also Cognitive, Machine Learning and Analytics. These, and also design thinking, of course, and user experience.
We, at Wipro, believe in acquiring the right capabilities at the right time and, as part of that move, had been looking at assets that would be a strategic fit. Appirio is one such capability we've been very fortunate to get. The capability is essentially, as you know, around Cloud ERP
Posted in: Business Process Outsourcing (BPO), IT Outsourcing / IT Services, Outsourcing Heros