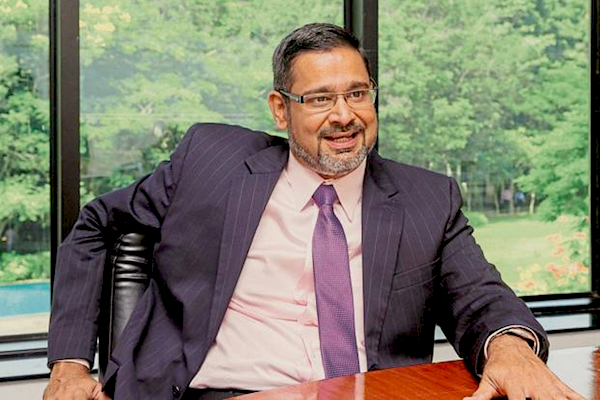 One of the astutest CEO appointments in recent times was Abid Ali Neemuchwala (or simply "Abid" as most of us call him) being elevated to the hotseat at Wipro. I, personally, have known Abid since his TCS days, when the firm acquired Citigroup's Indian banking operations in 2008, where Abid was instrumental in building a stellar BPO capability for the firm… and first interviewed him right here in 2010.
Cutting to the chase, Abid was the perfect hire at the perfect time for Wipro. With the Indian-heritage service providers scratching their heads trying to figure out how to keep growing, as those legacy $500m IT infrastructure deals and $200m SAP roll-outs dry up, the only true way forward is to build out an As-a-Service delivery model that caters for the modern enterprise needing to access talent, technology, analytics and automation capability as part of an integrated solution, tied much more to outcomes and efforts, than headcount numbers. Being able to manage the traditional enterprise's needs, while investing in the emerging enterprise of the future, is the Holy Grail for the Indian-heritage majors seeking to get ahead of a market in transition.
In my view, today's services providers need to be led by process people that understand technology and how to bring the two together effectively. If you're just selling tech, you'll end up with a commodity service, and if you're just selling process, you'll end up with something completely unscalable and unprofitable. So you need a CEO who gets right into the weeds of the operations and figures out how to technology-enable business services. You need someone who built a billion-dollar BPO business out of a tech-dominated service provider (TCS), where you had to train IT people to manage processes, and process people to understand how to enable them effectively with technology underpinnings. You need someone who's going to mastermind one of the potentially shrewdest acquisitions yet by an India-heritage major in Appirio.
You need someone who prefers to play chess than golf… you need Abid.
Phil Fersht, Chief Analyst and CEO, HfS Research: Good afternoon Abid… it's been quite a journey for you to make it to the CEO role at Wipro. Maybe you can share a little bit about your background and career path just for our readers, so that they can learn a bit more about you…
Abid Ali Neemuchwala, CEO and Member of the Board, Wipro: Certainly. Phil. So I've been part of this industry since I came out of university at IIT, Mumbai, in 1992, and now, my goodness, that makes me feel old! I've spent 24 years in this industry, the last two at Wipro—as Chief Operating Officer, at first, and then as the CEO since the beginning of this year. The fun part of being in this industry was to be able to wear many different hats. I started as a developer, quickly moved into project management and then I got an opportunity to do some very strategic projects, especially as part of the financial services industry in India as it was just growing.
I also had the opportunity to live in multiple places around the world and experience various cultures. I went to work in South Africa immediately after Nelson Mandela was sworn in. At the time, the South Africa market was just beginning to emerge for Indian IT, and I was lucky to be one of the first IT people there.
I lived in Japan as well which taught me a lot about program management and sales as we expanded our business. The Japanese market teaches you a lot. It is, in a way, the perfect training ground for sales guys because it not just teaches you perseverance, but also helps you learn the value of relationships and cultural diversities. Thereafter, I moved to the US and as a general manager in the US Midwest Operations I ran some key large accounts, before I moved back to India in a general management role. In my last stint at my previous employer, I was running the BPS business. There, I got a great opportunity to integrate a large acquisition, which exposed me to the need for being bold about acquisitions, all of which worked out well. And then, surprisingly, I got an opportunity to move to Wipro, which brought me in as the Chief Operating Officer.
So, all along it has been a great ride and a journey of many opportunities. And throughout, I continued my passion and hobby for traveling to places. The industry helped me do that. I love walking on the streets of new cities that I visit because I think conference rooms, all around the world, are exactly the same. I ask my teams to do that as well. You've got to experience the culture, the people and the places. I have always been like that, meeting people, absorbing cultures and the world around us.
My love for travel has taken me to cover about 100-plus executives amongst our top 100 customers, which helps me talk about Wipro's strategy and understand what is most relevant to them. This also helps me get their feedback on the organization as I steer Wipro through this wonderful transformation.
Phil: So you acquired Appirio. That's a company we know very well and what a very quick transaction that was! Can you talk about the core factors in this decision?
Abid: As I said, we're going to take bold strides as we rev up the engines for digital transformation. The future, which is going to be quite different, is already here in terms of Cloud, As-a-Service business models, Automation and Artificial Intelligence— not only Robotic Automation but also Cognitive, Machine Learning and Analytics. These, and also design thinking, of course, and user experience.
We, at Wipro, believe in acquiring the right capabilities at the right time and, as part of that move, had been looking at assets that would be a strategic fit. Appirio is one such capability we've been very fortunate to get. The capability is essentially, as you know, around Cloud ERP and integrating the As-a-Service model into the IT landscape of enterprises.
It was a quick move but hardly a surprise. Appirio really is the thought leader in creating the next generation of customer and worker experiences. And, if you see it from the perspective of our enterprise customers, it makes perfect sense. As our customers step up to the digital challenge, it's important for us to be able to create a seamless offering so they can react with agility to the market opportunities.
If you look at all the pieces in our digital offering including Designit, Consulting and Technology, Appirio fits in beautifully. They have deep partnerships with Salesforce, Workday and Ecosystem partners (such as ServiceMax, Google, Medallia, Cornerstone On-Demand) which can rapidly translate strategy into execution. It accelerates our maturity as a full-service provider and it dramatically reduces time to market for our customer's digital strategies.
Add to this TopCoder and it really is a no-brainer. Being the leading crowdsourcing marketplace, which connects over a million designers, developers and data scientists around the world with customers through challenges hosted on its platform, it gives a great edge to Wipro's future delivery model. It puts us miles ahead in adapting to what is the virtual workforce of the future.
About a year back, we were fortunate to find Designit, which brought design capability to us. To be honest, about a year-and-half back we tried to train engineers in design and, I think, that was a great learning experience because though you can expose engineers and programmers to design and creativity, you can't convert them into designers. Then we tried hiring designers and we realized that our brand, perceived essentially as a heavy engineering and technology one, doesn't lend itself to creative people.
Then we started looking and we found Designit. We have maintained Designit as a separate brand. When we acquired it, it was about 300 creative designers and in about 15 months, it has gone up to about 450, reflecting a 50% growth. And it is still growing. We could have never done it in-house and I see Appirio doing the same for us in Cloud ERP practice.
We've reverse integrated with Appirio a nearly $40 million practice that we had organically built. Today, we are poised to take a leadership position at least among the Indian players, once we close the deal. So, I think, the idea behind acquiring Appirio is to get a digital offering that comes in with speed and which we can synergize very well with what exists in Wipro, bringing immediate value to our customers.
Digital is a different game from traditional sourcing. If you want to deliver experiences to customers and employees at velocity and scale, the strategy, design and execution need to come together and align to a single axis. We can bring it all together and make digital happen for our customers in an agile mode. Being able to offer that comprehensive solution makes us a partner of choice.
The opportunities are right now, and we need to be bold about acquiring the right capabilities.
Phil: Looking back at the experience you went through with the Designit integration, what have you learned from that is going to help you get this one really right?
Abid: I think one of the things is the culture. It's my aspiration to make Wipro a company of the future by creating a startup culture for it. Being a 45-year-old organization, we've built a lot of good processes and with time have created related complexities as well that a lot of the new age companies don't have. They thrive in a culture where it's more like a scrum team and there are more unicorns. I think maintaining and preserving that would be extremely important.
That's what we learned at Designit and I think that is what we're going to implement at Appirio. From Designit our 2 key learnings have been: provide a high level of independence on the back-end and enable integration on the front-end with the business teams. We plan to imbibe that for Appirio.
It is not only about providing the level of independence on the back-end and the processes they have but also about adopting some of those best practices at Wipro, by bringing home more agility.
Customers want to see a very tight front-end integration. They, and especially enterprise clients, see how a trusted strategic partner like Wipro, that has a very good understanding of their current technology and operations landscape, can not only bring newer offerings but can also deploy those capabilities in the context of their environment and culture.
Phil: There has been a lot of excitement about the TopCoder product, which Appirio re-launched back in 2013. I know you guys are excited about that crowdsourcing capability. How much of an impact did that have when you were looking at the acquisition?
Abid: That's a great question. I believe that the future of work is going to be very different from the way we do it now. I think for any task we need to do for our clients we'll look at eliminating the process or the task altogether. What we can't eliminate, we'll look at hyper automating using robotics and AI. And what we can't hyper automate, we'll then crowdsource.
Only stuff that can be crowdsourced will then be done in what was the model of the past and present — which is using dedicated teams working for customers in the global delivery center model. Hence, like AI and the process for digitization or elimination, crowdsourcing will play an equally important role in the future of work.
About six months back we internally initiated a project, which we incidentally named Top Gear. This has been a very successful crowdsourcing platform within Wipro. This is a Wipro IP, on a platform that has been available to Wiproites. In a matter of about six months, we have about 23,000 Wiproites who have delivered some kind of code or IP, across about 31 different technology platforms on Top Gear. Then, when we started looking at Appirio, we knew that it also had TopCoder, which fits very well with our strategy on the future of work.
So, that's a great asset to have, and we continue to invest in it and grow it. It brings us about a million members in the public cloud, which is smart people all across the globe registering on TopCoder to develop software and deliver what our customers could benefit from. So we're very excited about that. I think it's still early for enterprise use because there are still the same questions about the cloud that we had about three or four years back on security, on background checks, data privacy, intellectual property protection and stuff like that. That needs to be ironed out.
But I do believe in three or four years, this will become mainstream and it just gives us a head start in experiencing and experimenting with crowdsourcing. So I'm very excited about the TopCoder platform and the opportunities that it provides to us as well as the value we can deliver to some of our strategic customers, where we will be able to pilot crowdsourcing.
Phil: What do you expect from your competitors here? Surely they're running out of Appirio-type acquisitions to make it worth their while.
Abid: I believe we will continue to see increased competition. The industry is going to belong to the people who are bold and can take risks. That is why I am trying to leverage Wipro's strength because we have been very pioneering and have a good balance sheet, which gives us the latitude to make certain bold moves.
And I am also fortunate that I have one large shareholder who owns about 75% of the company, which makes it easier for a CEO to make those bold moves as it helps us act quickly. For example, the Appirio decision was a very quick decision. We could sign within a matter of a few days. That's the difference that a majority shareholder brings.
So, you couldn't ask for more. I think it's going to be an interesting play. There will be consolidation in the industry and those who make bold moves early and take risks early, will benefit in my opinion.
We've made investments, we've executed on our strategy around digital, around innovation, around domain, consulting, around integrated services, the As-a-Service business model. All of those investments have cursed us a little bit on a bottom line, and that is again another bold move that we took when we, for a short time, moved a little lower than the margin levels we had been comfortable playing in. Those are some of the risks one needs to take and investments one needs to make to be able to lead in the future. And I believe we will lead from the front.
Phil: I'm going to ask you one more question, Abid. We're going to make you the Emperor of the Services Industry for one week, and you can do one thing to change the industry that you think will make it a better place. What would that one thing be?
Abid: It's a great industry of which I love being a member of and I will continue to do so. In the future, there are many things we would like to see evolve here. But there's one thing that right now is on top of my mind as we look at Cloud, As-a-Service models and at some of the risks and gainshare models that are evolving.
I think there is a need for all the ecosystems within the industry to be able to work in tandem in being able to embrace this concept because interoperability will be key. This is going to be more and more an ecosystem-driven world where partnerships, amongst even perceived competitors, are going to be a new way of life. Openness to being able to do that and have an entire value chain that works in a rhythm so that customers don't see the incompatibilities within the ecosystem—that is what I would like to enable in our industry.
Phil: That's excellent and I'll ask you one more since I've got you here. I think we last had an interview together about six years ago. If we have another one in six years' time, what do you think will we be talking about?
Abid: So, the last time, our time horizon was five years, but this time I would put it at about two-and-half years, Phil. Because the rate of change has been exponential. So, maybe in five years we will have the equivalent of two changes like we had in the last five years.
But I'm sure one of the things we'll be talking about is the whole idea of the future of work that I alluded to. How does work get done in this industry? It will be very, very different. The entire concept of non-linearity., of how we look at hiring people, how we look at training them, how we look at delivering a service—all of it will all be very different in about two to three years than what has been. That will be a huge change.
Phil: That's a great answer. It's been really great to hear your thoughts on the industry. I know our readers here will appreciate your time out to talk to us.
Abid Ali Neemuchwala (picture up top) is CEO and Member of the Board, Wipro Technologies. You can read his bio here.

Posted in : Business Process Outsourcing (BPO), IT Outsourcing / IT Services, Outsourcing Heros