HFS has just launched the industry's first-ever Generative Enterprise™ Services Horizons report, covering the 35 leading service providers and advisors vying for what they expect to be an enterprise investment bonanza.   
So we finally have real "low-code" technology for business people, and every company leader wants to make sure they aren't caught flat-footed again like they were barely a year after that famous ChatGPT launch. What is clear is they all desperately need partners to help them, but which of today's leading service providers have the real chops to provide GenAI value at scale?  Who's actively backing up their big rhetoric with real know-how and capability? 
Well… after an exhausting process of researching the 35 market leaders, their customers, and partners, we can provide the industry's first real view of how the GenAI services landscape is shaking out.
The next LLM update will create new

business

cases

and just as easily

destroy

others

 
Generative AI (GenAI) seemed to land like an alien-bestowed gift at the start of the year, promising productivity step changes and transformed ways of working. It triggered a rush of announcements from service providers as they committed billions in investments, raced to train hundreds of thousands of staff in the new technology, and buddied up with the hyperscaler owners of so much of the critical technology. Enterprise leaders felt pressure from above and below to "do something" with this shiny new object. 
This nascent market is very much subject to rapid change. Updates to the various versions of large language models (LLMs) on offer may reveal unexpected opportunities for new use cases at every turn—and they are just as likely to destroy other business cases. There's never been a better time to be agile and to keep your options open. 
Fix your data and cloud challenges now

,

or risk missing the

GenAI

revolution

 
And yet, there is a growing realization that scaling the possibilities of GenAI will ONLY be possible with solid data designed to support GenAI tools and cloud maturity foundations. This realization will create a moment for a sharp collective intake of breath among those enterprise leaders who are still working to get their data and cloud capabilities up to scratch. Catching up won't be cheap, but to join the GenAI revolution it's going to be unavoidable. 
Simply put, if we just layer GenAI onto what we already have, we'll reach a ceiling very quickly with what we can achieve. If, however, we optimize how we collect data to be synthesized by GenAI tools, the opportunities are exponentially greater.  We will have to change our habits and how we do things if we truly want to move to a new S-Curve of value.
This is where the smart service providers see the real gold – transforming enterprises to get them GenAI-ready, as opposed to their old habits of implementing software and hoping their clients actually use it effectively.  Hence GenAI is a transform-first, then-implement scenario…
Our Generative Enterprise™ Services

H

orizon

s

report covers the 35 leading service

providers

 
Our report examines and assesses 35 service providers. It evaluates providers' capabilities to understand the Why, What, How, and So What of their Generative Enterprise services offerings: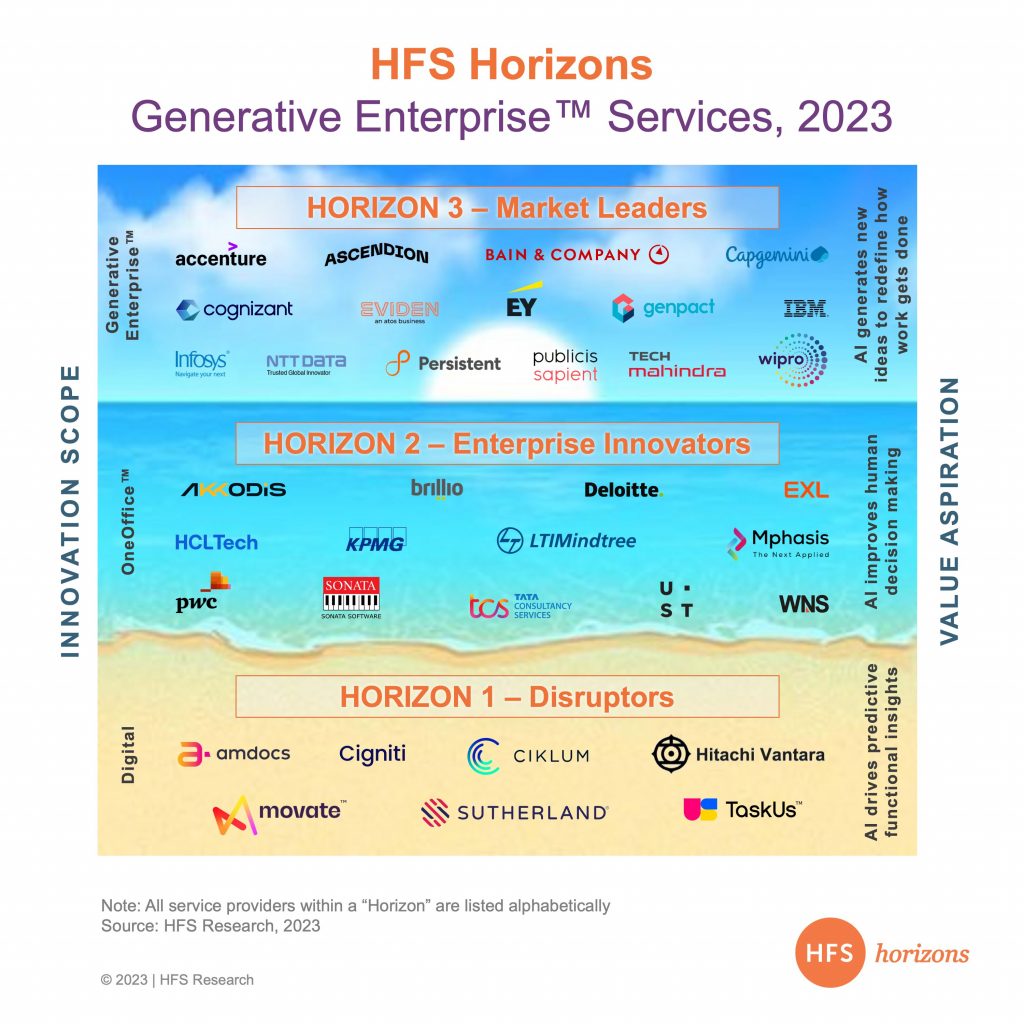 Note: Service providers within each Horizon are listed alphabetically.
HFS has called out the rise of the Generative Enterprise—the articulation of the pursuit of AI technologies based on LLMs like ChatGPT and GPT-4 to reap substantial business benefits for organizations in terms of continuously generating new ideas, redefining how work gets done, and disrupting business models steeped in decades of antiquated process and technology. 
The report offers detailed profiles of each provider and places each in one of our three Horizons: 
Horizon 1–Disruptors:

Those best placed to help enterprises drive digital transformation by leveraging AI to drive predictive functional insights. 

 

Horizon 2–Enterprise innovators:

Those enabling the HFS OneOffice™ by leveraging AI to improve decision-making and driving unmatched stakeholder experience.

 

Horizon 3–Market leaders:

Those enabling the Generative Enterprise by leveraging AI to generate new ideas to redefine how work gets done.

 
Five key dynamics this report

reveals

about the evolving Generative Enterprise services market
The GenAI gold rush is pursuing a $7 trillion prize
We've never seen a technology adopted so fast. GenAI's poster child, ChatGPT, reached 100 million users in two months. RPA took more than a decade to reach 15 million. Every boardroom is asking every CEO, "What are you doing with GenAI?" This bottom-up and top-down demand and promise of a

$7 trillion prize

has prompted a gold rush among service providers as they hurry to organize and claim a piece of the action. In months, leading systems integrators and consultancies have conjured new practices, divisions, platforms, and partnerships. They are scaling up, investing billions, training thousands of people, and recruiting thousands more—and this journey is only just beginning.

 

Point solutions dominate, but this is not where we will end up
We are already witnessing a rapid diversion of AI budgets to GenAI projects. On average, this stands at 41% across the enterprises surveyed for this report. We expect that proportion to grow as enterprises move beyond their initial point solutions in proofs of concept (POCs) and pilots. Most are solving specific tasks. As the next budgeting cycle begins, we expect budgets to scale up to take GenAI deeper into end-to-end processes, shaping new ways of working. The next step will be more challenging but more rewarding. And if it doesn't happen, there will be a lot of red faces among service provider leaders, many of whom have gone all-in on GenAI. 

The disruption is coming first and fastest to CX, EX, and sales and marketing
As part of our research for this report, we asked enterprise leaders about the functions they prioritize for applying GenAI. Customer experience (CX), employee experience (EX), and sales and marketing lead the way. This chimes with the case studies service providers shared. Transforming code has been touted as a leading use case by many service providers, and it features prominently in their internal use and service offerings. But in our research, it only shows up in around 10% of the case studies we've seen. One key thing to note regarding case studies to date is that few are coming with an ROI. At this stage, most enterprises are happy to see softer measures such as time-to-serve, CSAT, or time-to-market. 

Knowing the tech is one thing, but helping to transform with it is quite another
Enterprise customers see a gap between how well their service providers deliver on tech implementation and their ability to transform business. It's an important gap as enterprises seek help on their journey to the Generative Enterprise beyond the initial point solutions. Knowing the tech is one thing; helping transform ways of working because of the tech is another altogether. We think this gap will close because many service providers are going all-in on GenAI, focusing on proving the effectiveness of applying it to their ways of working first. The lessons they learn through self-transformation will give them the credibility to help enterprises shape their journeys. 

This revolution is personal, and you need to get down and dirty with it
Using GenAI tools is where your personal experience and understanding begin. Using the tech yourself is your due diligence. The journey to the HFS Research Generative Enterprise is not easy, but it starts with your understanding. Leaders need to develop their GenAI muscle memory to begin seeing the future through today's technology rather than persisting with a view constructed on their experience and knowledge of the technology of the past. 
The Bottom Line:

GenAI

will start and finish with POCs if you haven

'

t

already

cracked your

OneOffice

digital transformation

.

 
Much of the investment to date in GenAI has been in POCs and pilots. It's likely to start and finish there for those organizations that lag behind the leaders in digital transformation. Those best placed to scale their capabilities in GenAI are already digitally savvy and have the cloud and data infrastructure to support GenAI's data-centric and cloud-compute requirements. We are headed for a critical decision point for leaders: Get very serious about your OneOffice digital transformation, or watch your GenAI-augmented rivals leap beyond your grasp. 
HFS subscribers can download the report

here

.
Posted in : Analytics and Big Data, Artificial Intelligence, Business Process Outsourcing (BPO), Buyers' Sourcing Best Practices, Cloud Computing, GenAI, Generative Enterprise, HFS Horizons, IT Outsourcing / IT Services, OneEcosystem, OneOffice, The Generative Enterprise