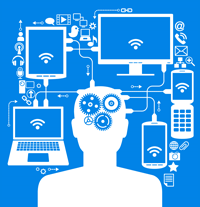 Has anyone noticed a much harsher mentality towards "labor" these days?  I can recall presenting at an HR Outsourcing conference in 2004 where there was a large gathering of anti-globalization protestors outside the hotel bearing placards and shouting obscenities are us through the window.
"Outsourcing" was a truly dirty word, and shame on any callous corporate executives for instigating the use of low cost foreign labor to substitute their own. Even poor old Mitt Romney was associated with evil "outsourcing" practices during his corporate days at Bain Capital, which hurt his (unsuccessful) attempt to become elected US president.
But all of a sudden, noone really seems to care about protecting jobs anymore – if people are just performing "transactional" tasks, for chrissakes automate them quickly, or buy a SaaS platform to get rid of the unnecessary waste. Where are the demonstrators outside of SAP headquarters in Waldorf, or Oracle HQ in Redwood Shores as these firms desperately try to convince the world they are cloudifying their products so their clients can start to do away with some of those unnecessary jobs on-premise software provides.
And what about that evil Workday, which only provides cloud-based software and enables its clients to do away with HR admin people making a living cobbling together archaic hire-to-retire processes? And where are the tears shed for all those lovely marketing admins who used to earn a crust managing customer databases… their jobs literally obliterated by Salesforce.com?  Not to mention those jovial IT maintenance people no longer needed to support crappy old email systems now their companies have started using Google apps or Office365…
Why did companies get such terrible rep for using lower cost overseas labor, but get a completely free PR pass when it comes to eliminating positions altogether through better technology?  At least they were providing jobs somewhere…
Job protectionism really has left the building 
In all seriousness, organizations are already democratizing their decisions to do IT outsourcing and BPO and, instead, looking at ways simply to erase labor altogether (see earlier). If you only outsource your labor to a provider, you're likely going to be stuck with it for some considerable time – just at a lower price point. You've simply passed on your labor costs to someone else to manage for you – more efficiently and cheaply. And once it's been outsourced, it's not as easy to eliminate those passed-on labor costs – you have to convince your provider to replace the labor with better automation and make less money from you, which it is not going to do unless create genuine incentives in place to do it.
Hence, the pressure is really now on for corporate leaders to eradicate that need for labor in the first place to ensure those costs are expunged for good… never to return.  Suddenly, reducing transactional labor has become the accepted norm for enterprises – not some wicked, insensitive capitalist strategy being driven by greedy corporate leaders. Essentially, if you're only managing routine operational work with limited interpretation of meaningful data, or failing to provide creative ideas that drive value or income for your company, you may already be on that short-list to be eliminated.
Why the new wave of Digital capabilities is challenging the workforce like never before
Organizations have been trying to reduce their labor costs for decades, but something feels very different about the new Digital reality in which we operate.  Many people thought the onset of web technologies would be the big game changer with how we utilized labor, but it actually increased our reliance of humans – many business processes became web-enabled, which necessitated training on new applications and helped us work more effectively – but they didn't fundamentally change how we operated – the web really just enabled us to run things the same way as perviously, just with more global capabilities and much more efficient communication. It was this previous wave of Digital which really enabled the great outsourcing boom of the last 15 years, as communication costs plummeted and web applications made it possible to work with people anywhere/anytime.  The initial web evolution helped globalize the workforce, but didn't have as much impact on how we could automate processes, mine vast pools of data, leverage mobile applications to interact with our employees, partners and customers.
We have entered an era today where there is real capability to change how we run our businesses – from the back office processing to the front office customer interaction:  we have tools and apps to target and interpret meaningful data, we have developing software solutions to automate and even robotize processes like we never could in the past and we have all submerged ourselves in a mobile culture where all forms of business are conducted on all types of devices and interfaces.  Perhaps even more importantly, cloud-based platforms are being developed which allow us to share these capabilities, re-invent the way we run services and process transactions that require such a lesser amount of human intervention and oversight.
Hence, the onus shifts to the capabilities of our talent to add value to their organizations that are insightful to help base decisions; that are creative, which help try new ways of doing things, or targeting new markets; that are innovative, where their organizations can find entirely new ways of competing, or developing unique products or services.  Whether their work in finance, HR, marketing, procurement, IT, supply chain… their job is to leverage Digital technologies and platforms effectively so they can refocus their time adding value, because the need to people to sit around and fill in spreadsheets all day is being gradually eliminated. People need to do a lot more thinking, and less executing.
Two-thirds of today's operations talent is falling short when it comes to supporting Digital Transformation
Which brings us to our new State of Outsourcing study, conducted with the support of KPMG and covering the experiences of 312 enterprises, where two-thirds of operations jobs are now under threat. Simply put, barely a third of enterprises today are happy with their internal talent's ability to drive positive outcomes from their analytical and creative capabilities with their current outsourcing engagements:
Steps enterprise leaderships should undertake to prepare for Digital Transformation
What's clear, is that company leaders are bemoaning the lack of capabilities of their operations staff to adopt Digital technologies and provide the acumen to make them effective for the business. If two-thirds of them are not providing the capabilities to help automate processes, analyze meaningful and targeted data, or come up with creative ideas and solutions for the organization, then their leadership needs to take on the following measures:
1) Evaluate the Digital Transformation capability of existing internal staff
The burning issue today is whether people have the capability to change the way their work, as doing things the same old way and expecting different results is the known recipe for failure. Staff need to be evaluated whether they not only have the intelligence to develop their analytical and creative skills, but more the willingness and motivation to do things differently. Simply put, most people in the white collar workplace are smart enough, but whether they have the mental fortitude to change the way they work is another matter.  Future research will tell, but we already see millennials and younger generation staff showing a more Digitally-aligned mindset to how they work, and can embrace their technology environment to be effective. The mid-career people can go either way – some embrace change (or do it through fear), while others just seem incapable of deviating their work habits – and choose to jump jobs than step up to the challenge of actually being better at how they apply their skills to the workplace.
2) Introduce formal training to change the way capable staff approach managing operations
Once organizational leaderships have evaluated the right candidates which want to re-align their skills, then lies the challenge of beginning the training. Consultants can be useful at bringing in organized programs, structured methodologies and smart learning tools, but ultimately organizational leadership needs to drive the change.  The change is more than merely "doing things differently", it is about thinking differently, it is about changing the work culture.  It is about having staff understand how they are going to be measured in the future, what is expected of them, and how they need to spend their time.  It is about these staff understanding how to embrace the technology toolsets around them to do their job smarter and collaborate with other like-minded staff to come up with better ideas for the business and better ways to achieve results.
3)  Evaluate and engage with existing and future potential partners to create a Digital culture across your organization
Most companies really struggle with change, and only relying on steps 1 and 2 might not be that effective alone. However, the nature of third party relationships can forge a very powerful catalyst to do things differently. The successful providers of the future will be those which can work with their clients to advance their skills beyond transactional.  For example, if you buy finance and accounting services, a provider which only does the transactional grunt work isn't going to be very relevant in the future when you can get much of the work done using automated technology.
Providers need to be the ones helping develop the Digital mindset with your staff, so they can work with them to be more analytical and creative. They need to provide teams of data scientists and creative thinkers who can work in hybrid teams with your own staff to create a whole new training ground and environment to take advantage of the new wave of Digital. If your current provider cannot offer those capabilities, then evaluates those who can. And these partners aren't necessarily the usual suspects of today, many of whom have already become legacy (and are only just realizing it).  The partners of tomorrow are going to look very different, may have different brands, working styles, leverage different platforms and tech. Many aren't traditional service providers, but operate with different models where delivery staff might be in the less traditional locations, or may simply be consulting firms which prefer to work with clients on longer-term service models. They may simply be SaaS vendors with great support capabilities.  The landscape is going to look very different in three years' time…
The Bottom-line:  The business world is becoming a harsher place to be, and many workers will struggle if they can't adapt
The talent crunch is already coming.  The old safety nets of years gone by have bigger and bigger holes in them – you only need to look at the job ads and the types of skills smart companies are now looking for to understand quickly how irrelevant you could become if you don't embrace the Digitally transforming world we are now living it.  It really is time to get with the program, people, or start preparing for an early retirement…
Posted in : Business Process Outsourcing (BPO), Cloud Computing, Digital Transformation, Global Business Services, HfS Surveys: State of Outsourcing 2014, HfSResearch.com Homepage, HR Strategy, IT Outsourcing / IT Services, Mobility, Outsourcing Advisors, Robotic Process Automation, SaaS, PaaS, IaaS and BPaaS, smac-and-big-data, Social Networking, Sourcing Best Practises, sourcing-change, Talent in Sourcing, The Internet of Things, the-industry-speaks