Every couple of years, we're due a large-scale call center acquisition play, and the latest is Concentrix's announcement to acquire Webhelp. With combined revenues of $8.3bn, Concentrix is now nipping at the heels of Teleperformance for position as the largest contact center business globally.  Yes, it's time for even more big traditional analog call center – and lots of it!
So has the $125 billion world of call centers really become so dull that the only thing left to talk about is who's the biggest?  This reminds us of the days when ADP swallowed up every payroll firm imaginable to ensure it controlled the global payroll market, making it an extremely unattractive market for others to enter.  This speaks volumes for a service provider seeking to protect its legacy business and maintain the legacy way of pricing deals where scale means more butts on seats… and more revenue.
At first glance, it seems that Concentrix, Teleperformance and Foundever have locked down the CX services market… but they are actually creating a whole new one that will hurt them in the longer-term
However, there is one major difference here – traditional call center services are extremely ripe for disruption, with huge costs to be saved with the smart deployment of autonomous technologies.  There are ample opportunities for tech-capable service providers to attack the CX space with digital offerings that are not dependent on voice-based butts-on-seats.
We are living through this Third Trigger of Change, where enterprises are seeking to slash costs, avoid wage inflation and enjoy the benefits of autonomization at the same time. Removing humans from loops where they are no longer needed is the game, but this seems to be counter to the business models of several traditional call center providers, still depending on selling more butts to keep growing their revenues.  However, while traditional call center services are stagnating at a lower-than-inflation 4%, digital CX is growing at three times the clip (12%):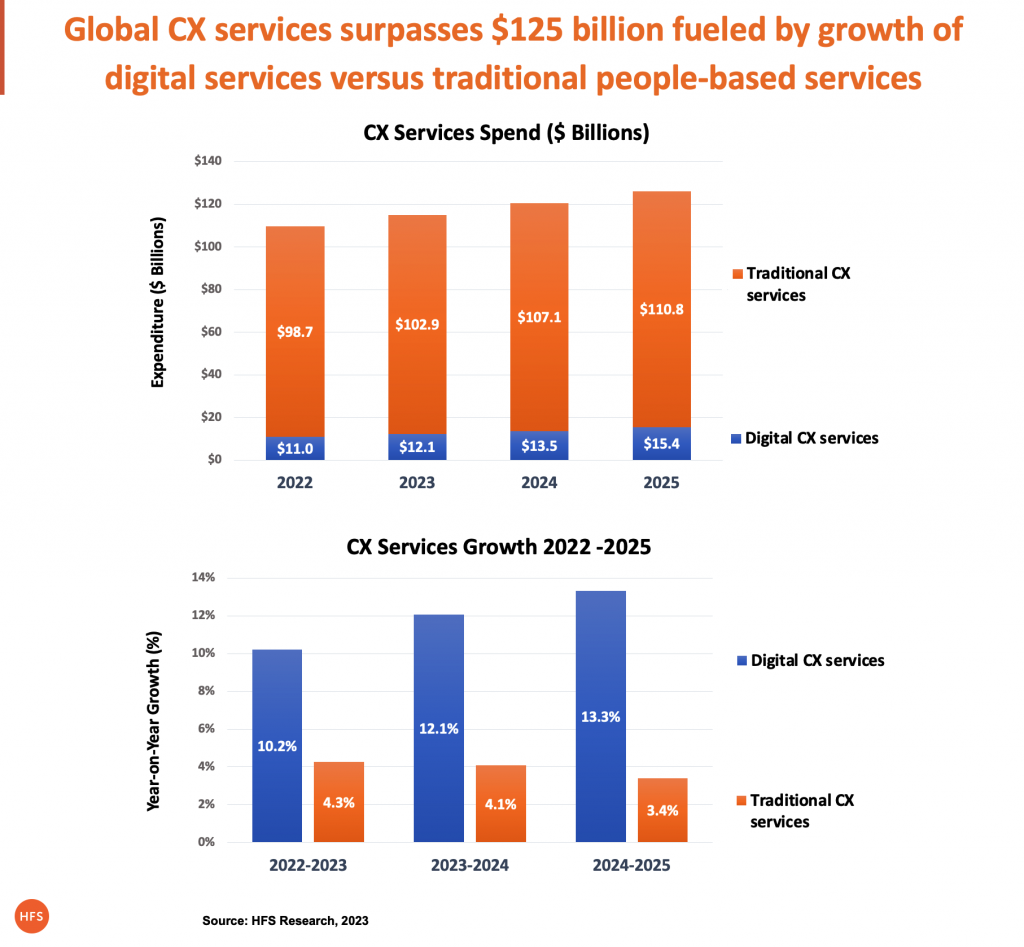 Just look at the growth services providers such as Tech Mahindra, Wipro, Genpact, and WNS are already enjoying adding CX-related services based on non-voice delivery to their client engagements.  For example, Tech Mahinda has doubled its BPS business in three years (to over a billion dollars), wheeling in CX-related work in sectors like telco without this huge dependency on Manila. We fully expect other tech service providers with deep relationships in the CX domain to enter this market soon, such as IBM, Cognizant, and Accenture, all pushing business services with strong CX automation and AI elements.
For many industries, the need to house armies of increasingly-expensive customer service agents, either onshore or in locations like the Philippines, is decreasing as more and more customers simply do not have the time or inclination to talk to a rep, and enterprises want to cut out the costs of paying for them.
Concentrix hopes bigger is more beautiful for Webhelp's customers
While service providers in other services, such as IT and F&A have been openly against scale-based acquisitions for several years, it seems that the leading call centers are opting for greater scale, more global presence, and more people to get ahead in their markets.
Recent consolidation of the largest providers in this market included Sitel/ SYKES (now Foundever) in 2021 and Concentrix/ Convergys in 2018. While this appears to be largely a scale play, Webhelp brings some unique features to the table. For example, its recent Sellbytel acquisition bolstered its ML/AI capacity.  Its NEST offering is a business unit dedicated completely to helping startups scale their CX businesses, something we've not seen formalized in any major competitors (and probably will not until that market eventually recovers). Plus, the firm brings a strong ESG game, particularly with regard to its impact sourcing credibility.
Bolstering its geographic presence is clearly one of the advantages Webhelp brings to Concentrix, and its addition of 25 countries is appealing at a time when CX clients are very keen to pursue new locations that offer services and lower costs.  Webhelp's European, nearshore and South African presence will be particularly useful to complete Concentrix's global jigsaw.
Whether Webhelp's customers will be happy being serviced by a much larger beast is in question – will they get the same attention as before?  Will Concentrix hike up prices safe in the knowledge the switching options have become fewer?
Concentrix is refocusing on traditional call center growth, despite earlier acquisitions of Tigerspike and PK
Much of the appeal of large-scale call center services acquisitions is to drive down pricing with fewer players, consolidate accounts and real estate, but it sometimes seems at the cost of innovation. This was the reason BPO giants like IBM exited the market several years ago (it actually sold its CX business to Concentrix a decade ago) and Capgemini deemphasized the CX space.  They saw this market as a race to the bottom that was becoming harder an harder to maintain margins.
Webhelp signifies the direction Concentrix is going as a company, which is to edge out its other giant call center competitors with added scale and resources.  When Concentrix acquired Tigerspike in 2017 to add digital design capabilities, it seemed that the firm wanted to broaden beyond CX into higher value areas to impact customer experiences.  And its sizeable acquisition of PK Consulting early last year seemed like an attempt to make a more concerted effort into digital design after Tigerspike failed to impact Concentrix clients at scale.
However, the problem is simply that call center services and digital marketing services are acquired by different people within enterprises, and the client leads in services firms cannot sell to marketing leads as well as call center leads.  You can't blend the two skillsets the way most enterprises have developed over the years.
For example, the Sitel acquisition of Sykes saw a massive clearout of staff to remove redundancies, and strategic investments like its Symphony automation play have long bitten the dust.  While the vision is lofty, the reality of the mega-mergers often seems focused on lower costs and higher margins while squeezing out cheaper smaller players.  Overall we see a lot more call centers, and bigger call centers, than any significant technological advancements.
The Bottom-line: The future of CX is shifting to autonomous digital delivery, driving the need for call centers and IT integration providers to merge
Bigger isn't always better, but other large providers are growing at faster rates, with both Teleperformance and TELUS both growing in the double digits.  Both of these firms have made significant investments in technology capabilities and digitalizing their solutions, such as TELUS International grabbing up IT services firm Xavient and, more recently, digital engineering firm WillowTree.
Offshore-heavy IT-centric providers actively vying to move more into CX, having the tech capabilities to connect integration points, adding security around data repositories, and implement AI-bots to cater to autonomous customer contact. It seems that finding the right balance between technology and front-office capabilities will be the recipe for future CX success.
So why doesn't Concentrix look to acquire an IT services firm to equip itself for the autonomous enterprise?  Surely balancing the physical delights of the call center with digital integration capabilities to balance cost and speed will answer this digital dichotomy facing enterprises…
Posted in : Artificial Intelligence, Autonomous Enterprise, Contact Center and Omni-Channel, Customer Experience, Digital OneOffice