One of the worst-kept secrets in the world of call centers finally went from gossip to reality as Synnex Corp added Convergys to its acquisition portfolio to roll under Concentrix. As we covered here in 2013, IBM spun out its call center business to the Concentrix brand and – almost five years on – will merge forces with Concentrix under the leadership of Chris Caldwell (recently interviewed here).
So, from 10,000 people (just 5 years ago) to being very close behind the market leader, let's see how the call center market is shaking out right now: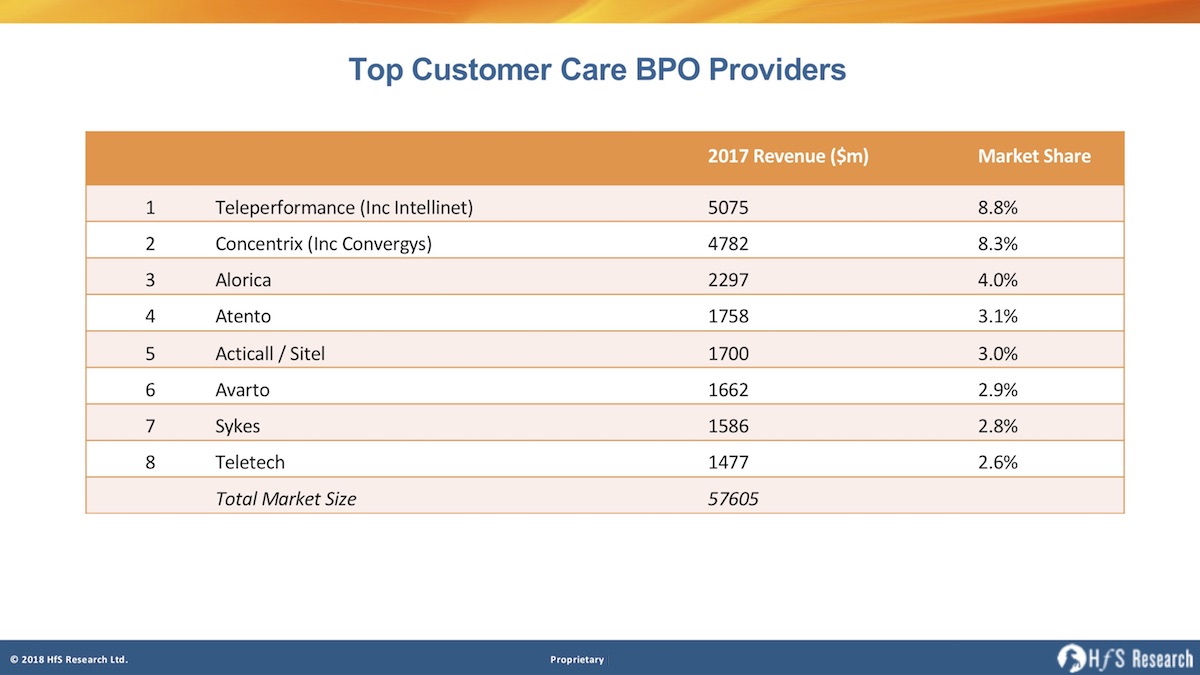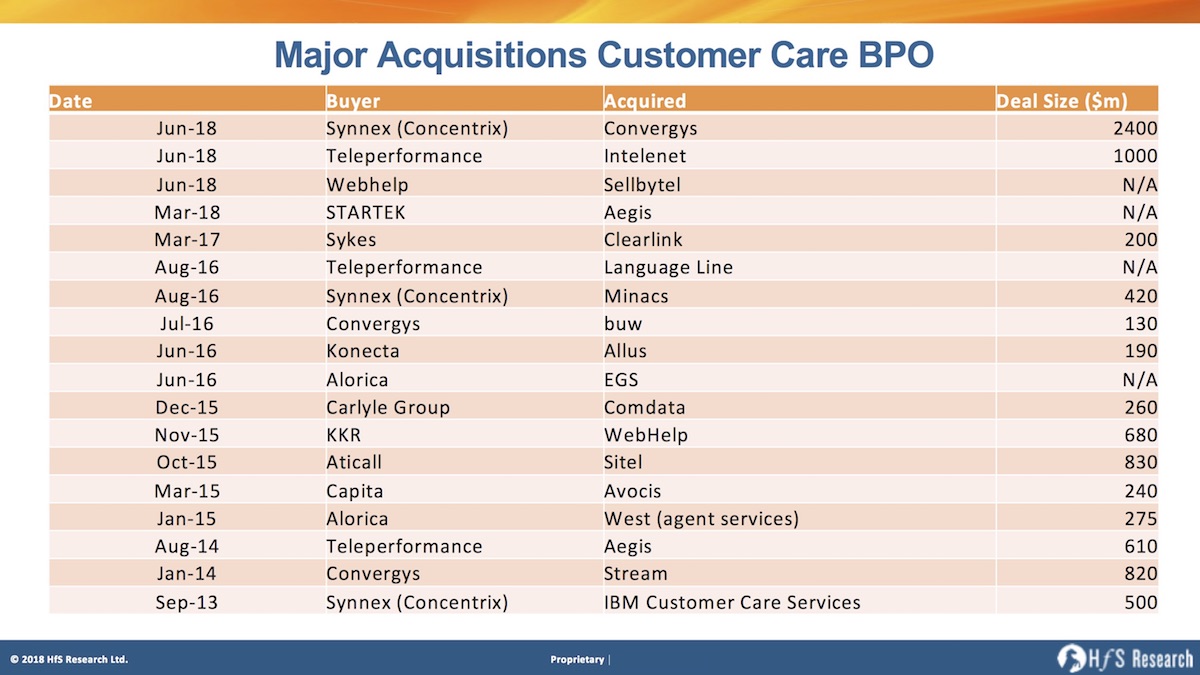 Let's just get right to the nub here… what's good and not-so-good about this lovely marriage?
Pros
The price tag is extremely attractive – especially when compared to $1 bn for Intelenet, which is a much less heritage firm in the market. At these investment levels, this appears like an amazing deal for Synnex, especially with its track record of making sound investments over the past couple of decades.
We now have a very strong rival to Teleperformance at the top of the market. If Teleperformance had made this move, it may have been game over for a lot of these firms.
Convergys was stuck and needed a new direction – and here is one with an exciting young firm. Convergys is a great, traditional contact ctr firm, very dedicated to its craft, but has been hurt by low-cost competition and struggled to maintain its edge in recent years.
Scale can be priceless in a commodity market. When an industry is commodotizing like call center, it's often better to operate at a larger scale, so you can ringfence your legacy business and invest in strategic clients who want to work with a co-investment mentality. Geographical expansion and diversification will help the merged entity drive greater cost synergies and variety for clients.
Similar business ethos. As both core contact center service providers, both have a strong global operating model for consistency of services as well as a training and employee-focused culture. The challenge will be integrating the two together, but are generally aligned in terms of employee centricity and ops excellence.
Convergys has a very loyal client base that identifies with the firm, its culture, understanding of call center agents, and its understanding of their needs.
Microsoft partnership. Convergys has a very promising partnership with Microsoft and capabilities to harness Cortana and other apps. CNX will need to nurture this relationship.
Good technology assets. Convergys brings a solid IVR business and some very popular agent portal platforms.
Gives Concentrix strong market visibility and helps shed its "we used to be IBM" tag. For Concentrix, this could help them carve out the message of what they're doing and want to be in the market. For Convergys, lends some sense of direction in the post Andrea Ayers era.
An injection of fresh thinking and new ideas. Chris Caldwell has a terrific opportunity to take his ideas to a very significant level if he can get this right, especially with acquisitions such as Tigerspike in the digital design space, and Minacs in marketing analytics and support. Chris has a bold view of where the industry needs to go – this should be a terrific challenge for him and his team.
M&A can buy time to take control in a commodity marketplace. Large mergers like this create the perfect distraction to make some discreet investments, keeps the shareholders at bay for a few quarters and can (potentially) help them focus on retooling the offerings and sharpening the whole approach. However, this depends entirely on decisive leadership and swift, focused transition and very strong communication to investors and shareholders.
Cons
Is bigger really better? This acquisition seems to be more about bolstering scale and size, with Convergys having little to show in terms of proprietary IP or differentiated offerings (Contrary to Concentrix's investments in Tigerspike and Minacs). However, in a market that has been largely stagnant for years, any movement like this can help shake things up.
Convergys lacks a diversification in clientele with AT&T/Comcast being an enormous piece of CVG's business. Telcos are typically the epitome of butts on seats deals—why choose a company that's practically half telcos? Maybe this explains why the price was so attractive.
Client overlaps in large accounts will impact some revenues, i.e. Cisco.
The potential for culture clash. Concentrix comes out of IBM business and Convergys is essentially a traditional telco out of Cincinatti Bell … one has a background of tech and innovation and the other a very conservative and risk-averse culture.
Convergys' revenues have been decreasing the last couple of years. Call volume fluctuations and trying to compete with cost-focused customers and several butts-in-seats service providers in low-cost geos, has made it very challenging to focus on value-based deals.
Appetite for automation in Convergys core industry puts ever more pressures on sustain margins and growth. For example, Convergys' strongest vertical, telcos, are increasing their self-service interactions and automation, and have the strongest appetite in the industry for increasing Robotic Process Automation investments, in addition to their outsourcing focus.
Desperate mid-tier providers. Many of the midtiers service providers may make the whole situation worse, by forcing price points even lower out of sheer desperation. Let's be honest, we're in a rat-race and the game is all about who can survive the next 18-24 months to emerge ontop.
Low-cost IT/BPO offshore providers making subtle moves into the contact center space as digital customer needs accelerate. We're already seeing many of the Indian heritage firms chasing after call center deals they would not have looked at a couple of years ago. They can be especially effective with "chat-only" engagements and with clients wanting to buy into a strong cognitive / automation story. Large IT-centric outsourcers, such as Techmahindra, HCL and Cognizant have been seen picking off some impressive wins with clients, especially where there are very strong IT elements. BPOs such as EXL and WNS have been much more active in the customer service segment, and EXL is making an impressive repositioning of itself as a digital intelligence provider, with some impressive depth in insurance, utilities and healthcare sectors.
The Bottom-line: As long as this "traditional consolidation" is short-term, this could pave the way for a OneOffice future for the winning contact center providers
Let's cut to the chase here – Convergys is a great call center provider, but lacked the leadership and investment to break into the digital era effectively. This merger may just provide that opportunity for a very talented employee base with a terrific customer culture. For Concentrix, they needed one big play to get up-close-and-personal with Teleperformance, and this is the move. Plus, the price was really damn good, and we're surprised why others with huge financial backing didn't make the move, such as Sitel or Arvato.
On the negative side, these contact center heavyweights appear to be doubling-down on size and scale, rather than pursuing a true OneOffice vision for digital customer engagement. We are more excited about some of the smaller acquisitions happening in the space, such as Webhelp's recent Sellbytell acquisition from Omnicomm and SYKES' pursuing digital marketing with Clearlink – connecting the pieces in the front office as marketing, service and sales continue to overlap and converge, and using the vast amounts of customer data they process to better engage with customers.
The large contact centers can't seem to get out of their own way—they talk about providing digital, analytics and CX consulting focused services, but the reality is that the bulk of their business is still traditional contact center. Despite some real capabilities, salespeople aren't incentivized to sell a different way, and customers aren't ponying up to partner and buy a different way. Continuing in this paradigm is a short-sighted view… look at what is happening with eroding revenues from the telco sector now, the most mature of the contact centers will eventually happen in other sectors, such as retail and banking. In addition, the wave of "chat only" deals are increasing and threatening the life out of the traditional voice business. Providers like Teleperformance and Concentrix don't have to disown their core business – there's always going to be a huge market for traditional interaction management, however, adding some truly differentiated digital offerings would be a much smarter long-term strategy.
Net-net, this is a massive coup for Synnex and the Concentrix management teams – and Convergys has found a good home to focus on the future with confidence. However, we would like to see some significant investments in intelligent automation and digital technologies to drag contact center BPO into the OneOffice era. Let's hope these guys can work it out, as there is a real war on between the legacy cost-obsessed approach and the OneOffice approach…
Posted in : Contact Center and Omni-Channel, OneOffice