It's been a couple of years since we've seen any major consolidation in the contact center BPO top ten providers with Concentrix acquiring Convergys, but last week Sitel made it clear that large contact center acquisitions are still in vogue by announcing its intention to buy peer SYKES.  
As for the $2.2b price tag, Sitel now expects to generate $4b in revenues from the combined entity.  The combined revenues will be biting at the heels of their next-largest competitor, Concentrix, which is second only in revenue and scale to contact center BPO giant Teleperformance. In 2020 SYKES revenues grew 6%, whereas Sitel's grew 18%.  With this acquisition, Sitel jumps ahead of the now 4th largest competitor, TTEC: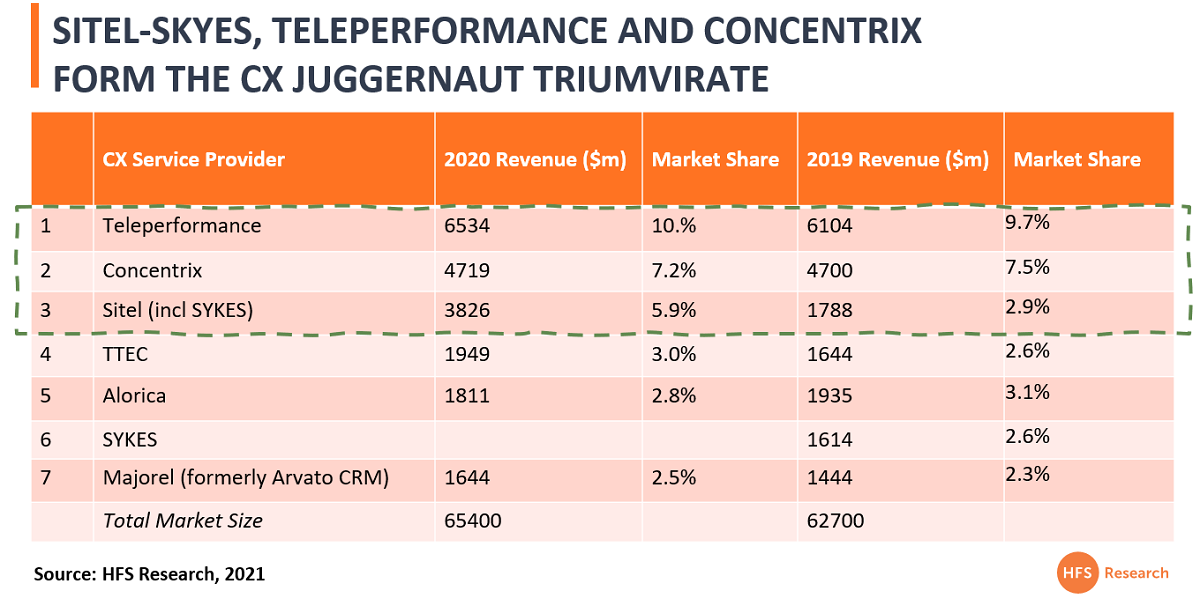 WFH leadership is the significant boost behind SYKES' appeal
SYKES has arguably been the work-from-home (WFH) contact center leader since pre-pandemic days, with the foundation of its 2012 Alpine Access pure-play home-based contact center acquisition.  Since, SYKES has further developed this core capability into a very sophisticated recruiting, onboarding, training and collaboration platform – fully virtual.  The long-standing WFH expertise and the capability of its OneTEAM platform enabled a successful shift to remote in early 2020 and continues to be one of SYKES' major differentiators.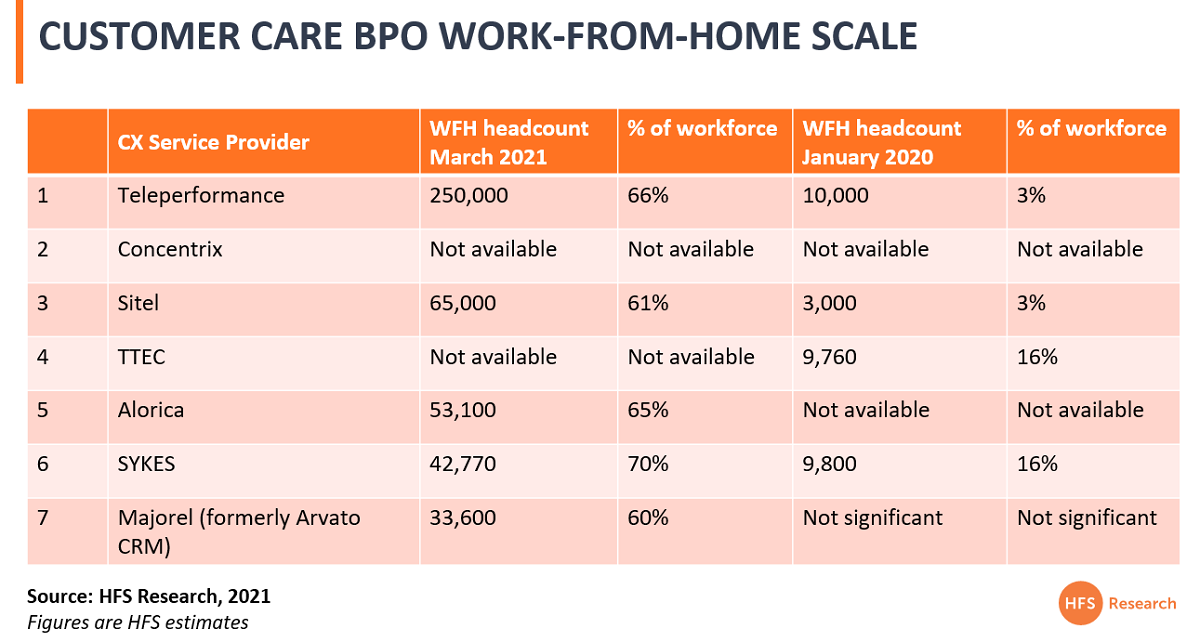 With 40% of staff expected to be working from home across Global 2000 organizations over the next year (see below), having the broadest geographic experience and depth will surely align the merged entity with the strategic resourcing desires of many leading customers.  If Newco leads with WFH, customers will surely entrust more with them.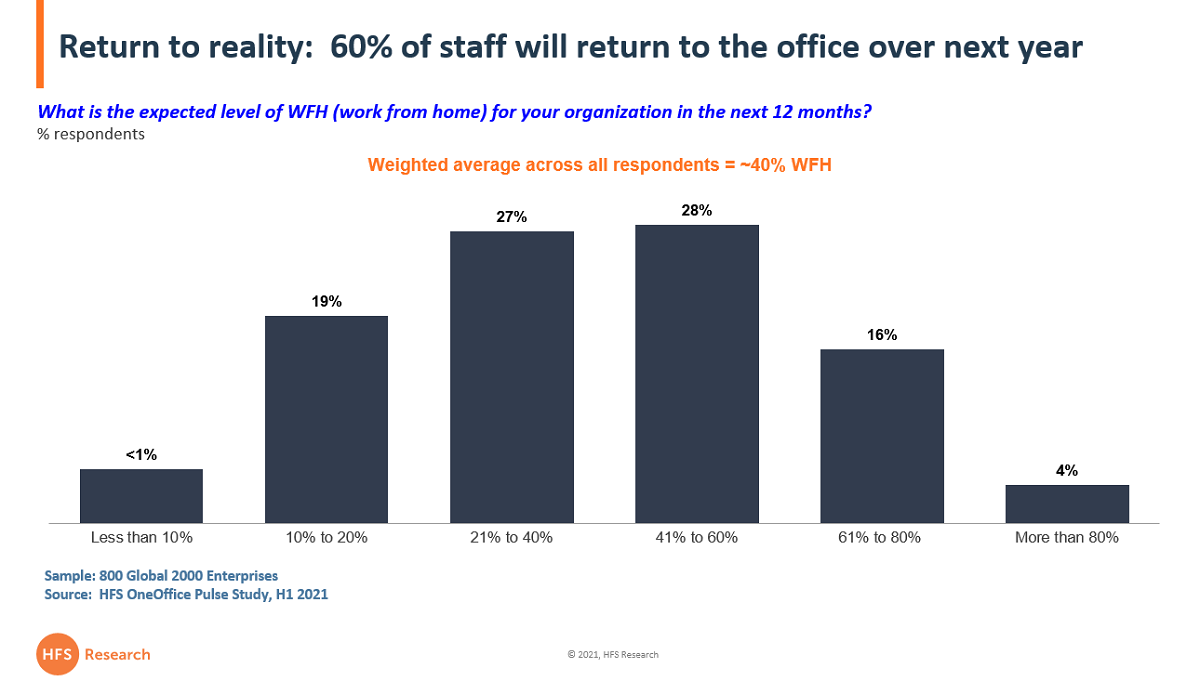 In addition to the WFH and tech capabilities, SYKES offers an attractive and complementary geographic footprint, including a European multilingual hub with delivery out of Egypt.
SYKES brings the only scaled-up global automation services capability that could position Newco at the heart of OneOffice
Its other key capability, which we touted as the first real automation investment by a contact center in 2018 is the RPA strategy and implementation capability of Symphony ventures.  While the Symphony resources have largely been held together by SYKES, the firm declined to embrace automation into its core value proposition and failed to excite the market by rebranding this unique capability as the bland "SYKES Digital Services" last year.  If Sitel can embrace automation to drive front-to-back processes and a OneOffice mindset for its clients, it's not too late to revitalize the former Symphony team to create a genuine edge for itself in the market.
In a OneOffice organization (see Exhibit 4), automation becomes a native competency, where human performance is augmented by unleashing creativity and personal interaction, where the immediacy of data creates insights to support decision-making that can make or break the firm. The only true way to create a OneOffice experience is to be able to integrate the front office processes and interactive technologies (most of which are embedded in the call center) with the operations of the organization: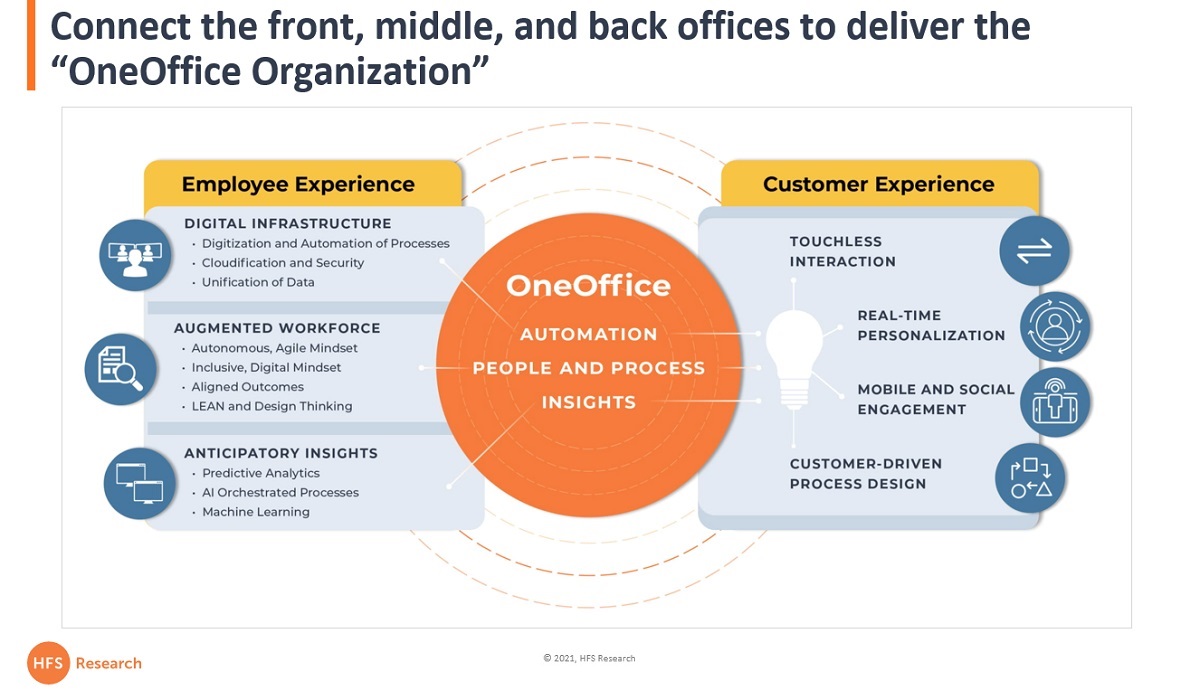 OneOffice is where teams function autonomously across front, middle and back-office functions to promote broader processes with real-time data flows that support rapid decision making. It's where front, middle and back offices will cease to exist, as they will be, simply, OneOffice.  Sitel+SYKES has a unique opportunity to consult to enterprises to make these front-to-back connections and weaves these capabilities into their managed services offerings.  The merged entity can offer real expertise to provide automated processes as-a-service and help their clients through the journey.
Bottom line:  While scaling up to compete with Teleperformance and Concentrix is clearly the game-plan, Sitel/SYKES needs to focus on the value of the parts and integrate at speed
Sitel is virtually unrecognizable from the firm it was six years ago.  A debt restructuring plan following its sale to French conglomerate Groupe Acticall was completed in 2018, opening up the firm to footprint expansion, digital investments, and a major rebrand which unified the company and all of its complementary assets.   Sitel has recently made major investments in growth. Its design thinking and discipline organically, including hiring design experts and developing its MaxHub and EXP + model. 
This latest major announcement sets in stone the firm's intentions to be a leader in this global, remote, and increasingly digital contact center market. Now speed is of the essence to integrate the two firms, and we can expect an aggressive competitive response to this.  Sitel and Concentrix were widely rumored to have come close to a merger, and neither top two firms will stand still and take this new competitive threat lightly.  There are several mid-tier CX providers which will struggle to maintain growth in the coming short-medium term, and we will be surprised if we do not see some more large-scale CX services mergers over the next 6-12 months.
Posted in : Customer-Engagement, customer-experience-management, intelligent-automation, OneOffice