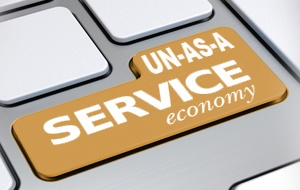 If I told you that only 13% of sourcing advisors have plans to invest in cognitive computing and 15% in Robotic Process Automation skills, you wouldn't believe me, right?
We're just about to close off our new study that probes into the ideals of the As-a-Service Economy where 716 industry stakeholders reveal how they are faring with their As-a-Service readiness, intentions and aspirations.  And one major services market influencer, the local friendly sourcing advisor, is seriously missing the mark when it comes to sawing off some of the old, to embrace the new.  Simply put, at least half of today's advisors are pretty much, well… Un-as-a-Service.  Let's take a closer look:
Advisors have been schooled on driving out their clients' costs, as opposed to adding real expertise and value. Encouragingly, 49% of advisors are getting sucked into As-a-Service because their clients are demanding it, but the sad fact of life is that two-thirds of them still think it's still really all about driving out cost.  As-a-Service is all about providers delivering and buyers receiving more productive, more intelligence, more cost-effective services through the use of smarter automation, analytics and business context – and there is, typically, a considerable amount of pain and transformation the client needs to endure to attain that next threshold of productivity.
Hence, the mechanisms advisors need to offer clients to steer them through an As-a-Service transformation, require a very different type of resource investment, than simply adding more deal guys who've er… done lots of deals.  So let's see where our beloved sourcing advisors are placing their bets to make themselves more relevant to satisfy their clients' As-a-Service needs:
Most advisors are only focused on making cosmetic changes to their existing practices.  As you can see here, it's all about making a few tweaks to what they have, as opposed to making genuine upgrades to their pool of talent and capabilities: 80% are focused on / thinking about retaining their existing team, 76% on puffing up their marketing, and a similar number on hiring process-focused and change management-focused consultants.
A large majority of advisors are unwilling to make fundamental investments to change they way they work with clients. Conversely, only one-in-five actually have plans to hire a transformational leader to shepherd their move to As-a-Service (which I find incomprehensible), or invest in millennials who have As-a-Service potential ingrained into their DNA. Even more depressing is the fact that only 13% have plans to invest in cognitive computing skills and 15% in Robotic Process Automation.  And to cap it off, only 17% are actually seeking to counsel out their dinosaur consultants still stuck in the old world of labor arbitrage and big clunking scale deals.
The Bottom-Line:  Our industry is lacking the leadership to make the right investments to break away from the legacy outsourcing model
There just seems to be the complete absence of a burning platform to force the change so many industry stakeholders need to make, to prepare for the future model.  While there is still money to be made eking out a living feeding off the scraps of legacy outsourcing deals, many advisors, similarly to many providers, are failing to make the adjustments and investments that will position them to compete for As-a-Service engagements as they increase in demand. While this isn't a short term crisis for these firms, my fear is that when the old stuff does peter out, it'll be far too late for many advisors (and providers) to make the changes they need to make to survive.
I don't believe this is a conscious decision by many advisory firms not to make the right investments, it's more they simply do not know how to find the right talent and leadership to make it happen for them.  Many know the change is coming, but simply are in denial that they can force through the internal investments that they need to make.  And many still have senior executives whose careers got stuck in a 1990's timewarp, and simply haven't evolved their own knowledge, skills and experience.  It's like going to a dentist and not being able to see a digital X-ray of your teeth…  would you keep buying services from someone who hasn't read a text book, or had some form of new skill development over the last couple of decades?
If I was a betting man, I'd predict a very different landscape of advisors competing for market leadership in a couple of years at the current rate of legacy-ness and Un-as-a-Service-ness we're experiencing today.
Posted in : 2015 As-a-Service Study, Business Process Outsourcing (BPO), Digital Transformation, HfSResearch.com Homepage, IT Outsourcing / IT Services, kpo-analytics, Mobility, Outsourcing Advisors, Robotic Process Automation, SaaS, PaaS, IaaS and BPaaS, smac-and-big-data, sourcing-change, Talent in Sourcing, The As-a-Service Economy, the-industry-speaks