As outsourcing becomes increasingly commonplace, buyers are relying more and more on their own means by which to make tough decisions.
In the past, outsourcing was still a unique, foreign and scary activity, and it was always easier for buy-side executives to bring in consultants to make their decisions for them – especially as there were so few trusted data-points and information sources widely available in the industry to support decision-making.  Executives didn't want to get fired for making bad decisions.  However, today they know they'll get fired for the wrong decision regardless of who made it – whether it was theirs' or McKinsey's.  Mess up outsourcing and your head will be on the block in no time – it's not like an ERP implementation that can take years for everyone to figure out what was going on, by which time the original selection team had already left, in any case.
Today, buy-side executives are increasingly seeking out the views and experiences of their peers in other organizations, as opposed to putting all their trust in the views and suggestions of consultants.  Outsourcing has hit the mainstream and there are many educated people – and prolific information sources available – to provide experience and insight.
167 of the respondents to our new State of Outsourcing Study conducted with the Outsourcing Unit at the London School of Economics have significant influence over outsourcing decision making, so we asked them where they were seeking information and advice for help with outsourcing decisions: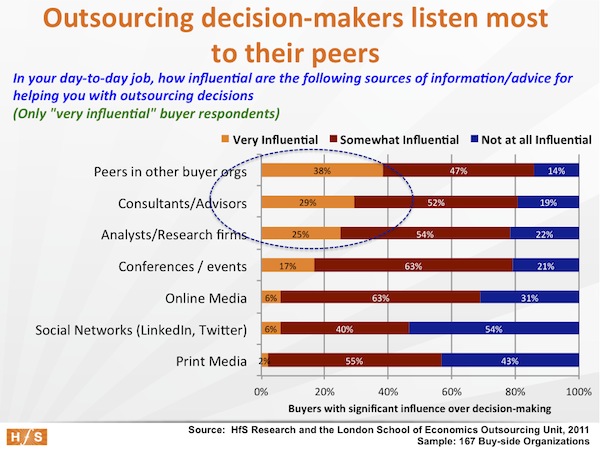 Buyers overwhelmingly want to hear from each other to further their learnings, with 86% viewing this medium as influential, eclipsing even the influence of consultants and advisors, whose job it is to give advice.  This is, by no means, a discredit of the consultant, especially as his/her advice is viewed more highly than researchers, conference content and other media – but it does indicate that buyers trust the experiences of their peers the most.
In most cases, buyers will turn to consultants first and foremost, but will want their peers to validate their decisions. HfS also believes this move towards greater peer reliance is because it's getting harder and harder to tell providers apart – and – in many cases – cut through the PowerPoint and buzzwords to get to the reality of the business. Hence, buyers are increasingly trusting their own investigatory skills and instincts to make the right decisions, as this graphic illustrates: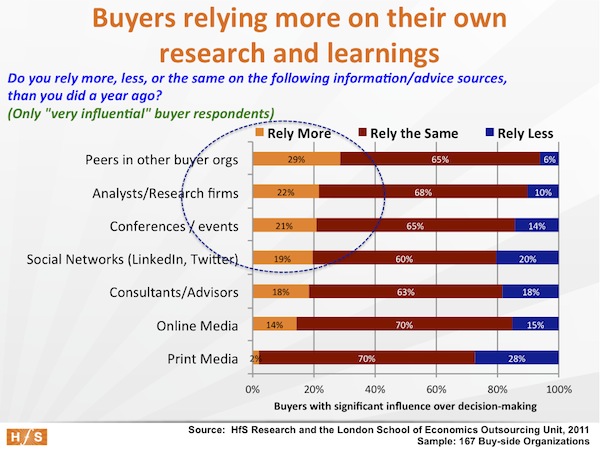 With close to a third of decision-makers increasing their reliance on their peers and more than a fifth increasing their focus on research and social networking, it's abundantly clear that buyers are doing more of their own homework when it comes to outsourcing.
Let's examine further…
Availability of peers is much more commonplace: it's so much easier today to find other buyers to talk to.  Smart providers are working hard to bring their clients and prospects together – they know it's much more powerful to have their clients sell for them. Moreover, it's easy to go online and seek out other buyers and experts in LinkedIn Groups, or join niche forums, where you can connect that very day with a kindred spirit whose advice is often worth ten times that of the $700/hour consultant who just left the building.
Ability to access research and data is much easier: whereas in the past you most likely had to drop fifty grand (or more) to get even a "quick and dirty" analysis of your outsourcing options performed, that is no longer the case if you know where to look. Smaller consultancies and advisors can now swing by and get you the "back of the cigarette packet" evaluation you wanted, as they should have loads of data from similar evaluations they can leverage.  They don't have to start from scratch each time there is a request for a benchmark, or a quick-fire analysis of suitable providers.  Why spend a fortune to arrive at the same decision-point?  You can now access the price-benchmarks, the provider capability assessments and the market data you need, for far less than you had to spend in the recent past.
Smarter buyers have different needs and are more self-sufficient: we can tell you from our own experience that smart buyers today often even know even more than consultants and providers, when it comes to figuring out how much a landed ABAP developer with 3 years' experience should cost.  And it doesn't take a genius to figure out what you should be paying for a level 2 accountant in Chennai.  And most buyers would prefer to find out for themselves whether they'd prefer to work with an IBM or an Infosys.  Most firms today have some experience of outsourcing – and can often transfer internal governance talent to help with related initiatives; for example, we're seeing several firms have their experienced ITO executives lending their support with less mature BPO disciplines.
The bottom-line
Outsourcing is all about real people, real processes, real business decisions. The secret sauce is applying this to your own business and figuring out the right end-state – and the smartest way of achieving it.  Buyers ultimately know their institutional processes, politics and warts themselves – so having them more proactively involved in sifting through today's socially-networked business environment is only going to help them get the advice and datapoints they really need.
Posted in : Business Process Outsourcing (BPO), Captives and Shared Services Strategies, IT Outsourcing / IT Services, Outsourcing Advisors, Social Networking, Sourcing Best Practises, state-of-outsourcing-2011-study, the-industry-speaks