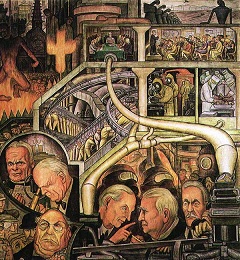 As we discussed during the previous five chapters of this encyclopedic journey to over-analyze our industry, customers are looking beyond the old simplicities of outsourcing to find new and creative ways to find new performance thresholds. 
One of these areas is to exploit BPO opportunities within industry-specific domains, especially where there is opportunity to bundle both BPO and IT services together under a single vendor's provision to generate more efficient business outcomes. 
To cut to the chase, the industry-specific (vertical) process domains are where some of the newer vendor entrants are infiltrating, almost unnoticed, into the BPO industry.  Most of the strong IT services vendors have been developing BPO niches in specific verticals where they have developed some strong process acumen and client credibility, and have the determination to invest in becoming best-in-class within that industry. 

We've seen plenty of examples, for example, in both the financial services and life sciences industries, where some of the offshore IT services vendors have been seeking to expand their footprints, and layer-on BPO processes to their existing IT relationships.  What's more, some of the IT services shops have begun to realize that BPO is a great lead-in to help themselves to future IT work within clients. 
For example, if you're already crunching data for clinical trials, why not also manage and develop the supporting applications and infrastructure?  Bottom-line, customers see more opportunity within some domain-specific areas, and our recent "Seeking a New Normal in Outsourcing Delivery" survey points to a continued upswing in BPO demand within verticals:
Figure 1:  Financial Services and Life Sciences firms seeking to exploit domain-specific BPO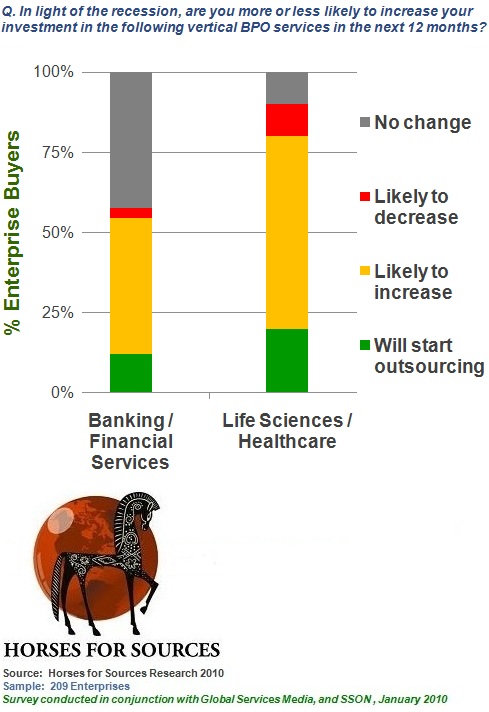 Industries undergoing major fundamental change are moving aggressively into domain-specific BPO opportunities.   One-in-ten financial services firms, and one-in-five from life sciences, are looking to move into some form of domain-specific BPO this year for the first time.  These are typically areas where there is some immediate labor arbitrage opportunity, based on the availability of processing expertise offshore.  For example, in financial services, we're seeing a lot of trade settlement transactions and mortgage processing move into BPO scenarios, and in life sciences, many of the data storage and management processes that enable the drug-to-market cycle, are similarly evolving towards this delivery model. 
Why these industries specifically?  Simply put, the financial services sector has gone through such a fundamental change in its very infrastructure, that moving into a BPO environment is no longer the strange, abhorrent procedure and experience it once was.  Similarly, in life sciences, the major drugs companies know their blockbuster drugs models aren't going to last forever, and are facing toughcompetition from lower-cost generic manufacturers.  Hence, they are similarly exploring new and radical means to improve productivity, source new revenue opportunities and drive-out cost.
The success of existing domain-specific BPO engagements is driving broader scope-increase.  Over half of all the financial services and life sciences firms surveyed, are looking to expand existing BPO engagements this year, and very few are seeking to pull work back onshore.  Firstly, it's easier, and far cheaper, for operational executives to add scope within a BPO engagement, than hire new staff onshore, when they need more work done.  Secondly, in many cases, these engagements started small, often with only a handful of staff provided by the vendor, so it's only a natural extension of the engagement to add more staff and additional process scope as the BPO environment develops.  However, this doesn't necessarily entail massive increased spending overnight, but more a gradual incremental increase in engagement scope.
The Bottom-line:  industry-specificity is clearly a major driver in outsourcing, but the financial pressures on vendors to maintain their profit margins may override its development.  The capability to deliver genuine domain-specific process acumen to clients is quickly becoming a major differentiator in the market.  However, investing in the talent to truly scale these capabilities is expensive, and the margins aren't as appealing at those currently being displayed by several vendors delivering the easy, operational work.  While some vendors are clearly content with a thin veneer of vertical capability, others are stealthily picking verticals where they feel they can gain an edge over the competition.  But it's a gradual development, and you have to wonder whether every vendor has the patience and attitude to invest in the depth of talent they need, when they're more concerned with satisfying Wall Street's short-term demands.
While financial services and life sciences are both becoming saturated, we're already seeing many new BPO opportunities arise in industries also going through fundamental change, for example retail, manufacturing, healthcare and media.  Moreover, the move to greater domain-specificity is intrinsically tied to the business utility model of the future, where we are starting to see signs of the convergence of SaaS, Cloud and BPO/ITO models within an engagement structure.  The need for clients and vendors to define, develop and implement holistic end-to-end process solutions is slowly coming to the forefront… and industry-specific BPO is ultimately just one piece in a larger jigsaw.
Posted in : Business Process Outsourcing (BPO), Cloud Computing, Financial Services Sourcing Strategies, Healthcare and Outsourcing, hfs-industry-2010, IT Outsourcing / IT Services, kpo-analytics, SaaS, PaaS, IaaS and BPaaS, Sourcing Best Practises, the-industry-speaks