The health of most enterprises depends on the robustness of their supply chains, and our latest Pulse study of 600 G2K orgs shows supply chain disruption is posing the second-greatest challenge to enterprise leaders after cybersecurity: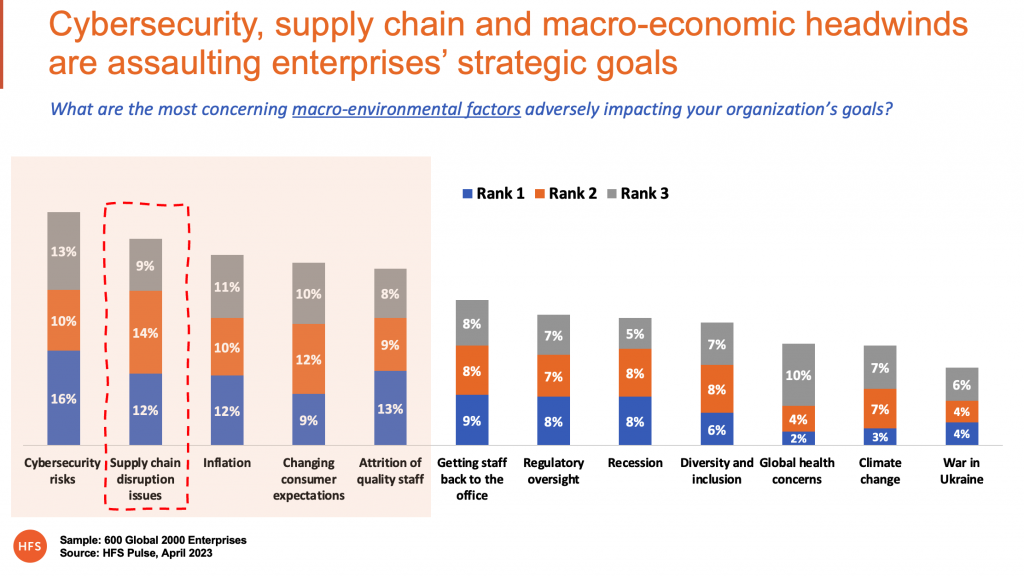 Today's enterprises grapple with unprecedented challenges, including disrupted supply from hubs like China, heightened sustainability expectations, a lack of resources, and increasing raw material and fulfillment costs. Service providers help enterprises improve inventory allocation through artificial intelligence (AI) and machine learning (ML) algorithms, optimize supplier management through dynamic supplier management systems, improve visibility by building advanced control tower solutions, and reduce people dependency by introducing automation across processes. The objective is that enterprises should be able to detect and react to "change" quickly, transforming from linear to circular to eventually autonomous supply chain networks.
The HFS Horizons report on supply chain services features 18 providers across three Horizons manifesting incremental business value for enterprise clients. Horizon 1 focuses on a linear supply chain driving functional optimization, followed by Horizon 2, which retains the values of Horizon 1 plus drives circular supply chains with end-to-end transformation capabilities, creating unmatched stakeholder experience with a "OneOffice" mindset. At the pinnacle is Horizon 3, which encapsulates all values of previous Horizons plus encompasses a networked and autonomous vision of the supply chain, driving completely new sources of value with a "OneEcosystem" approach.
The chart below summarizes the Horizons philosophy and key underlying dynamics, showcasing the providers across the three Horizons.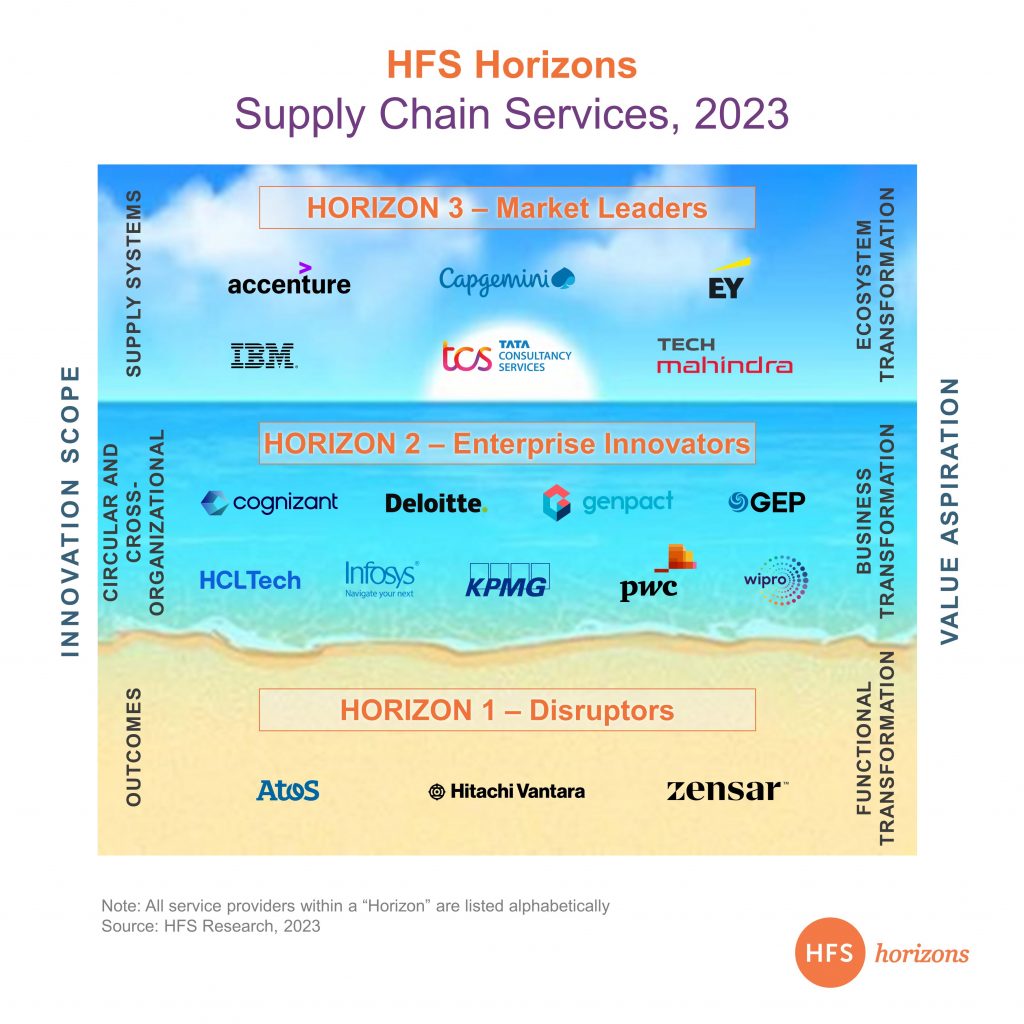 Note: All providers within a Horizon are listed alphabetically
According to the report's lead author, Ashish Chaturvedi, "The pandemic coerced enterprises to prioritize resilience in their supply chain management and modernization programs. They are achieving this by increasing supply chain visibility, limiting human intervention, and creating multiple fallback options at a process level, such as source-to-pay (S2P). This newfound focus transcends the traditional linear, albeit constrained, supply chain management approach. Gradually, the industry is inching toward a connected, autonomous, sustainable, and collaborative supply chain paradigm."
Report highlights include

Supply chain resilience has become the central theme of contemporary supply chain engagements. Service providers are helping move enterprises from just-in-time to inventory overstock and single-supplier–single-country sourcing to multi-supplier–multi-country sourcing, demanding more dynamic control tower solutions and a higher degree of automation in demand planning, warehousing, and fulfillment. The objective is to have more control and visibility of the supply chain to navigate unforeseen disruptions.
Sustainability offerings have evolved but not baked into engagements. More than two-thirds of the providers participating in the study have formulated offerings around sustainable sourcing, circular economy, green logistics, and decarbonization metrics. Interestingly, most of the cases discussed were standalone sustainability engagements with a supply chain angle rather than the other way around. It came to light that enterprises are also putting a half-hearted effort into baking sustainability across the supply chain.
HFS assessed 18 leading supply chain service providers. Of these 18 providers, six are positioned in Horizon 3 as leaders, nine in Horizon 2 as innovators, and three in Horizon 1 as disruptors. The services firms that lead the market and ecosystem-level change in Horizon 3 are Accenture, Capgemini, EY, IBM, TCS, and Tech Mahindra. The services firms innovating across organizations and supply chains in Horizon 2 are Cognizant, Deloitte, Genpact, GEP, HCLTech, Infosys, KPMG, PWC, and Wipro. The services firms disrupting and transforming business processes and functions in Horizon 1 are Atos, Hitachi Vantara, and Zensar.
The report includes detailed profiles of each service provider, outlining their capabilities, strengths, provider facts, and development opportunities.
HFS subscribers can download the report here
Posted in : HFS Horizons, OneEcosystem, OneOffice, Supply Chain, supply-chain-management