Operations leaders face some seriously unprecedented challenges. They have to balance the macroeconomic Slowdown with the Big Hurry to innovate and keep up with pacesetters. Yet, it is not a question of doing one or the other—they have to address both challenges simultaneously. Thus, a digital foundation is essential for survival. 
Let's hear what HFS Executing Research Leader, Tom Reuner, has to share about his exhausting learnings from the 2023 Horizon report on ServiceNow services…
A disruptive ServiceNow ecosystem is operationalizing the journey toward the Generative Enterprise™
The pacesetters are taking the road to autonomous operations, but generative AI detours them – in fact, it's providing the whole industry with a massive detour! The goal is autonomous, data-driven decision-making and exception processing. Machines aren't taking over the world, but executives need an autonomous mindset. The focus is on making smart decisions based on the data the systems teams create. This is where the vibrant ServiceNow ecosystem cuts in.
ServiceNow can become the digital foundation of the Generative Enterprise™. The vanguard of service providers in that ecosystem is in a pole position to operationalize that journey, as HFS' seminal study on the ServiceNow provider landscape highlights.
ServiceNow's rapidly expanding capabilities are driving operational change
The pace of change and maturation across the ServiceNow ecosystem is astounding. This is less about headline-grabbing announcements, such as releasing one of the large language models (LLM) for code generation ahead of ServiceNow's big conference in Las Vegas. Rather the ecosystem is pivoting from a focus on implementation to a focus on transformation. ServiceNow is no longer an IT-centric capability discussion but about enabling transformation outcomes ranging from industry solutions to GBS to ESG and beyond.
Operations leaders benefit from ServiceNow's rapidly expanding capabilities and the partner ecosystem's innovative solutions and approaches, leading to a bifurcation in that ecosystem. Our report focuses on the vanguard of that ecosystem enabling broader transformation, while many other service providers (outside of our report) remain focused on implementation only.
The ServiceNow ecosystem is pivoting to transformation
The transformational outcomes go far beyond ServiceNow's heritage in IT workflows. If anything, the broader market has not yet woken up to the fact that half of ServiceNow's new revenues come from business workflows. Sometimes you scratch your head listening to providers talking about the transformation journey they are enabling because you wouldn't have thought they were talking about ServiceNow as the underlying platform. For example, take TCS' supply chain transformation for a leading manufacturer in APAC. It integrated existing ERPs into one system to streamline workflows and data collection and supplanted core ERP capabilities with ServiceNow functionalities. Suffice it to say those engagements are highly disruptive.
Emerging themes and capabilities take ServiceNow into new buying centers
With this pivot to transformation, we see themes emerging that many wouldn't associate with ServiceNow. Enabling GBS journeys is a red-hot topic, yet only very mature organizations take their workflows cross-domain or even cross-function. At the same time, Accenture is pushing capabilities deep into BPO—beyond having its SynOps platform built on ServiceNow. As with ERP modernization and application management services (AMS), all these transformation journeys take ServiceNow into new buying centers. Its traditional non-IT buying centers are in customer and employee services.
Ecosystem engagement models are emerging
The other development that surprised us was the emergence of ecosystem engagements. Especially for emerging themes such as ERP modernization, AMS, and cloud operations partners such as Celonis, Dynatrace, and AppDynamics are coming to the fore. Dynatrace and AppDynamics are broadening ServiceNow's AIOps and observability capabilities, and providers like Atos offer automated remediation. At the same time, Celonis is re-entering the ServiceNow scene. In 2021, ServiceNow and Celonis announced a partnership, and we expected them to end up with the nuptials. It went quiet, but Celonis is re-emerging with a broad set of use cases.
Pure plays are scaling out
Yet, the ServiceNow ecosystem is not just about the big GSIs. Pure plays like Thirdera and NewRocket are leveraging M&A to scale out. Plat4mation is the poster child for industry solutions in manufacturing, while Cask is deeply entrenched in the public sector. GlideFast's sweet spot is taking over projects that have run into challenges, referencing the deep technical knowledge of the platform. The leading pure plays are scaling up and have surpassed the revenues and capabilities of many GSIs. They drive scaled transformations and build out industry-led solutions. They are strong provider choices just outside Horizon 3.
Horizon 3 market leaders are demonstrating transformational outcomes
Last but by no means least, congratulations to the Horizon 3 market leaders. These leaders' shared characteristics include blending a compelling vision of digital transformation with deep ServiceNow capabilities. The wheat gets separated from the chaff when providers demonstrate transformational outcomes enabled by ServiceNow rather than depicting ServiceNow roadmap thinking.
Accenture pushes the innovation envelope by covering eight industries with specific deep solutions. Perhaps the most telling aspect of its approach is that ServiceNow capabilities are no longer the centerpiece of the narrative. The narratives have shifted to transformation, and the transformational outcome has moved to center stage. Deloitte has been the launch partner for FSI (financial services and insurance) industry-led solutions and is scaling out GBS (global business services) engagements, while DXC, after a transition period, is getting its mojo back with differentiation in operationalizing cloud transformations.
EY is kicking the tires on all things advisory and risk while scaling out GBS. KPMG has a similar approach but also spearheads an ESG (environmental, social, and governance) solution in partnership with Celonis. Lastly, Infosys blends the service management process and domain consulting expertise using investments in the ESM Café platform as differentiation to enable a productized delivery approach. Exhibit 1 outlines the detailed rankings of our research.
Exhibit 1: The vanguard of the ServiceNow services ecosystem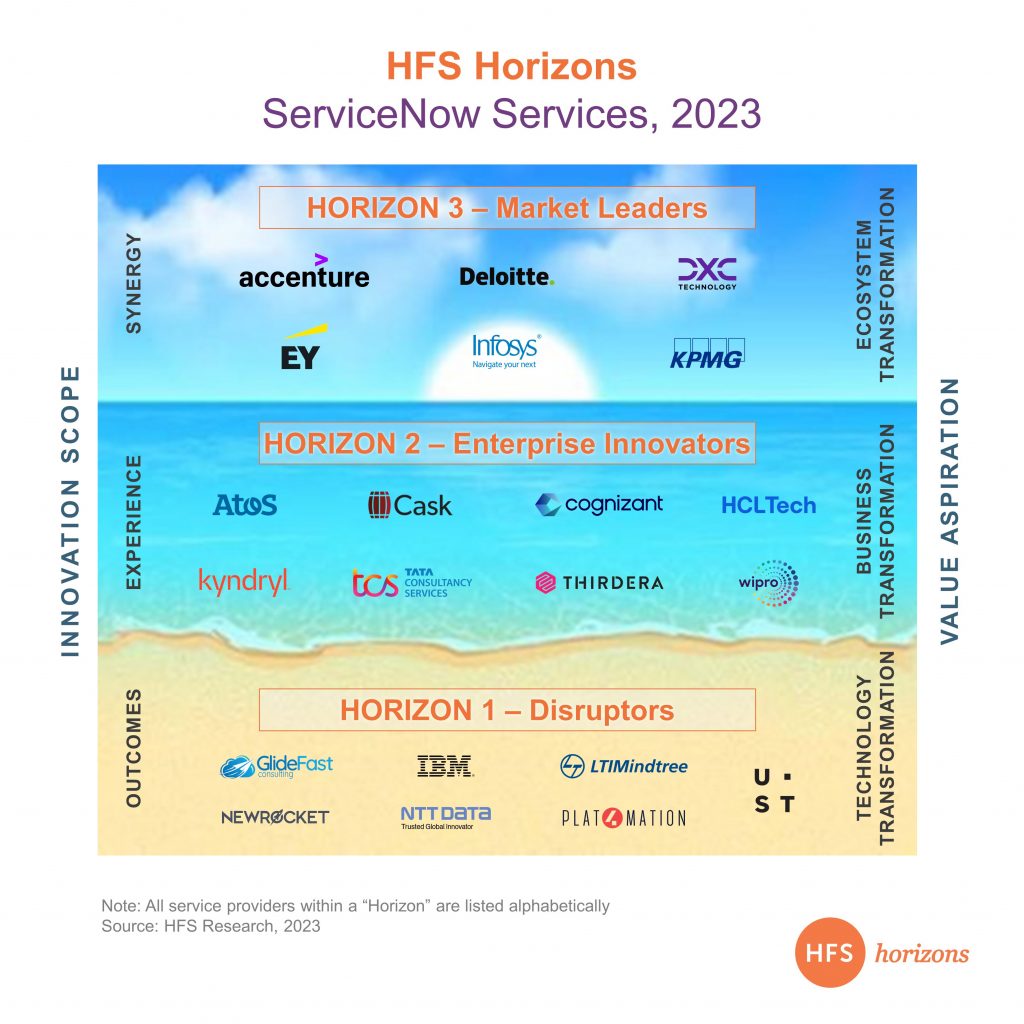 The Bottom Line: The ServiceNow ecosystem is pivoting toward transformation, with the Generative Enterprise as the next frontier.
ServiceNow is no longer a capability discussion. Yet, there is a lack of clarity on the new IT operating model. There is agreement on the experience outcomes enabled by workflows designed in the cloud. The more organizations accelerate transformation initiatives, the more service providers need to provide guidance on designing a cloud target operating model. It is abundantly clear the next frontier is the hugely disruptive context of organizations having to deal with the impact of generative AI. HFS plans to lead the way in this seismic shift.
HFS subscribers can download the report here .
Posted in : Artificial Intelligence, Automation, HFS Horizons, service-management, service-provider-analysis, The Generative Enterprise