Why we think SAP acquiring Signavio is a non-event and actually frees Celonis from its SAP shackles to inspire its loyal following
The initial buzz from SAP leaders with its Signavio acquisition all points to helping its clients migrate from legacy systems onto cloud-based S4/HANA applications. While that is a worthy goal, SAP needs to embrace how to support both non-IT and IT clients with rapid process redesign, if it is to stand any chance of reclaiming former glories that are long-distant memories in today's high-octane environment. The German software giant has an IT-centric view of the world, where instead we need technology and business to come together to become fluent in understanding the data they need to be effective in their markets. To create this data, processes need to be designed to deliver data at speed, and these need to be automated in the cloud to keep their enterprises functioning. Once processes are flowing beautifully in the cloud, you can deploy all sorts of ML and AI tools to gather increasing amounts of intelligence to anticipate your own needs – and your customers – ahead of time.
Until a decade ago, SAP was, perhaps, the most significant brand and voice in enterprise technology. The German software supremo was the enterprise backbone, the system of record, the "way of doing things" for the majority of the FORTUNE 1000. Back then, Microsoft was already entering rigormortis as a decrepit office suite, SFDC wasn't much more than a fancy way of managing your contacts, while Workday was confusing everyone with "thin memory", and Oracle was just a weird collection of tired con-fused software firms run by a guy who resembled a tech billionaire version of Donald Trump.
Since then, the SaaSy likes of Salesforce, Workday, and Coupa have long-driven a narrative that you had to run your processes in the cloud, while SAP labored to catch-up as a "Cloud player". Then came the digital juggernauts of Microsoft, Amazon, and Google to ratchet the world of enterprise technology into a very different place, where data is king and it doesn't matter how unstructured it is.
SAP has long-lost its enterprise appeal as the process connoisseur's tech suite of choice
SAP is a symbol of a long-forgotten time when people's careers were tied to it, when enterprises thought being locked-into an on-premise software suite was considered a strategically smart thing to do. Hell, any IT bigwig worth their salt needed SAP plastered all over their resume. But those days faded away after 2010 as the cloud took over the core processes in smart enterprises.
SAP made its long-rumored acquisition of workflow and process intelligence vendor Signavio official last week. The move has implications not only for the two merging tech companies, but also the market leader in process intelligence, Celonis, that until now, enjoyed a close and successful partnership with SAP. In addition, Celonis has cultivated many strong partnerships with the likes of Accenture, Cognizant, Genpact and IBM. Will they gravitate towards as SAP-owned Signavio? And will SAP's army of customers really take this seriously enough to fight their CFOs for yet more cash to pump-prime the Waldorf machine? The depressing answer for both SAP and Singavio is simply: no one really cares.
Why SAP needs all the help it can get to earn credibility as a process orchestration and intelligence player
Every enterprise leader has taken a hard look at their business processes over the last year, seeking ways to streamline and automate tasks and get data on what is working and what broke in the move to remote working. What started as an exercise in somehow keeping the lights on in the pandemic economy, has started to turn into wider initiatives that will have a long-lasting impact. Many enterprises in our research have expressed that 'there is no going back', and post-pandemic, they will need a far smarter operating model, technology stack, and data-driven business processes. At the heart of this stack, for most companies, is a hodgepodge of various versions of aging business systems, fragmented over regions and markets, that are responsible for the majority of transactions that keep the business running.
Business leaders seeking their own glory on "digital transformation" and process efficiencies have implemented a plethora of bolt-on tools around core applications over the years, including business process modeling, workflow management, document and content management engines, and of course, robotic process automation. Process intelligence tools have been the latest addition to this mix. In particular, process mining technologies that use transactional system-log data (such as from SAP) to power their analytics and machine learning models.
Why Celonis was so good for SAP customers – and will still be for some time to come
The two principal uses of process mining tools that significantly help enterprises with their SAP estates include:
1) Helping operations leaders make the most of their current ERP and other source systems, find process bottlenecks and inefficiencies, and redesign processes such as order-to-cash and procurement
2) Helping IT teams with systems migration, such as a move to S4/HANA, where the mining technology can be used to map and monitor as-is and to-be processes, and user adoption over time.
Just with those two points, we can see why SAP's partnerships in this space have gotten deeper in the last few years and got to a point where SAP felt the need to directly invest in a solution of its own. Hence its acquisition of Signavio.
SAP needed to partner with the likes of process intelligence leader Celonis and UiPath (which acquired ProcessGold) to keep its technology ticking, and provide its customers more process visibility and automation. Now it has the ability to define how a fully integrated BPM, workflow, process mining, and automation capability can augment its core technology, beyond what third-party platforms and a host of SAP-specific products have been able to achieve.
Weaning any client with years of experience off of their beloved Celonis to switch to an inferior product owned by SAP is not going to happen… so good luck with that folks!
When it comes to process augmentation, SAP is lightyears behind the market. In 2018, It made a low-budget attempt to enter the Robotic Process Automation (RPA) market with Contextor, a small little-known France-based RPA product to augment SAP Leonardo's intelligent technologies portfolio. Nothing has been heard of them since, with no examples of SAP playing in the process automation space. It's been a bust. So if SAP can't make head nor tail of the most base form of process automation (RPA), why does it think it can take the market by storm acquiring a product which is ranked 13th in process intelligence software: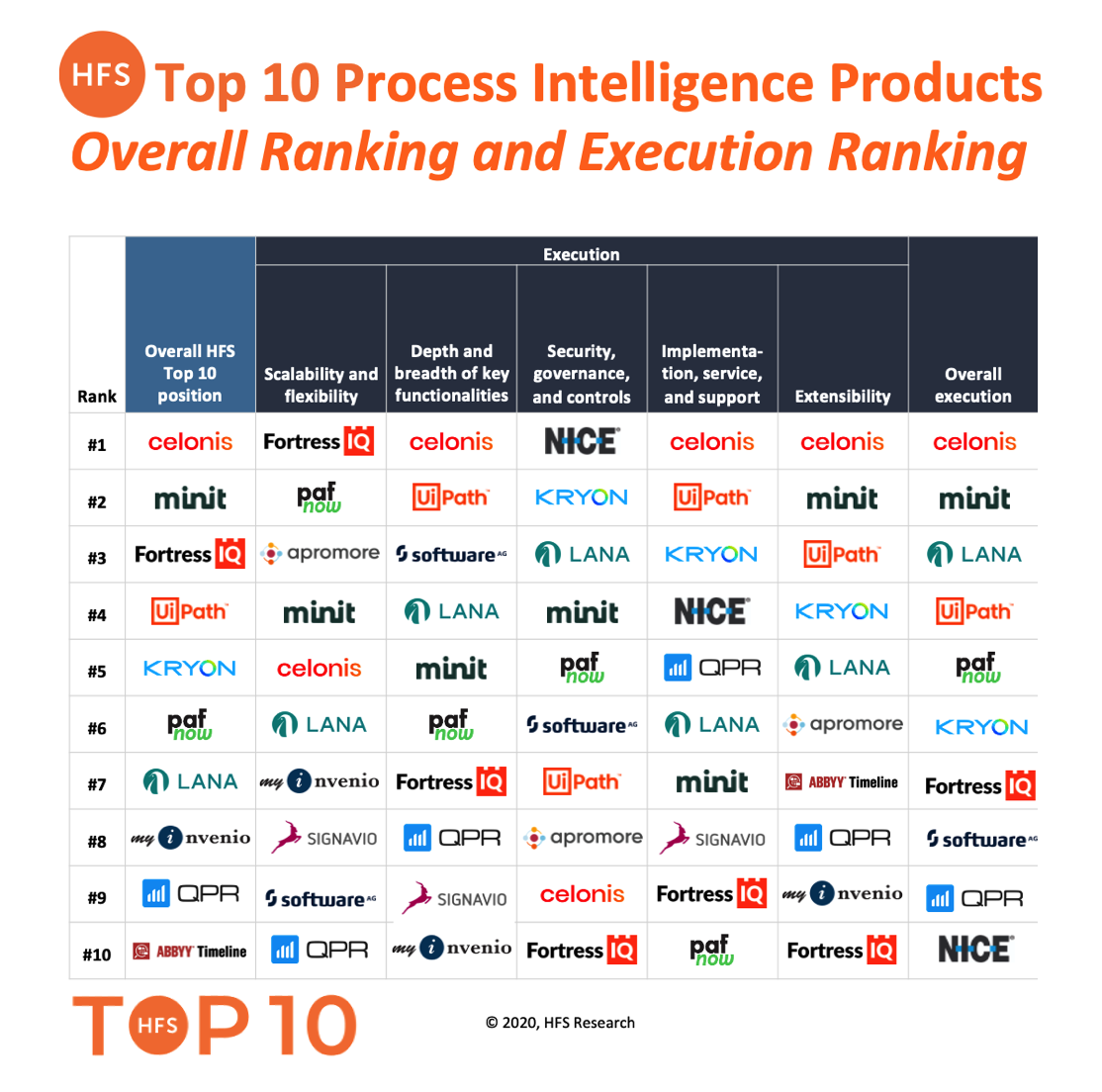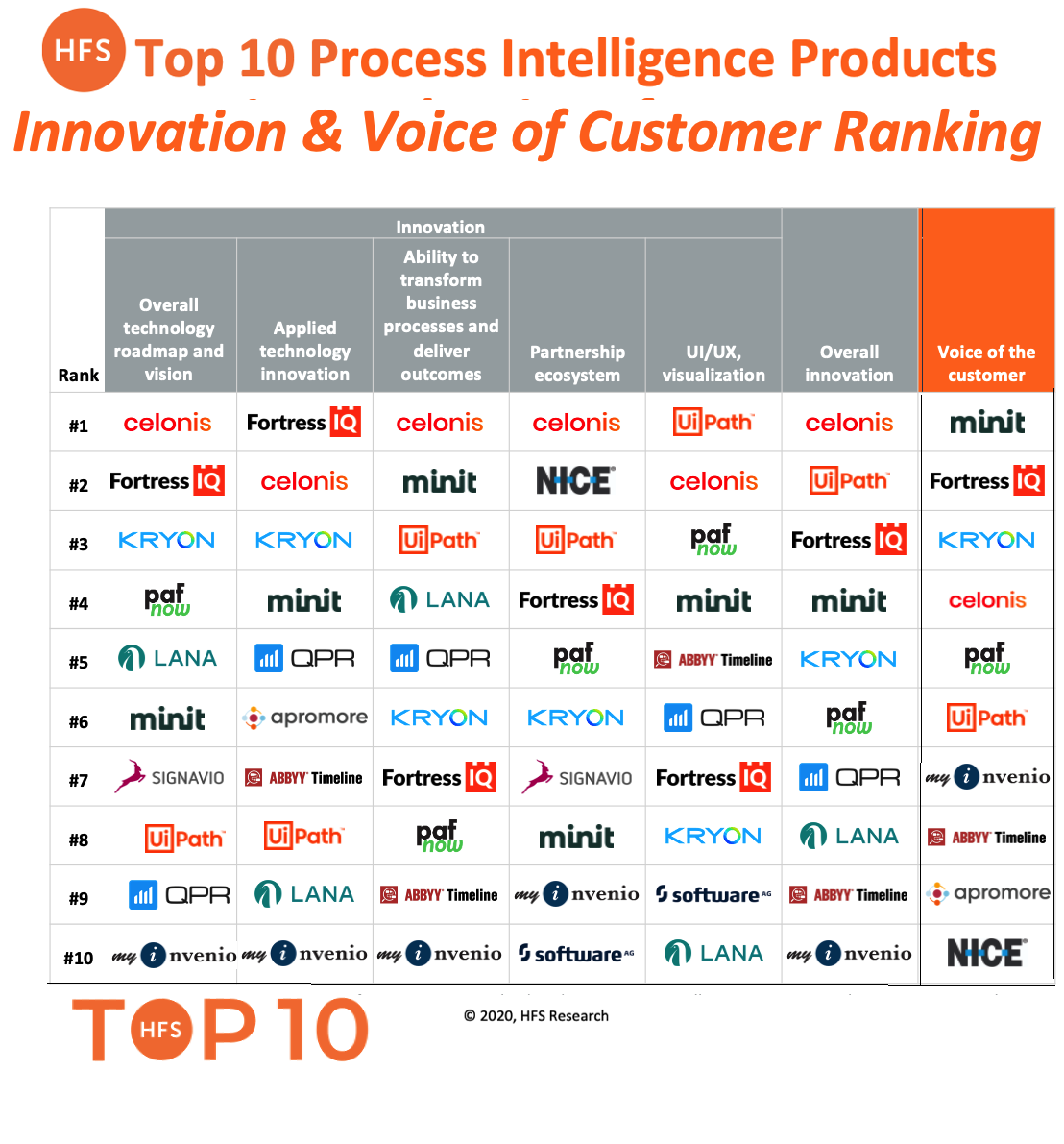 Simply-put, all the hard years the Celonis founders spent driving around Germany selling the software to SAP customers in a VW Camper (yes, I actually know this!), ensured that Celonis has firmly established itself as the process mining solution of choice, necessitating several years of investment, training and change management from its loyal clients. So why on earth would these process-obsessed customers flock to use the industry's thirteenth best solution?
Why Signavio? Its collaboration hub and process simulation capabilities couldn't be more timely for operating in the pandemic economy
As our recent evaluation, the HFS Process Intelligence Products Top 10, showed, Signavio has multiple bright spots and differentiation making it a formidable vendor in the rapidly growing process intelligence market. Its collaborative hub is a great place for business users to share results of their process analysis, comment and present, and collectively iterate on improving business processes – invaluable at a time when most organizations are still working remotely, and need more avenues for collaboration. Furthermore, Signavio's process mining technology, in particular its simulation engine, is considered top of the line by its customers and partners. As we're still operating in volatile markets, being able to model out changes in business processes and simulate their execution to find potential blockages can prove valuable by de-risking or accelerating needed changes. Lastly, Signavio's bolster's SAP with its BPM and workflow technologies, which customers value, especially its ability to port and overlay structured process models into the process mining module for comparison.
Despite the positives, Signavio customers we have spoken to indicate that it needs to invest to keep up with innovations in process intelligence. Many disruptive startups are continually keeping up the pressure – introducing new ML and data handling techniques, and standards in data visualization and UI/UX. Additionally, process intelligence isn't the full focus for Signavio, which until a few years ago was only a BPM/workflow vendor. SAP may have inherited some challenges in investing in the process intelligence piece of the suite.
Where does the new alliance leave old beau Celonis? In our view, stronger, and on to bigger and better things
It would seem (on the surface) that Celonis has been thrown in a lurch by SAP's acquisition of one of its competitors. However, there is a longer story of product and company evolution unfolding here, and SAP's move only further cements the shift:
Life outside of SAP (Bigger): While SAP was the most common source system for its customers' transactional data, it was never the sole one. Celonis has been steadily building on its partnerships, as well as technology extensibility into Oracle, Salesforce, and ServiceNow. We expect it to show these partners more love in coming days, which will ultimately only help it serve its customers better. This will allow Celonis to break free from I being perceived as an SAP-only process mining tool and diversifying its range here is a win-win for all stakeholders.
Moving onto EMS (Better): Celonis has already started expanding out from process intelligence into a Triple-A Trifecta solution approach by blending analytics, automation, and AI with the launch of its EMS last fall. As we observed, with EMS Celonis has created a system-of-engagement layer that sits on top of business processes and systems, drawing process insights, and creating execution strategies – either alerting and recommending actions to business users, or setting configurable rules to trigger automation for certain tasks. With this approach, Celonis is on a path toward not only helping you identify and rectify process bottlenecks, but also helping you execute the process itself, with smart insights and recommendations, and automation capabilities.
Building an international company(Stronger): Celonis has been expanding out of Germany as it gets global in all respects – its operations, management, and customer base. Early on, it struggled to fully present an integrated international front to the market. De-prioritizing SAP will give the non-German factions a chance to catch up and shine as well.
Celonis and SAP have worked together on more than 250 implementations in over 30 countries, with clients including 3M, Airbus, Bosch, Coca Cola, ExxonMobil, Novartis, SABIC, and Zalando. Celonis is SAP's #1 Cloud Solution Extension Partner, and the vendor has developed tons of data connectors, applications, and content to support SAP's ERP landscape. In fact, SAP is using Celonis to optimize its own internal business processes. The two firms enjoy a shared German tech culture, and as a co-innovation partner, SAP has thus far undeniably influenced Celonis' product direction thus far.
In conversation with HFS, Celonis leaders mentioned that this move by SAP serves to validate its investments into EMS. The start-up now considers SAP + Signavio to be a competitor to Celonis in its self-anointed EMS category.
The Bottom Line: SAP needs to prove this isn't yet another tick-in-the box acquisition, and actively put its new process intelligence toolbox to work for enterprises, beyond S4/HANA systems migration
As we discussed earlier, there is massive potential for SAP to embed native process intelligence into its transactional processes to help clients uncover issues and improve business performance. Celonis refers to this as the EMS category. Whether or not that category name will stick, it signals a potential opportunity that is SAP's to lose.
However, while this all sounds great in principle for SAP, we believe Celonis customers will stay put and many will benefit from innovations that are not created with SAP in mind. Celonis will reinforce its spot as number one in this market.
Posted in : Artificial Intelligence, intelligent-automation, Process Mining, Robotic Process Automation, robotic-transformation-software