Life been just dandy since you took 30% off your department's fixed costs, that you'll never need to do anything much again in your career… except stare at a spreadsheet?  Just love keeping those lights on and squeezing penalty payments out of your provider?  No need to improve anything, because the way your firm does things is simply perfect?
Then you won't need to waste time with us and leading buy-side organizations from the HfS 50 Executive Council in Boston this October…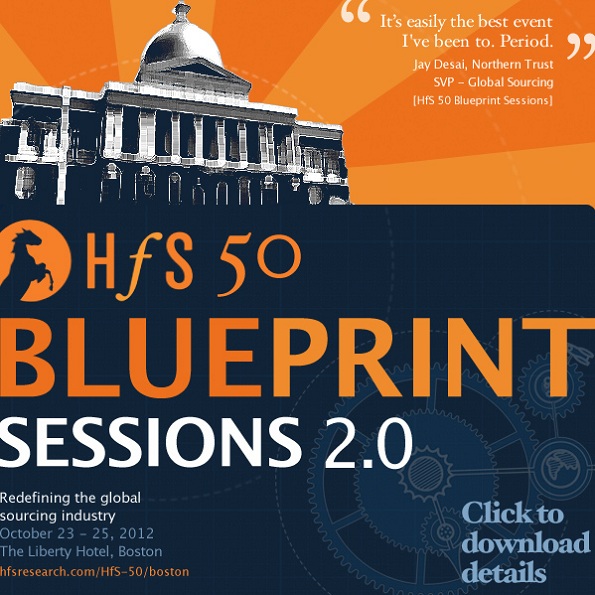 Yes, the Blueprint Sessions are back to add real momentum to the recommendations we discussed with 41 leading buyers executives and six of the top providers in New York City this past April.  The key themes are as follows:
1.Overcoming the singular focus on cost that strips the industry of value;
2.Leveraging outsourcing as one of a variety of vehicles to achieve business objectives;
3.The need for service providers to invest smarter in their account management teams; and
4.The need for buyers and providers to partner to foster innovations into business and IT process outcomes.
 So if none of this interests you, you won't want to email us for more information to find out if this session's right for you or your organization.
Posted in : Business Process Outsourcing (BPO), Captives and Shared Services Strategies, Finance and Accounting, Financial Services Sourcing Strategies, Global Business Services, Healthcare and Outsourcing, IT Outsourcing / IT Services, kpo-analytics, Outsourcing Events, Procurement and Supply Chain, Security and Risk, Social Networking, Sourcing Best Practises, Sourcing Locations, sourcing-change