As we clearly pointed out last Autumn, it was going to take one serious investment to get Gen down the aisle.  And, as we even more accurately predicted, firms such as Cognizant, weren't going to make this move anytime soon.  Moreover, we can officially proclaim, declare, announce and validate: HfS used to be conceited, but now we're perfect (ahem).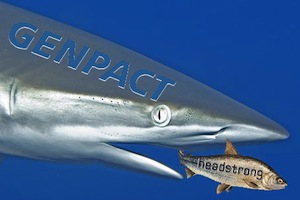 So why did Genpact buy Headstrong, in the third-largest acquisition ever made by an India-based provider, since Wipro picked up InfoCrossing for a cool $600m in 2007, and HCL-Axon for a similar sum, the following year?  And, most importantly, what does this mean for the immediate future of the BPO business?
IT-enabling BPO is getting increasingly important – especially within some high-growth verticals such as financial services
I recall a recent roundtable where eleven insurance sourcing executives were present, all of whom had mature BPO offshore-centric engagements for their insurance-specific processes (e.g. rules-based underwriting and claims processing).  One main aspect all of them agreed on:  we can only get so far with people-only processes, we need to IT-enable them to find new productivity improvements and business value.
The same applies for several other vertical markets, for example clinical data management in life sciences; but especially in the banking and financial services industries, with processes such as mortgage processing, asset services, trade settlements management and capital markets accounting.  Moreover, as the following data from our new Finance & Accounting BPO report illustrates, an increasingly majority of F&A BPO engagements require some form of IT-enablement – especially those engagements of a smaller scale and with middle-market clients, where buyers will leverage the BPO initiative to upgrade their platform, or have the provider introduce its own "wraparound" application layer that will have some pre-developed optimized workflows: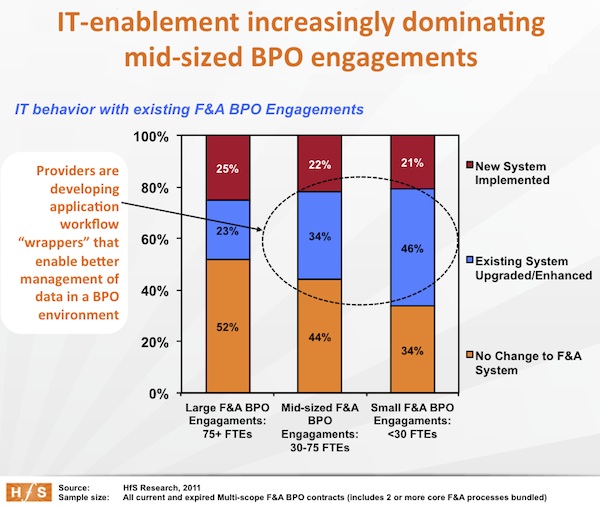 BPO specialists must incorporate IT-enablement and technology management capabilities – and they can be very effective at it
As we've seen many of the IT services giants leap into BPO, they have all played on the fact they can provide BPO solutions underpinned by their wonderful IT capabilities.  However, when you talk with some of these IT services providers, you'll quickly find their IT superstars view their BPO groups as some strange assortment of weirdos who like doing things such as processing paychecks and invoices.  Meanwhile, some of the pure-play BPOs have actually proven highly competent at helping their clients IT-enable their business processes, whether it be through managing third-party application development, or deploying their own workflow tools.
That isn't to say all the IT services firms are poor at IT-enabling their BPO, because some are getting very good at it, and even cross-train IT personnel to specialize in BPO deployments. However, some BPO specialists, such as Genpact, have proven capable at IT-enablement, and the Headstrong acquisition demonstrates the firm's appetite to stay at the forefront of the market.  BPO engagements need to be process-led with IT supporting the capability to develop repeatable, scalable and best-in-class processes.  That's the only way these providers can build scale and make decent margins, which in turn allows them to focus on helping their clients find new sources of productivity and growth.
Genpact has set out its stall to compete, not to get bought
There's no doubt the recent speculation surrounding Genpact's future hurt the company – and morale hasn't been too great as a result.  That's just business when you're a market-leader in a high-growth market with a large number of prestige clients.  Speculation of being an acquisition-target doesn't bode well in deal pursuits, where the last thing prospective clients want is to select a provider to manage their intimate processes, when they may become absorbed by a provider with a completely different culture.
There's been little doubt Genpact needed to either merge with a strong IT services major, or look to acquire greater IT competency itself.  Clearly the latter scenario has won out, with Genpact shelling out $550m on Headstrong.  And, while many people have been somewhat confused about this move, what other play was Gen to make, to enhance its IT-enablement competency?  Most of the second-tier IT services firms are over-priced (even though Headstrong wasn't a bargain), and aren't offering much more than bums-on-seats IT scale.  Patni may have been interesting, but iGate won that battle, even though a Genpact-Patni merger would have been a stronger proposition.  History is history, and Genpact can now shake off the rumor-mongers and move on with a fresh impetus and attitude with this new direction.
So what are the plusses and minuses?
Plusses:
Headstrong is up the road from the Genpact HQ in Noida, allowing for staff training and easier cultural assimiltion (lots of cricket and football matches).  Also, easy to poach staff from neighbouring EXL (just kidding).

Bolster's Genpact's industry footprints, positioning and capabilities in the burgeoning capital markets, financial services and healthcare payor verticals at a critical time when competition is very hot from the likes of Accenture, Cognizant, IBM, Infosys and TCS. Financial services has actually been declining at Genpact for the past couple of quarters, where it's been booming for everyone else.  This slide should now be quickly arrested.

Genpact can now own and grow and run its new capital markets and financial markets vertical separate from banking and insurance – the need for institutional knowledge is key for specialization.

Headstrong adds some genuine IT consulting muscle.

Not a lot of client overlap; dilutes GE concentration to less than 30% of total revs on pro forma basis.

Strengthens Genpact's onshore delivery in the US, UK and Japan – three of the major growth markets for BPO.  Also brings China and Europe to the table for driving further growth.

Dampens speculation of them being acquired for a while – only a very small handful of providers could now afford Genpact.
Minuses:
The acquisition was a little "lumpy", even with a 20% growth rate forecasted and undisclosed profitability (but everyones' overpriced right now).

Will stretch the current Genpact management model with the expanded onshore presence and capabilities.

Headstrong doesn't have proprietary platforms that can be immediately leveraged.

Genpact still needs to examine further IT-centric acquisitions to broaden its full-service global capabilities – its cash resources have been heavily depleted after this, hence it will need to look at stock-swap deals.
All-in-all
We were, initially, quite surprised – and curious – with this move, but the more you look into the motives and fit, the more you realize it's an important forward step for Genpact, at a critical juncture in its corporate development.
What competitive reaction can we expect?
The IT services providers with struggling BPO businesses will be nervous by this play.  As we mentioned last year, BPO requires significant investment and patience – and the stakes just got that bit higher.  However, we may finally see some BPO investments in the $500m-$1 billion range, with the small number of remaining BPO pure-plays looking increasingly vulnerable.  We will also see an acceleration in acquisition of financial services captives, some of which will likely become public knowledge soon.
Exciting times for the BPO business!  What do you think?
PF.
Posted in : Business Process Outsourcing (BPO), Captives and Shared Services Strategies, Cloud Computing, Financial Services Sourcing Strategies, Healthcare and Outsourcing, IT Outsourcing / IT Services, Procurement and Supply Chain, SaaS, PaaS, IaaS and BPaaS, Sourcing Best Practises, Sourcing Locations