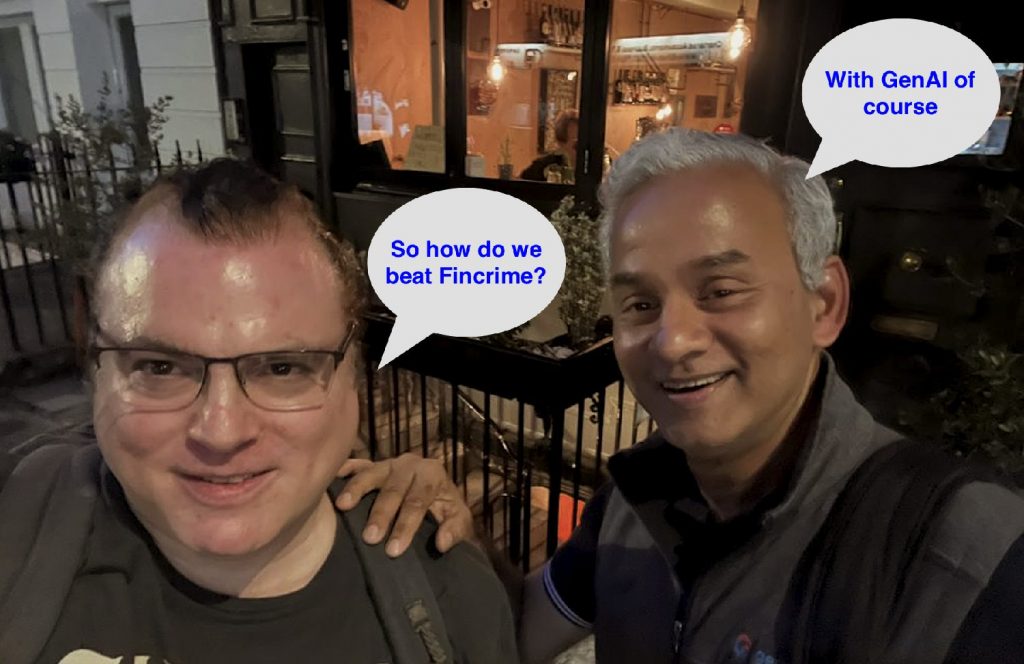 You know what we're sick and tired of at HFS? Ridiculous empty-promise press releases touting GenAI capabilities with no in-production use cases or substantiated benefits.
You know, the ones boasting "widget ABC now with generative AI". A close second on the naughty list is press releases purporting to showcase generative AI capabilities but are really promoting the same non-generative AI capabilities they already had.  Then there are all the promises of billions of dollars of "investment in GenAI" without any sort of accountability they'll ever be held to it.
Let's be honest, the entire marketplace is exhausted by genAI-washing, where everyone can pretty much claim whatever they want and never be held to account. This is such a shame because the potential is massive as we explore the seemingly limitless possibilities of GPT4 technologies.
So when we do manage to find actual GenAI use cases that are in production with real live customers and delivering benefits, we move like the BS-busting analyst cheetahs that we are, and we cover them! This was the case when Genpact briefed us on its newly developed anti-financial crime (fincrime) regulatory risk and compliance GenAI capabilities (see news release here). We approached with an appropriate level of "show me the outcomes" cynicism and were pleasantly surprised to find that despite its shiny newness, its capabilities were developed with not one but two actual clients (gasp), and they were showcasing in-production use cases.
Anti-fincrime regulatory compliance – super important, super manual
Despite financial services firms being the early adopters and now long-time poster children of applied automation and AI, these capabilities have not been adopted consistently across all business functions. Areas like shared services, risk modelling, and customer service have benefited substantially from intelligent automation beating down the manual processes caused by compounded legacy tech debt. But many processes within anti-fincrime functions like fraud, know your customer (KYC), and anti-money laundering (AML) have proven to buck the trend by being non-standard, requiring humans to make final decisions, and/or not being sufficiently explainable to satisfy regulators. The current state reality of many fincrime groups within financial institutions is loads of humans generating content to enable or justify decisions. This is intense, detail-oriented work in a specialized domain with a high burn-out rate.
Genpact, some edgy riskCanvas clients, and AWS came together to make fincrime compliance less soul-crushing
Genpact acquired riskCanvas, a software suite of AML solutions and a related consulting practice, from Booz Allen in 2019 to help enhance its fledging risk and compliance practice. A couple of Genpact's riskCanvas clients, including Apex Fintech Solutions, were excited about the potential of GenAI and agreed to a discovery session turned hack-a-thon with Genpact and its partner AWS to road test AWS' Bedrock foundational AI model capabilities. Genpact and its clients leveraged their respective private and secure data from riskCanvas, chronicling years of AML events, to feed various foundational GenAI models. The initial results were so encouraging they transitioned to a full-on hack-a-thon at the Amazon2 headquarters. From the event, two use cases rose to the top as offering the greatest immediate impact:
Automated sanctions screening alert decisioning – potential sanctions match data is automatically analyzed and compared against thousands of previous alerts, resulting in a detailed explanation of findings and suggested decisions. Human analysts make the final decisions. The benefits impact is 70% reduced handle time.
Suspicious activity report (SAR) narrative writing – automating the time-consuming summarization of SARs, including filing details, subject information, transaction patterns, and activity analysis, all based on an institution's established standards and languages. Human analysts provide final review. The benefits impact is 60% reduced handle time.
It is critical to note that the generative capabilities of GenAI are also used to produce explainability statements. The hack-a-thons took place in July 2023. These production use cases were hardened and put into production quickly because the necessary data was available and already hosted securely on riskCanvas in the AWS cloud. Also critical to note – these are publicly available models used privately in a static format to ensure privacy.
Other use cases have also been identified – all loosely in the ilk of fincrime functions with loads of content documentation that needs to be produced and is currently heavily manual – like customer due diligence review and summation, case review and summation, fraud alert decisioning with detailed explanation, transaction monitoring alert decisioning with detailed explanation. You get the picture.
The bottom line. Genpact makes a bold step forward to make GenAI real and impactful in fighting financial crime. Banks tired of analyst burn-out take notice!
Nothing happens if you don't try. Failing fast is a great mantra, but it requires effort. Kudos to Genpact, its intrepid clients, and AWS for experimenting and succeeding in building in-production GenAI models that can legitimately help better fight financial crime and improve the harried lives of fincrime analysts. The regulatory burden of documented proof of decisioning is a heavy lift for firms of all sizes. But it is a problem screaming for GenAI solutions – literally, the power of generative content trained on private data from past reports – is an ideal fit.
The rub for fincrime compliance typically is unhappy regulators. The critical nuance here is GenAI enables the humans, with humans taking all final decisions with full explainability documented.  Here are our critical focal points for successful GenAI: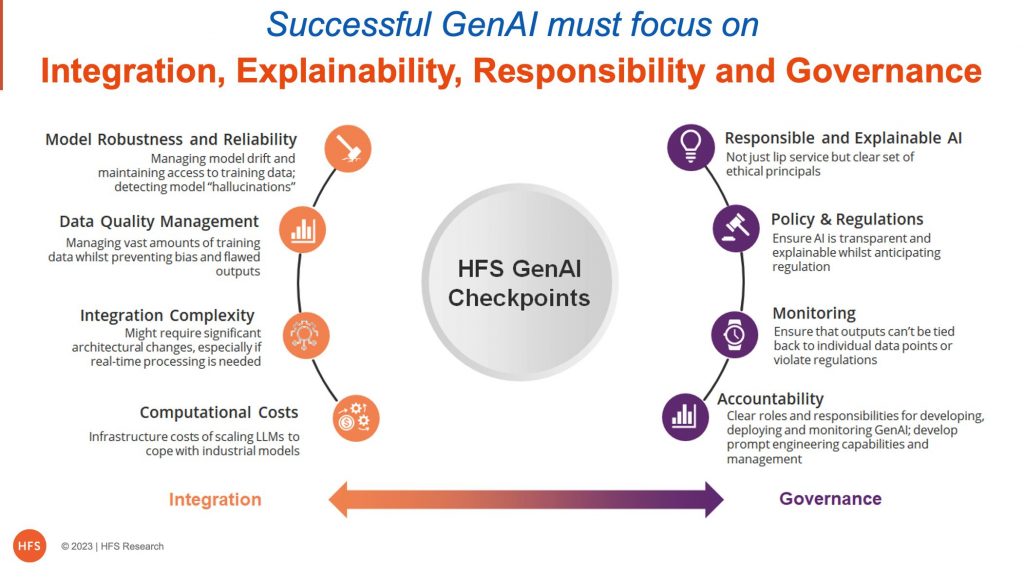 While this is a real and decent step forward, as with so much of applied automation and AI – it is focused on making existing rule-based processes less manual – rather than changing the processes. While the industry works towards a future of less rules-based fincrime compliance processes, Genpact's riskCanvas GenAI is a much-needed step in the right direction.
Posted in : Artificial Intelligence, Automation, Banking, Buyers' Sourcing Best Practices, ChatGPT, Fincrime, GenAI, Generative Enterprise