Our recent State of Outsourcing study, conducted with the Outsourcing Unit at the London School of Economics, has been uncovering many home-truths about why some industries are more motivated than others to externalize their support operations to third-parties.  
However, one factor that is continuously being reinforced, is that those organizations being impacted by radical, fundamental shifts to their very industry economics, are more prepared than ever to admit they need to look outside of their current organization boundaries to keep their business operations cost-competitive.  Simply-put, secular change crystallizes options for businesses and the outsourcing planning process often becomes more clear-cut as a result.
Buyers today are figuring out where to focus their outsourcing plans to benefit the core business
Increasingly, we are seeing a realization that retaining some processes internally isn't – in any shape of form – bringing organizations a competitive edge, and these sourcing decisions are no longer only about cost – they represent a fundamental change in the way business leaders now view outsourcing as an integral function of their operations.  For example, does a bank lead its market because it processes mortgage applications better than its competitors?  Or would its management rather find someone else to process them at lower cost, using industry-standard process flows and technology, while they focus internal competency on business functions that can help them gain marketshare, such as smarter customer targeting, or  upselling new product through customer support channels etc.  And does a retailer really need to maintain its entire application portfolio inhouse, when it can devote its internal talent and IT resources to improving its customers' online shopping experience, where it can actually grow its business?
Today's buyers are getting a lot smarter at figuring out how they can improve their organizations by using the resources and knowledge available through third-party relationships.  Examining plans to outsource over the next three years reinforces this mind-shift: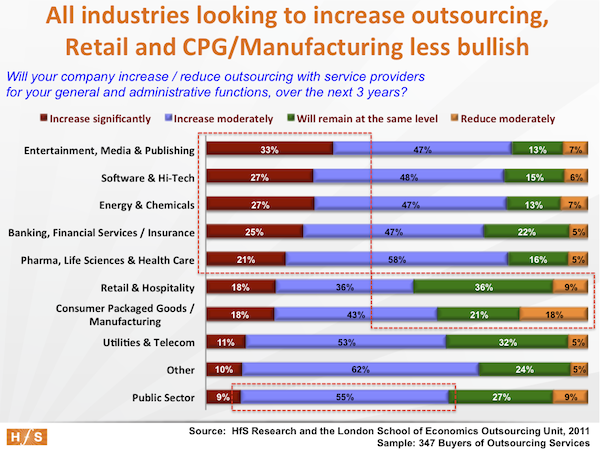 The Secular-Shifters: Gearing up with long-term aggressive outsourcing strategies
 The five most bullish industries planing significant increases with outsourcing, are not only basing their planning on their proven, ongoing cost-reduction outcomes (see Part I), but also because the fundamentals of their industries have dramatically shifted in the recent past, for example:
Entertainment, media and publishing:

 

The crash of newspapers and network news; The Web 2.0 impact; Radical new distribution and business models.
Software and Hi-Tech: Rapid commodotization of packaged software models; Impact of Cloud computing on licensing and pricing dynamics; Dominance of India, China and other low-cost nations to drive out the cost of development;  Willingness to "Eat their own dog-food" as providers of outsourced services themselves.
Energy & Chemicals: High price volatility for oil products; high capital costs of oil exploration projects;  Shortages of talent;  Aging infrastructure and constantly-changing compliance requirements.
Banks: Massive de-leveraging; Re-regulation; Unprecedented debt/credit pressures.
Insurance: New compliance measures (Solvency II, ObamaCare) causing unprecedented administrative cost and workload; Shortage of risk analysts and actuaries to take on the higher level work.
There are just a few examples of major industries, being shaken to their very foundations, where we can reel off secular shifts driving unprecedented demands on organizations to remain profitable. Is it any coincidence that it's these industries that are today being the most aggressive with embracing third-parties to redefine their global operations?  Secular changes drive bolder, more radical behaviours, and it's already clear that a more aggressive approach to outsourcing is high on these organizations' agendas.
The Penny Businesses: Living month-to-month
Industries such as retail and manufacturing, one can argue, have already been through their secular shifts over the last three decades or more.  While they have had to experience much fundamental change, for example mass globalization of markets and volatile changes to consumer spending behaviors, the very essence of these industries is still the same – their organizations are focused on inventory management and supply chain optimization, maintaining operating margins and accurately predicting demand. To them, outsourcing has always been an option, and has been readily explored over the years to find more pennies to save. Hence, it's no surprise that these organizations are more conservative with their long-term operational planning.  Moreover, these businesses are typically reactive to market conditions and often radical long-termism doesn't fit as well with their mentality, especially when faced with uncertain times ahead. In addition, many of them have already shaved their operating costs to the bone, hence digging out new productivity benefits via outsourcing is often challenging – and mistakes can prove fatal in a low-margin business. While heavy outsourcing adopters in the past, we expect these sectors to remain focused on outsourcing, but with a large proportion opting for a more reserved approach.
The Public Sector: Facing up to unprecedented challenges
One industry which is going through more secular change than any today is the Public Sector.  Quite simply, national and local government bodies are under unprecedented pressures to drive austerity measures and make long-term plans to drive new productivity programs.  This explains why 55% of public sector bodies actually foresee some moderate increase in outsourcing activity over the long-haul.  Huge political bodies, such as the US Navy, NASA, the UK Inland Revenue and National Health Service – and even the FBI – all outsource elements of their operational support functions to varying degrees. With increased onshore delivery resources becoming available from several providers, this could well turn out to be a surprisingly large growth sector for outsourcing.
The Bottom-line: New fundamentals are creating new rules, and outsourcing could be a significant beneficiary
Outsourcing would appear to be entering a new era – one where organizations can no longer afford to ignore its benefits.  Moreover, as these radical and secular changes to many of our core industries take hold, business leaders simply cannot  overlook the competitive advantage outsourcing offers: enabling them to focus on developing competitive advantage.  These secular shifts are threatening the survival of many businesses, but at the same time are opening up major opportunities to build smarter, more globalized and leaner organizations. As we venture into unprecedented times of uncertainty  that are bringing new challenges, business leaders can no longer afford to cling to many of the methods of yesteryear to steer their organizations, and this data points to a more bold, radical approach to embrace the benefits of global sourcing.
Posted in : Business Process Outsourcing (BPO), Financial Services Sourcing Strategies, Healthcare and Outsourcing, IT Outsourcing / IT Services, Procurement and Supply Chain, Sourcing Best Practises, sourcing-change, state-of-outsourcing-2011-study, the-industry-speaks