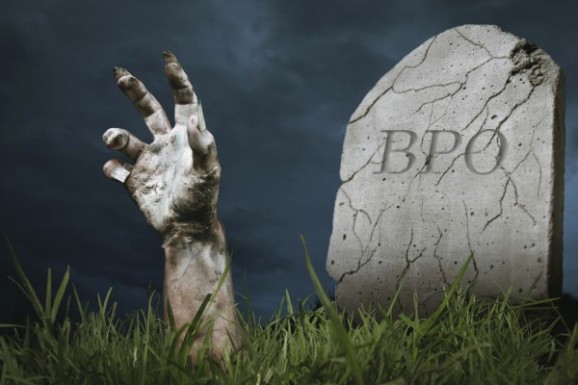 If I had a Bitcoin every time someone claimed that BPO is "dead" / "hitting the bottom" / "merely staff augmentation that's going away soon", I could commission a whole team of robots to write this blog until the new year. And Accenture's recent decision to drop outsourcing from its tag-line and submerge "BPO" under the broader term "Operations" felt somewhat like a death-knell for the troubled terminology.
However, I would argue that BPO is just at the beginning of a much more dynamic phase of its existence and is at least three years' away from the term being put to bed.  BPO will evolve into "progressive operations" in time, but as our research illustrates (read on), the BPO market is still immature and has some room to grow before it becomes mainstream.
BPO is a powerful term – it genuinely implies the transferral of the management of processes
As negative as the connotations of BPO have been in recent years, it has a powerful meaning for businesses today. "Outsourcing" has always signified the transferral of the management of work to a third party, while the broader term "services" just means "work".  "They performed services for us" can mean anything, from little projects through to a much larger array of operational delivery.  "I outsourced my xxxx to them" means you actually transferred work to the third-party to manage for you on a consistent, ongoing basis.
I would also argue that "outsourcing" is appropriate during the early stages of transferring work to a third party.  Once that relationship is fully operational and the management of said work already outsourced, then both the client and provider will naturally start calling it something else.
Outsourcing is the correct term to use when the externalization of operations is nascent
Synonymous to this theory is IT.  Remember how everyone used the term "ITO" in the late '90s through mid-2000's to describe their sourcing of IT to the EDSes, IBMs and so forth?  But today, "ITO" is pretty old-hat – people just call it "IT services", even though so much of it has already been outsourced. Outsourcing was a more appropriate term during those years clients and providers were grappling with all the challenges to make outsourced IT operational and effective.
However, once outsourcing had become the norm with how most enterprise clients received a portion of  their IT services, it was no longer outsourcing – it merely became the way they ran their IT. It's the same with manufacturing, which has been outsourced longer than anything else, for example, many years ago, Apple outsourced its manufacturing to a Flextronics, but now it's merely how Apple makes its gadgets.
Four-fifths on business operations are still in inhouse  
I believe the same will eventually happen to BPO as more companies do it, but as our recent study of 343 major enterprises with KPMG discovered, around four-fifths of business operations are still sitting inhouse, either in decentralized business units or in shared services, still burning up the payrolls of the majority of global enterprises:
On average, close to 40% of IT (apps and infra) is outsourced today.  "Outsourcing" of IT is pretty mature – it still clearly has a lot more wiggle room to grow, as close to half of IT is still run from shared services operations, but the level of outsourcing of IT is double that of finance, HR, procurement and supply chain. Until these business process areas surpass at least 30% outsourcing penetration, most firms are still in these early, nascent phases of externalizing the management some of these processes and are hence doing "BPO".
BPO isn't the dirty word anymore… it's "operational labor costs"
Cutting to the chase, today's corporations are on an inexorable quest to reduce their reliance on operational staff and align as much of their talent with the "front office" where they interpret data, sell, market or strategize.  Noone wants to hire operational staff these days unless they really have to.  And BPO is just one of lever of several levers for COOs to pull these days, as this quest gathers steam.
Hence transactional/operational labor costs are the new no-no – and if you're in IT or business operations today and merely doing operational work, there's a strong chance, over the next 2-3 years you will be:-
a) Replaced with a SaaS app;
b) Outsourced;
c) Robotized;  or simply…
d) Fired.
So that means many IT/ops staff may be forced out of their firms into manual jobs, or (if they're lucky or smart enough) will shift to the "front office" where they interpret data, sell, market or strategize.  And many may opt to ply their trade with BPO providers.
The biggest single problem facing the future of the white collar industry is what to do with all these "operational" people as they can't all be reemployed as "value-add staff" – there won't be as many vacancies to fill and many staff simply do not have the skills.  In short, we're likely facing an employment crisis of unforeseen proportions, due to the sheer speed of automation and commoditization today – and this will especially affect the mid-career folks who have waited too long to re-skill themselves.
The Bottom-line:  BPO is one of several levers for COOs to pull as they seek to refocus their internal talent on front office activities
In short, providers can call "BPO" whatever they want.  In their eyes they are providing managed expertise – and the leaders like Accenture, Capgemini, Genpact, Infosys, HP et al. want more than just the BPO piece of the pie – they want the IT enablement, the end-to-end process… they want the operations to run.  And the BPO opportunity is much more than simply taking on a few back end processes at lower cost – it's about freeing up enterprises to focus on areas that are relevant to their growth and competitiveness. The better the providers get at delivering the standard BPO services, the greater the opportunity for them to take a bigger piece of the pie.  And this is eventually when BPO will fizzle away as part of a broader operational service that is being provided… but it's not for a few years yet as the data above clearly tells us.
But let's not get caught up in terminology – the real issue is how ambitious enterprises are taking a much more mercenary approach to running their operations in today's market – why add staff to support processes that are becoming obsolete?  In areas where common standards represent an acceptable level of performance, SaaS will rule – such as payroll, accounting, indirect procurement and so forth. You can buy your SaaS and be done with it. Smart firms "born in the cloud" are not looking to hire operators anymore, unless they absolutely have to. You can run a company off Legal Zoom, Intuit, Google etc with a small number of (or none at all) operators.
However, in the areas where enterprises can still gain competitive advantage, namely where there is room for innovation, growth and productivity improvements, this is where companies will need help selling, marketing, strategizing, analyzing, designing etc. It is these people in the "front office" who need to lead the decisions on an operations backbone to support the business, but it's how these operations and their supporting systems are configured to support business usability that really matters.
The core questions will be "how can I get the data I need to make this decision" and "how do I find the right supply chain partners to get my products to XYZ quickly" and "how do I find the right channels to promote my product" etc. Their systems need to support answers to business problems, not create more problems (like how do we get the stuff from Salesforce into that new analytics tool we bought and run a profit/loss scenario in the accounts system etc).
And the scary part that is coming, is if operational heads can't design these operations and supporting systems effectively, their COO (or whomever) will cut a deal with a partner who can. There will be no room for prisoners any more.
So when firms like Accenture drop the term "Outsourcing" and replace it with "Operations" they are really saying "stop trying to fix the little things, just hand it all over to us as you know you can't run them effectively yourself".
Posted in : Business Process Outsourcing (BPO), Captives and Shared Services Strategies, Cloud Computing, Finance and Accounting, GBS 2013 Study, Global Business Services, HfSResearch.com Homepage, HR Outsourcing, HR Strategy, IT Outsourcing / IT Services, kpo-analytics, Procurement and Supply Chain, Robotic Process Automation, SaaS, PaaS, IaaS and BPaaS, smac-and-big-data, Sourcing Best Practises, sourcing-change, Talent in Sourcing, the-industry-speaks