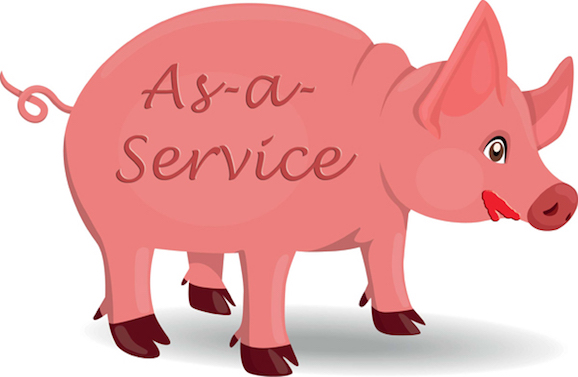 The data from our brand new "2015 As-a-Service Study", where we canvassed the views and dynamics of 716 service buyers, providers and advisors, is fresh off the analytics tools, and we're starting to unravel just how messed up our industry is, as we try and forge a path away from legacy outsourcing practices.
For starters, we asked 372 service provider executives to reveal what actions would significantly enhance their As-a-Service credentials.  Naturally, you would expect them to plump for some serious investments in new tools, platforms, talent etc.  But, sadly, that's not quite the case…
Most providers want the glitzy veneer more than the real deal
Yes, folks, most provider executives (45%) want the nice glossy magazine ads, website banners, white papers, airport billboards, webcasts etc., more than anything else.  Barely a quarter (24%) want to invest in a cognitive computing platform, a third in robotic process automation, with a similar number wanting to see their firms proactively cannibalizing their own legacy revenues to develop As-a-Service solutions for their clients.
However, providers do view upgrading their talent as a higher priority than investing in new technology, with 42% prioritzing the retraining of existing delivery teams with Design Thinking skills, and 40% bringing in consultative talent from outside to replace the long-outdated cheesy sales approach.  The services purists among us can appreciate that providers need to upscale their talent in order to take advantage of evolving technology solutions, analytics and automation offerings.
The Bottom-line:  Several providers are facing a slow death if they can't make genuine changes to the old delivery model
In all honesty, I find this data both depressing and alarming. Most of our beloved providers want to talk a big game more than having the real chops to prove it.  It's just like it was ten years ago when most providers were selling cheap offshore deals under the guise of helping clients with genuine "transformation".  Now, it's simply many providers selling a more mature offshore delivery scenario with much more sparkly and jingly bells and whistles to impress their clients.
My concern, today, is we've become so obsessed with thought-leadership and big ideas that we're losing touch with reality. What's more, it's almost impossible to tell apart most of the service providers – they all have a digital story, an outcomes strategy and at least one guy wielding some form of RPA game plan.  We can't continue in this vein for much longer – we're all getting increasingly bored hearing the same old guff.  What we need is hearing from the clients who are actually investing with their providers.  We need to hear about the incremental steps and investments providers are making with their clients to start that long transition from legacy world to that far-off As-a-Service nirvana.  We need more reality and less fantasy.
So let's all dial back the rhetoric and focus on the real investments in talent and technology that have to take place if we're going to survive in tomorrow's As-a-Service Economy…
Posted in : 2015 As-a-Service Study, Business Process Outsourcing (BPO), Digital Transformation, HfSResearch.com Homepage, HR Strategy, IT Outsourcing / IT Services, kpo-analytics, Robotic Process Automation, smac-and-big-data, Sourcing Best Practises, sourcing-change, Talent in Sourcing, The As-a-Service Economy