Folks – today we're proud to announce the unveiling of what promises to be the ultimate sourcing showdown of leading enterprise buyers and providers… in Westchester County, New York, next Spring: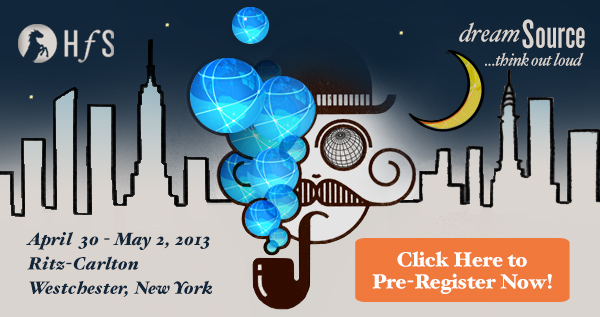 Following the unprecedented success of the 2012 Blueprint Sessions, 60 senior enterprise buy-side executives are being invited to represent their organizations at dreamSource, where HfS and the Sourcing Executive Council will facilitate private "buyers-only" sessions over three days of discussions, debate and networking. In addition, we will include selected executive leadership from top tier service provider organizations who are brave enough to grapple the following topics head on:
Designing and implementing the future operating framework for the global enterprise;
Aligning the workforce for global business services by developing our talent to go beyond tactical performance;
Changing the corporate mindset from cost-savings myopia to value-creation and growth;
Accomplishing innovation by improving enterprise and provider collaboration to achieve realistic business outcomes;
Leveraging analytics and technology as an enabler for smarter governance.
Here is some feedback from a few of the great contributors from the recent Boston HfS Sourcing Executive Council meeting:
"The HfS Sourcing Executive Council experience has provided a tremendous opportunity to be a part of changing the dynamics of this industry and I have no doubt that HfS' efforts will go a long way to enhancing the value of global outsourcing. I look forward to our next session in New York".  Steven Jo, Head of Multisourcing, Silicon Valley Bank
"I have truly enjoyed the HfS Sourcing Executive Council sessions, and echo everyone else's comment that being with the group of like-minded peers HfS has assembled is truly special. I am eagerly anticipating the next summit in the Spring. William J. Pappas, Vice President, Strategic Services & Initiatives, State Street Bank
"The HfS Sourcing Executive Council is one of a kind. Like-minded outsourcing buyers get together to discuss the key issues facing the industry, meet each other and share experiences and wisdom. This is the only place where 300+ years of deep outsourcing experience have the opportunity to meet – and that is in a very young industry. Also, it is fun to attend ;-)" Madelein Smit, VP Outsourcing, Finance and IT, CEVA Logistics
Thanks to all of you who have so passionately supported the HfS Sourcing Executive Council – we hope to see many of you back in the Spring!
Posted in : Business Process Outsourcing (BPO), Cloud Computing, Finance and Accounting, Global Business Services, Healthcare and Outsourcing, HfSResearch.com Homepage, horses-for-sources-company-news, IT Outsourcing / IT Services, kpo-analytics, Outsourcing Events, Social Networking, Sourcing Best Practises, sourcing-change, Talent in Sourcing