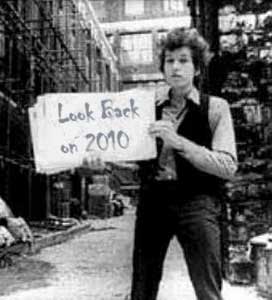 As the world prepares to hibernate and recharge its lithium batteries in anticipation of a frenetic 2011, we take a look back at the highlights of 2010, as seen by your friends at HfS Research™...
The year started out as one would expect: with resolutions. Did you keep yours? We tried. But we're sure a few "transformations" slipped out over the course of the last 12 months. Look back on this post and see how you did: New Year's outsourcing resolutions for service providers. Anyway, here are some HfS highlights from 2010:
In 2009, we were officially the first to coin the term "New Normal", only to see every other Joe Schmo latch onto it, but in January it didn't stop us from revealing the results from our "Seeking the New Normal in Outsourcing Delivery" study...in a six-part blog!
In February, we asked the musical question: Are you Ready for H-Day? Just what was H-Day? Well, if you must know, you'll find the answer here. That's right--H-Day was the day HfS Research was borne out of the Horses for Sources blog. Will they make it? Many asked... several doubted, but we're still here aren't we, calling out the nonsense... and readying to add some new faces in 2011.
And when it comes to nonsense, we like to give you some answers. So, when a term like Private Cloud comes across our screens, we have to ask: Is it the new Jumbo Shrimp? You know, is a "private cloud" an oxymoron?
As spring arrived, so too did a new healthcare law in the States. We investigated and found a scramble was under way to fine new sources of productivity. See our report here.
Innovation is a word that's tossed around a lot. And most early adopters of BPO are a tad underwhelmed with what little innovation they've
Posted in: Business Process Outsourcing (BPO), Cloud Computing, HfS Research Company News