In years gone by, TPI's Index established itself as a bell-weather for all stakeholders in the outsourcing industry – most outsourcing deals were big, everyone knew what there were, and TPI advised on a good chunk of them. The Index was a reliable checkpoint to know what was going on. However, after their recent Q3 outlook, several industry colleagues expressed concern that TPI wasn't reflecting market reality, with particular reference to their claim that the BPO industry had taken a 15% nose-dive (see slide 4 here) in 2010.
New HfS Research data that encompasses all current Finance & Accounting (F&A) BPO engagements, reveals two key factors that cause us to question the reliability of the latest TPI Index's BPO outlook:
1) Advisor-led deals are diminishing
Our latest research of all current multi-process FAO engagements, for example, reveals that five of every six engagements signed since the beginning of 2008 have been orchestrated directly by the customer.  Many of these were competitive bids, in addition to sole-sourced situations, but what's clear is a third-party advisor was not involved in process: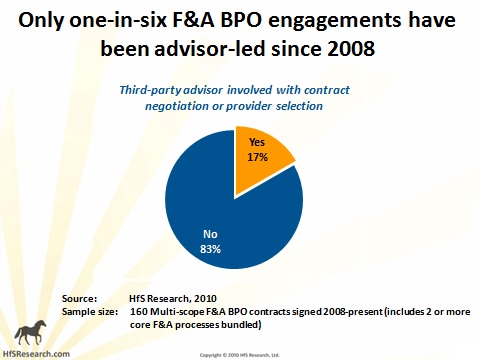 2) The average deal size has fallen below TPI's radar
TPI only bases its Index on deals with total contract values greater that $25m.  As our new research reveals, the average deal size for for multi-scope F&A BPO engagements in 2010 is $18m, and fell below the $25m level in 2007: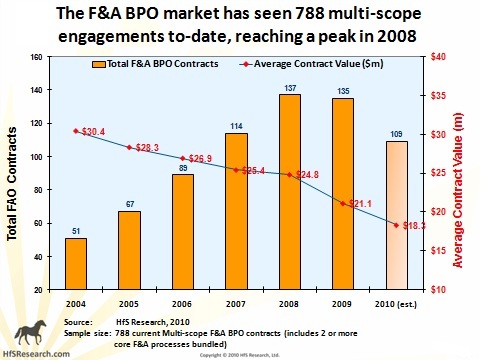 What's clear is that 2010 wasn't a banner year for BPO and growth was not spectacular, but the market certainly didn't contract – there's an additional $2bn of TCV to add to it, and at least another 100 new deals.
While we commend TPI for performing a valuable service for the industry over the years with its reporting on market trends, it concerns us that such negative reporting is sending mixed signals to the investment community, and other industry stakeholders, that the outsourcing industry is seriously faltering.  While TPI's own stock valuation maybe experiencing a miserable 2010, this shouldn't reflect on the broader industry, which has managed to continue healthy growth, in spite of the lethargic post-recession economy.
Posted in : Business Process Outsourcing (BPO), Confusing Outsourcing Information, Finance and Accounting, IT Outsourcing / IT Services, Outsourcing Advisors