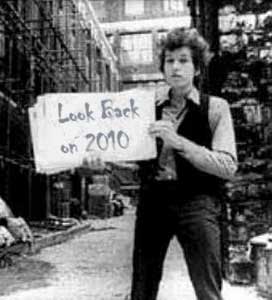 As the world prepares to hibernate and recharge its lithium batteries in anticipation of a frenetic 2011, we take a look back at the highlights of 2010, as seen by your friends at HfS Research™…
The year started out as one would expect: with resolutions. Did you keep yours? We tried. But we're sure a few "transformations" slipped out over the course of the last 12 months. Look back on this post and see how you did: New Year's outsourcing resolutions for service providers.  Anyway, here are some HfS highlights from 2010:
In 2009, we were officially the first to coin the term "New Normal", only to see every other Joe Schmo latch onto it, but in January it didn't stop us from revealing the results from our "Seeking the New Normal in Outsourcing Delivery" study…in a six-part blog!
In February, we asked the musical question: Are you Ready for H-Day? Just what was H-Day? Well, if you must know, you'll find the answer here. That's right–H-Day was the day HfS Research was borne out of the Horses for Sources blog.  Will they make it?  Many asked… several doubted, but we're still here aren't we, calling out the nonsense… and readying to add some new faces in 2011.
And when it comes to nonsense, we like to give you some answers. So, when a term like Private Cloud comes across our screens, we have to ask: Is it the new Jumbo Shrimp? You know, is a "private cloud" an oxymoron?
As spring arrived, so too did a new healthcare law in the States. We investigated and found a scramble was under way to fine new sources of productivity. See our report here.
Innovation is a word that's tossed around a lot. And most early adopters of BPO are a tad underwhelmed with what little innovation they've achieved, as our survey of 588 shared services and outsourcing executives revealed.  However, most buyers realize they need to up their game before they can throw the gauntlet down to their provider – and they also see huge potential for achieving innovation with their BPO endeavors… if you read our "Innovation Purgatory" series.
Happiness is a relative term, isn't it? But it's not fun to be unhappy, especially when you're spending money on the thing that's displeasing you–namely and outsourcing vendor. So, we wanted to get to the root of it, with Why aren't I happy with my outsourcer?
As the dog days of summer approached in the Northern Hemishpere, we started thinking about, you guessed it,  BPO's billion dollar best-kept secret. In two posts (here and here), we talked with David Andrews, CEO of UK-based pureplay BPO vendor Xchanging plc, which has revenues in excess of $1.1 billion.
You thought we were done with innovation? Not even close. In July, we released a report (Desperately Seeking Innovation in BPO: Enterprises Speak Out), which dug into the results of our earlier survey of 588 shared services and outsourcing executives.
Old buddies Ray Wang and Phil Fersht got together for a wide-ranging discussion. Although there is only one Ray Wang, there are two parts to this discussion (here and here).
Did you know that 110,000 home-based call center jobs were created in the past three years here in the US? We did, thanks to Philip Peters over at Zagada. So NPR came calling and Phil Fersht was on All Things Considered, the American radio network's afternoon show, in August.
Good things come in threes, right? Well, we found that to be the case as we added Esteban Herrera, Euan Davis and Mark Reed-Edwards to the crew here at HfS Research in September.
No sooner had we been joined by Esteban, Euan and Mark than we turned to marriage counseling, with triathlete, SCUBA diver and outsourcing marriage counselor Liz Cambpell-Evans, who desribes her job this way: "It's great fun, I often describe my job as an opportunity to meet interesting people and help them solve tough problems."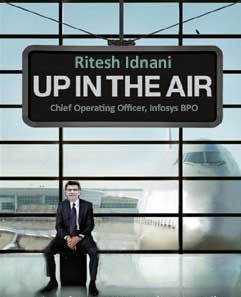 George Clooney was Up In The Air, but he's got nothing on Ritesh Idnani, COO of Infosys' BPO business. Over a three-part discussion (here, here and here), we got a glimpse at life in the new normal BPO environment, as well as a 35,000-foot view (literally) of his Infosys world.
Negotiations can be tough going. HfS analyst Esteban Herrera has seen weeping, object-throwing, suicide threats, uncontrollable roll-on-the-floor laughter, walk-outs both staged and unplanned, and even a handstand. In October, he detailed the Strange Things Happen at the Negotiation Table.
Euan Davis traveled to Prague in October to attend a CSC analyst event. In that ancient city, Euan liked what he saw. And the CSC event, which outlined twin strategies for dealing with the short- and long-term realities of how customers buy IT and business services, was pretty good, too.
November started to cloud up, as we revealed the results of our colossus survey of more than 1100 organizations across business and IT professionals – which we conducted with the London School of Economics. In part one, we looked at how business execs are buying-in to Cloud even more than their IT counterparts, which underscored that Cloud Business Services are no longer hype. Part two revealed that business execs fear its impact on work culture; IT execs doubt their ability to drive competitive advantage. Part three showed the level of agreement between IT and business was improving: business and IT finally agree – IT must tool-up to enable cloud business services. Finally, in part four, we discussed why business leaders demand business transformation support – and whether providers an gear-up to help, before finishing with a broad outlook on how Cloud is changing the future shape of outsourcing,
Vineet Nayar, CEO of HCL Technologies, was typically outspoken about Cloud at HCL's analyst day in Boston in early December. Tweets were flying about madly in the wake of his comment about Cloud being bullsh*t. But don't be concerned about figuring out just what he meant by that. We went to the source to get an explanation.
And while we were busy examining various forms of animal deposits with Vineet, Deborah Kops, delightful doyenne and describer, was joining the HfS research family to bolster our contributing analyst talent.  Debs took little time to wax lyrical about all issues sourcing change with two perceptively poetic and pragmatic pieces:  "Imperfect Arbitrage: The implications of generational shift resulting from the globalization of work" and "Outsourcing: no fun for the soon forgotten".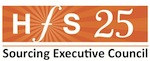 So, you're a sourcing leader looking to discuss your challenges, successes and strategies with your peers? Short of bumping into someone in the Admiral's Club, where will you be able to do that? With HfS Research, of course. In December, we created the HfS 25™ Sourcing Executive Council. And leaders from far and wide are clamoring to be part of this exclusive forum.
We all like prognosticating. Thinking about what will happen tomorrow, next week, next month or next year is an interesting occupation. Although we're not futurists or bookies, we gave it a shot in a post here and a podcast here. Check back with us in a year and see how we did.
Cloud isn't going away. To finish the year, we released a report on our study with the London School of Economics. Titled Cloud Will Transform Business As We Know It: The Secret's In The Source, the report goes into detail on the results of the study and makes recommendations.
It's been one frantic escapade here on HfS to keep track of all the core issues impacting our sourcing world, and we're already knee-deep in our 2011 planning for more to come.  However, this wouldn't be at all possible without your collaborative support… and we hope it may long continue as we embark on our journey to bring Research 2.0 to the kitchen table 🙂
Have a terrific holiday, and all the very best wishes for 2011, from the HfS team.
2011, here we come…
Posted in : Business Process Outsourcing (BPO), Cloud Computing, horses-for-sources-company-news, IT Outsourcing / IT Services, Social Networking