Last week (see post) we revealed the true impact of the emergence of Intelligent Automation on the global industry of 15 million IT services and BPO workers, revealing a net decrease of 9% and ~1.4 million jobs.
The HfS future workforce impact model predicts the likely impact of the most recent wave of automation on the IT Services and BPO industry. We estimate that the current total IT Service and BPO industry employs c15 million in 2015, with ~3.5 million in India, ~1 million in Philippines, ~5 million in North America and ~4 million in Europe.
The workers within the worldwide industry have been divided into 3 categories: low skilled, medium skilled and high skilled. Low skilled workers conduct simple entry level, process driven tasks that require little abstract thinking or autonomy. Medium-to-High level workers undertake more complicated tasks that require experience, complex problem solving, ability to learn on-the-job and to work autonomously. The model then applies underlying growth rates for each category linked to market growth. Each scenario has a different set of parameters that will impact each level of worker setting out likely degree of automation for each group and the probability that the job will be automated and in what time frame this is likely to happen. You can read a fuller description of our methodology for our future workforce impact model here.
The low-skilled United States and Indian services workforces are most impacted
So what does this look like when we drill down to the country levels of the main global delivery locations: UK, US, India and Philippines? Let's start with the low-skilled positions, greatest at risk from robotic process automation (RPA):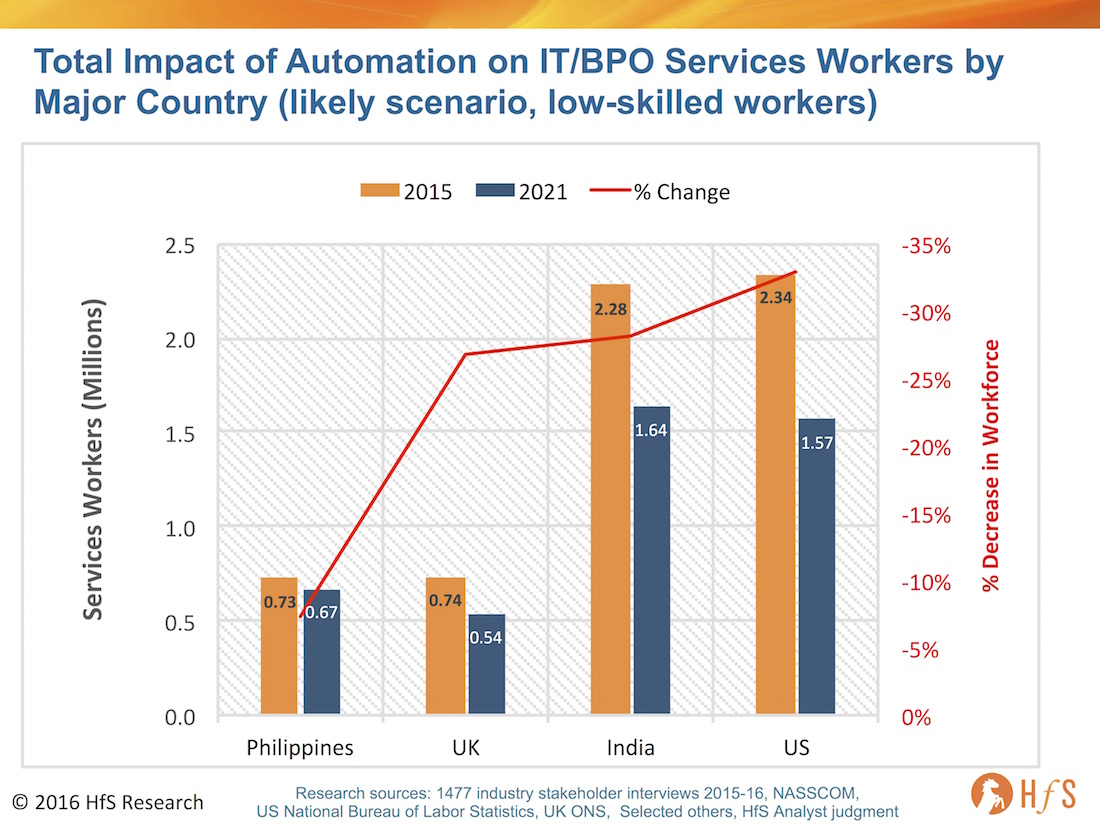 (Click to Enlarge)
As the graphic illustrates, India is set to lose 640,000 and the US 770,000 low-skilled positions by 2021 - these are decreases of 28% and 33% respectively. This is largely because there are a large number of non-customer facing roles at the low-skill level in these countries, when you take into account the amount of back office processing and IT support work that are likely to be automated and consolidated across a smaller number of workers. On the flip side,
Posted in: Cognitive Computing, Robotic Process Automation, Sourcing Locations