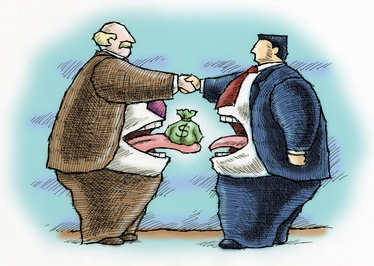 Having spent more than a decade in traditional analyst houses before starting a boutique research firm over four years ago, I've genuinely seen both sides of the coin when it comes to "pay-to-play" shenanigans with analysts.
We've heard all the accusations of vendors "buying" their positioning in quadrants, waves and marketscapes for years, and I'll leave it to your own judgement what actually transpires there.  In anycase, I think most knowledgeable people just use those things as guides when they make decisions.. and do not always take them as gospel.  Am sure we get the some sniping when we run our Blueprints, even though analyst opinion only accounts for 10% of the scoring.
However, one practice I seem to be exposed to every bloody day is the blatant opinionating from a host of "independent" analysts/bloggers/pundits/consultants /influencers/journalists who all make a living from the dirty vendor marketing dollar.
Essentially, these "independents" make money using three tactics:
Tactic 1) Pay for Praise:  
The oldest model for the dollar-eager "independent".  Simply go to vendor conferences, tweet sweet-nothings to noone in-particular (just so their marketing team notices) and write up some favorable pitch for their products/services. Then license it to them for ten grand and Bob's yer uncle. Do one of those a month and you can eke out a meager living for not using a helluva lot of Read More »