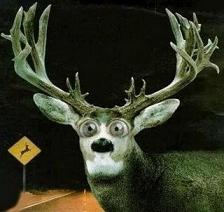 When, in history, has there existed a market that keeps relentlessly growing at 5-10% each year, with profit margins consistently at a 15-20% level; and for well over a decade? Yet you attend the annual flagship Indian IT conference only to experience an atmosphere of acute paranoia and paralysis. Is change really that frightening?
Even most clients are openly declaring they haven't had their budgets reduced - many simply aren't ready to make investments while there is such uncertainty surrounding the market because of an unpredictable US President. Even NASSCOM itself adds to the uncertainty by deferring its usual business outlook...
However, acting like a deer in the headlights is not an option. The smart strategy is to expect the worst and make measures now to get in front of it.... don't let the juggernaut, that is a protectionist US administration, squash you flat in your tracks.
Breaking out of this paralysis cycle
However negatively this could turn out for some of the Indian IT services industry – here are six simple ways to break out of this paralysis and reinvest some of these bloated warchests, before greedy investors who got rich off your spoils demand to cash in their chips...
1) Invest internationally beyond the US. Those Indian IT majors in the strongest position are those that are least reliant on their US clientele for future growth. In fact, HfS estimates $7 Trillion in B2B digital expenditure by 2020 - with only $2bn being in the US (traditionally 50% of worldwide IT spend came from the US, but digital spending - both B2B and B2C - is changing that picture dramatically). For example, the British PM is already deep in discussions with Modi about closening UK/Indo ties even further in the wake of Brexit. The UK has the potential to become a major digital hub, fuelled by Indian talent. While Brexit appears like a terrible idea on paper, change forces action and these actions will be all about increasing the flow of trade and talent with emerging nations and creating new wealth. We also see a real appetite for digital business model investments and automation by Australian businesses - and many of the Asian nations are only too happy to move from zero to hero to take advantage of the humongous digital B2B expenditure in Asia/Pacific and the rest of the world.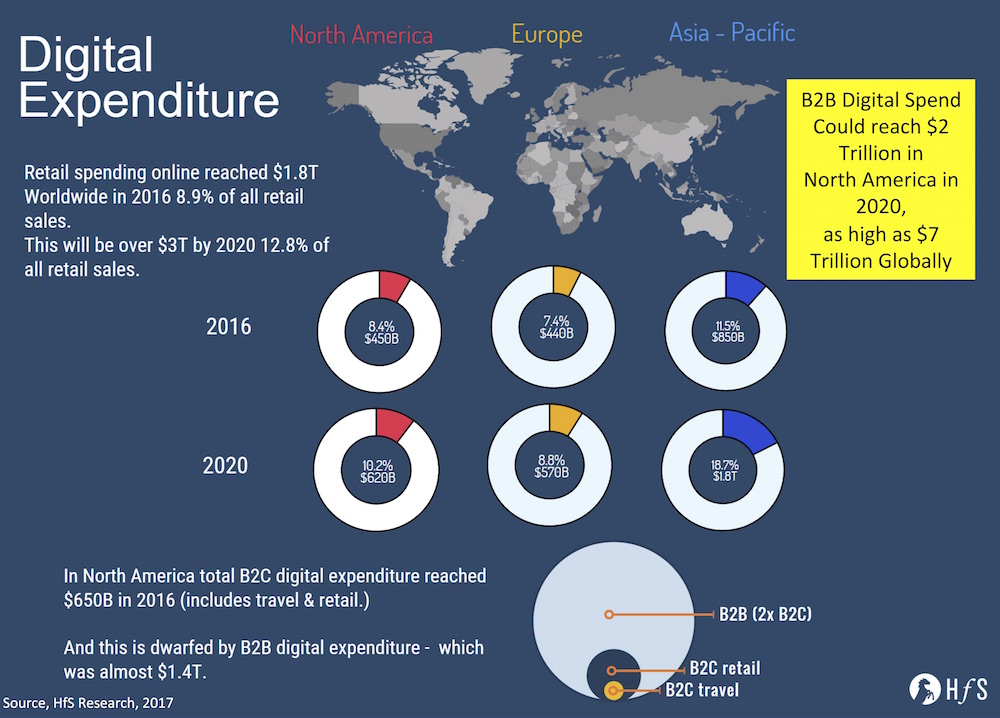 In addition, many of the European regions, such as Nordics and Germany, are now rapidly exploring more global resources to support their digital growth. If America - as it appears - is on the path of becoming a protectionist anti-globalization country for the next four years, perhaps its time to broaden your horizons?
2) Invest in a smarter onsite/offshore model that gets you closer to your customer's customer. Yesterday's IT services model was all about helping legacy traditional enterprises keep their lights on by maintaining clunky old ERP implementations keep operating, adding extra sauce to spaghetti code and keeping an eye on server outages from afar. Tomorrow's winners have moved all this stuff into the cloud and automated much of their infrastructure management. The future growth is working much closer to your customers to help them design and implement digital business models by building mobile applications, testing customer sentiment, forging partnerships and developing APIs with new digital business partners and communities. Technology skills such as DevOps, Agile, Hadoop, Blue Prism and
Posted in: Business Process Outsourcing (BPO), Digital Transformation, IT Outsourcing / IT Services