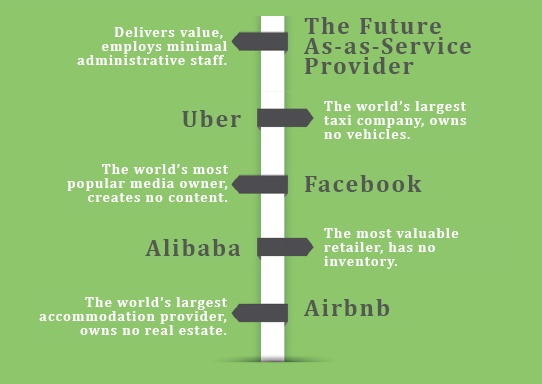 When IBM announces a 12th consecutive quarterly decline, when practically every other service provider is trying to mask layoffs and austerity plans as strategic moves to delink revenue from headcount, you have to hold your hands up and admit the services industry is going through a secular transition that is going to get considerably more painful, before it eventually reemerges in the As-a-Service Economy.
Service providers need to address the transition years we are currently in, to reach the As-a-Service promised land
With consolidation of the current environment clearly very much on the minds of senior leaders in the service providers (e.g. Capgemini and iGATE widely mooted to be close to tying the knot), it's pretty clear that we're distracting ourselves from entering the As-a-Service world anywhere as quickly as we should be. There are simply too many operations and IT careers tied to legacy ERP and business processes, and too many providers making too much money feeding off this legacy, for the change to happen at anything bar a snail's pace.  There simply is no burning platform for change – no Millennium Bug, no Dot.com bust, no Great Recession in the offing (perish the thought…).
It is my belief that we're at the start of a ten-year cycle of interim change as operational human labor is gradually replaced by automated platforms that are in turn augmented by analytical and creative talent and cognitive computing.  The smart service providers are those which are going to address this ten-year phase of transition head-on and not get distracted by maximizing their position in the old model.
So let's pick on the biggest service provider of all in the middle of this industry transition, IBM, to assess its options:
The cool stuff is all great, but the dollars are relatively small
While IBM is making many right moves investing for the long-term, it's this long drawn out medium-term period that's the real problem. Watson, Apple and Twitter alliances, its new $3bn IoT unit, Softlayer etc.  all create As-a-Service mojo, but it's going to take years to get to the revenue levels that can replace the traditional services dollars that are in gradual decline.
IBM needs to work with clients at the pace they are comfortable with, if it wants to maintain its wallet-share with them.  The problem with the current business is that prices are getting squeezed and second tier providers are getting desperate and practically buying deals with the hope of making them profitable down the road and keeping their investors happy.
The solution:  Buy TCS and create a dominant giant to crush its competitors
It's simple – make a move on the largest, most aggressive and dynamic of the Indian-heritage providers:  TCS.   Together, they would crush the market across all aspects of delivery, all verticals, Read More »