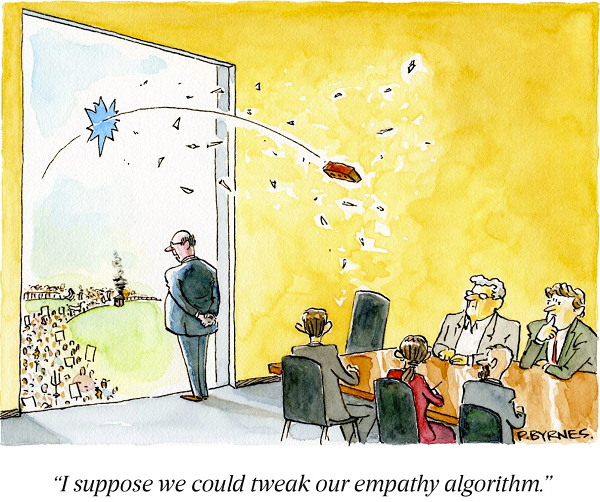 When Wipro's CEO Abid Neemuchwala announced his resignation it was a shock for employees and the industry as a whole.. but it was less of a surprise to those who knew him well. Abid's a humble, really nice guy with an incredible work ethic and intelligence.  He also has a smile that lights up a whole room.
The poor man was clearly exhausted after four grueling years trying to steer an oil tanker that clearly needs a more aggressive leader with a clear mandate to make painful changes.  Don't mistake us here – Abid is one of the service industry's greatest strategists and inspirational figures, but Wipro is not ready for this type of leader.  It needs someone who can drive aggressive change – and fast – to a company that has lost itself in its heritage culture and is slipping behind several the India-heritage services leaders in this cut-throat market.  Being a "safe pair of hands" is table stakes these days for offshore-centric services, and the winners are moving aggressively with onshore investments and outcome-driven delivery models to win the hearts and minds of clients.  While Wipro has its bright spots (read on), it's lost ground to some of its competitors and its next CEO has to make some deep changes to personal, structure, leadership and strategy if it wants to closes these gaps quickly.
With the recent CEO changes at IBM and Cognizant, Wipro needs to look more at Cognizant's recent changes if it wants to set itself on a new course for growth
Meanwhile, leadership changes elsewhere in the market have seen IBM change CEO's – a prospect that could see the lumbering firm recover market dominance and growth after several years of confused direction and taking a pounding from the likes of Accenture and TCS.
In addition, Cognizant went through a similar situation with Francisco D'Souza, who'd overseen an incredible rise of the firm, but struggled to make painful changes as the firm's leadership became complacent and lost their edge in the market.  Their response has been to appoint a dynamic young leader in Brian Humphries, whose goal is to reenergize the firm's leadership and culture.  He has already made many leadership changes, brought in several outside executives and created a culture of urgency right across the firm.  "It was like Cognizant suddenly woke up after falling asleep" was the feedback we received from several of its clients.
While both IBM and Cognizant seek deep changes within their internal culture with new leadership, they are very different beasts and require very different leadership styles.  IBM requires someone who's lived and breathed the culture and knows how to make the right changes to align with the right strategic direction.  Cognizant needed a leader to shake up a terrific firm that had become a victim of its own success and was suffering from complacency.
Wipro's board must seize this opportunity to redefine itself – and fast
However, that change was planned, Wipro's doesn't seem to have any real plan behind it – and belies a degree of chaos and anarchy that could become disastrous for the firm. In a complex and unstable global political environment, clients look to providers to bring stability and simplicity – impromptu leadership changes and boardroom dramas, while fodder for analysts and journalists, go straight to the top of the risk register in existing engagements and can see some clients back our before the ink is dry on new deals.
Infosys learned this the hard way, when its leadership troubles became an almost comic roadshow in 2016/2017. Wipro already has enough to contend with in a market gripped with buyer cynicism, hyper-competitive incumbents, and geopolitical uncertainty – at the very least it must find a replacement for Abid who will get the firm back on track and reassure the market that 2020 will be a year of progress, not chaos, for Wipro.  In addition, the next CEO must have the empowerment to make tough decisions without the constant micromanagement of the Wipro board in order to making rapid improvements to its…
Current vulnerable market position;
Mostly middling performance across market segments;
Articulation of "Why Wipro" to clients, partners and prospects.
The market reacts to the shock exit of Wipro's CEO
Unsurprisingly, the market has reacted somewhat negatively to the impromptu departure of a leading IT services firm's CEO – stock price dipped on the news after a relatively healthy opening to 2020. Under Abid, the firm pushed hard into the digital services space – and since he took up the mantle in 2016, closed the acquisition of cloud services firm Appirio, as well as design agency DesignIT among others to support the firm's strategy to move out of highly commoditized IT Services and BPO, and take a bite out of the more lucrative and rapidly growing, albeit ill-defined, digital technology and services market.
The firm push to build out digital and design capabilities has, to date, had mixed success. While the firm has been able to blend technology, strategy, and design successfully for some core clients – it has struggled to expand at the same rate as some of its competitors (see below). Furthermore, its traditional IT services business came under more pressure from the hungrier mid-tier firms, such as LTI, Mindtree and Mphasis, while its closest market competitor, HCL, has been playing a market-cap neck-and-neck race with the firm as it elevates its reputation in the market.
Under Abid, Wipro also struggled to keep its market share – falling further and further behind the rapid growth of TCS and Infosys. A market signal not lost on investors and market commentators when the CEO announced his resignation.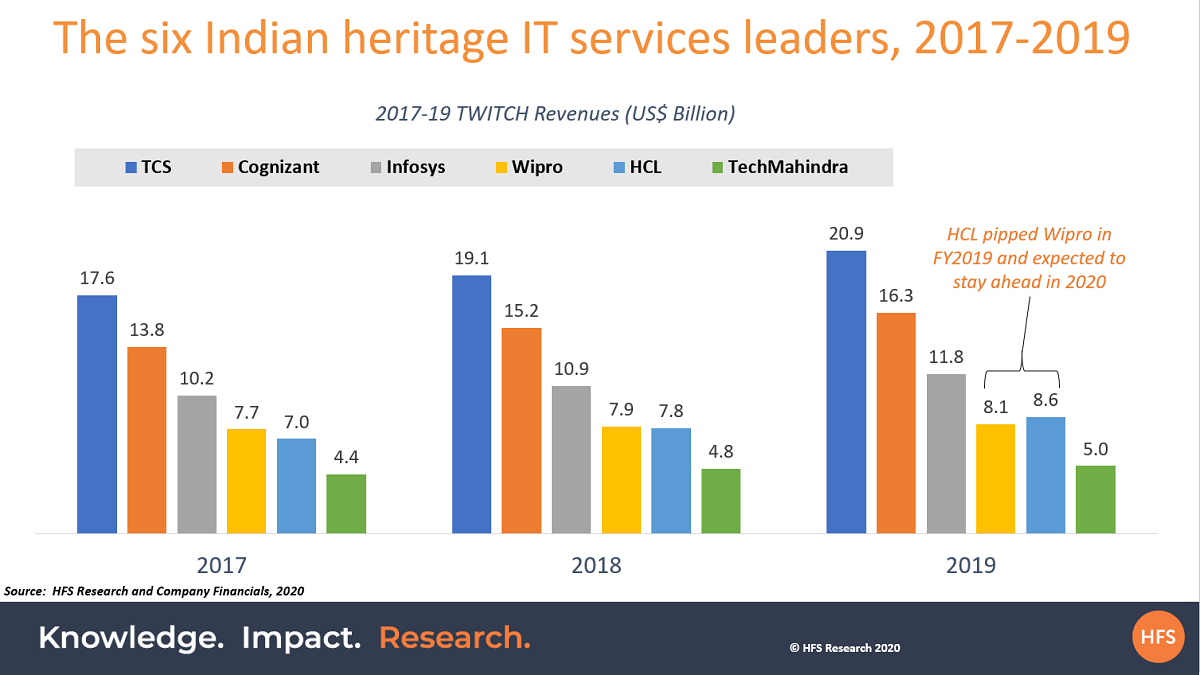 Unlike some of its competitors – such as Infosys – which have managed to keep their heads above the double-digit growth waterline for the majority of recent quarters, Wipro has only just managed to keep itself in positive growth territory. Under Abid, growth accelerated briefly at the start of his tenure, but has been on a bumpy decline since as the firm struggled to make the most of its digital acquisitions and take on rivals in the highly competitive IT services market. Even with relatively high margins, the results just weren't healthy enough for an industry that thrives on scale – and its subsequent success is marked on revenue growth. With the last few Quarters in mind, it's not hard to imagine the pressure Abid was under to make siloed and fiercely defended business units perform and rejuvenate what was one of the most promising firms in the industry.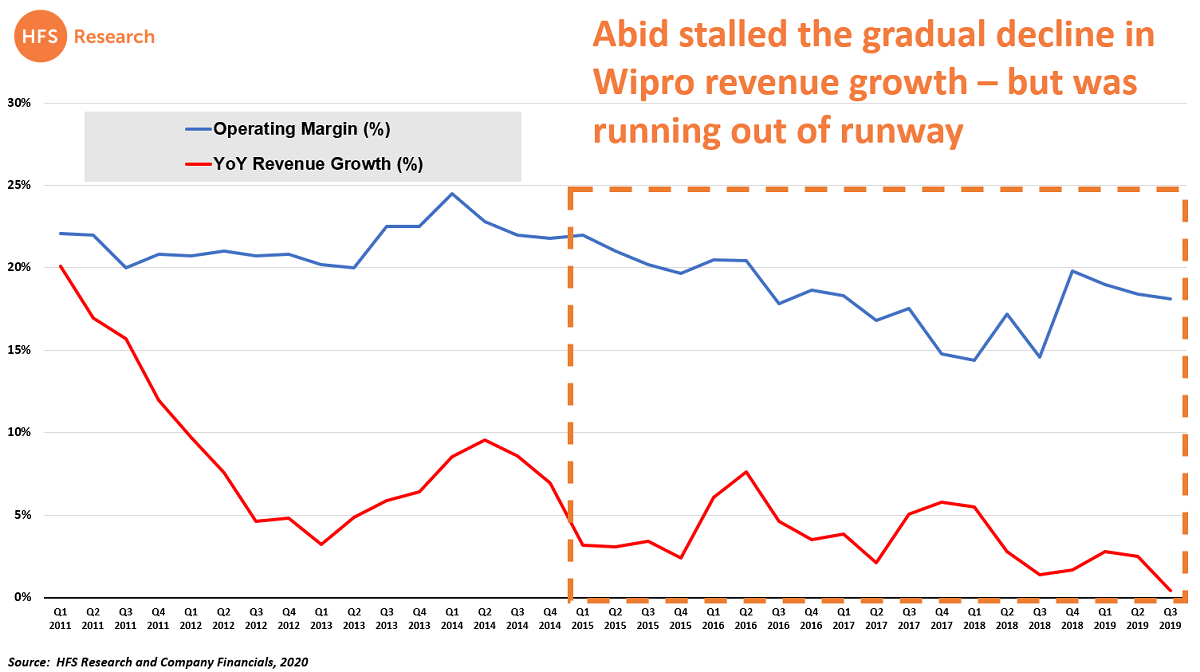 Part of its struggle to maintain market share is it's become increasingly tough to figure out what Wipro stands for. It's marketing patter touts its Big Bets in Digital, Cloud, Engineering Services and Cyber Security, but while Wipro has a strong footprint in most services but has struggled to stand out from the crowd as a leader in any.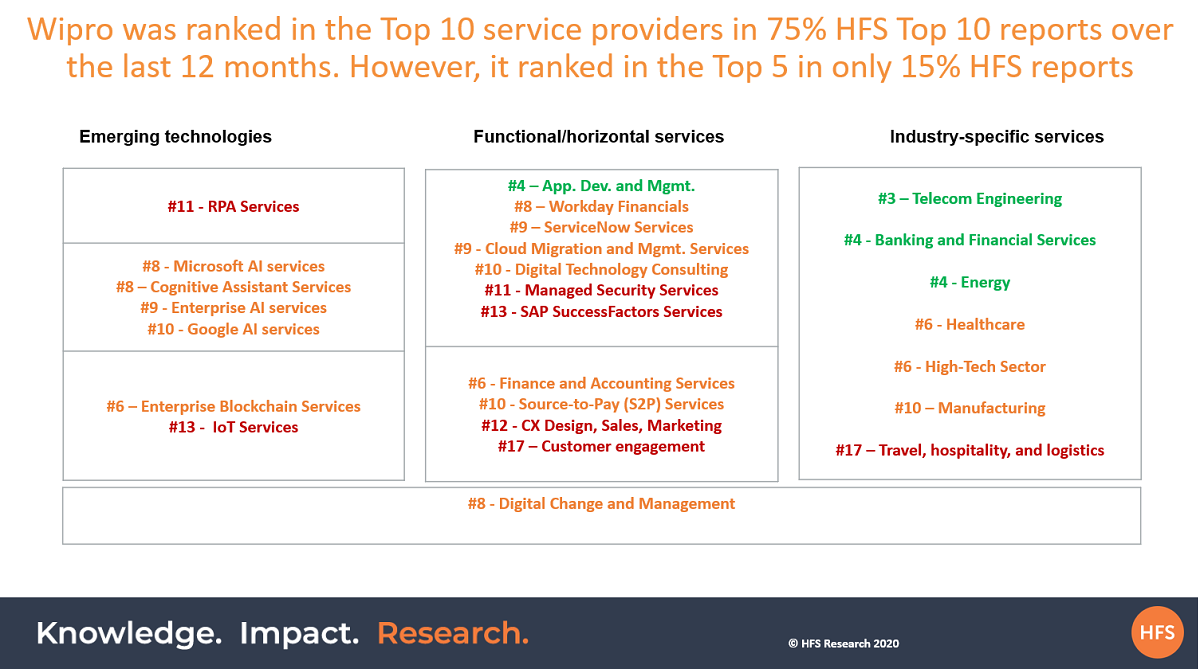 Wipro's on the hunt for a new CEO – and much like Cognizant, plans to look outside of the firm and industry
After having his teeth kicked-in by over-powerful business leads, entrenched siloed service lines, and acquired design agencies that, if we're honest, must have just felt awkward in meetings with old-school traditional IT Services leads, Abid decided enough was enough. And now the search is on for his replacement. After a nail-biting wait from analysts, employees, and the media, Wipro announced that the "board of directors has initiated a search to identify the next chief executive officer. Abid will continue to hold the office of CEO & managing director until a successor is appointed for a smooth transition and to ensure that business continues as usual."
The word on the street is the board are looking outside of Wipro and potentially out of the industry to find Abid's replacement. Cognizant, following a similar strategy has found relative success by bringing in Brian Humphries, an unknown in the IT Services space. Wipro could do the same, a fresh pair of eyes on the sprawling and undoubtedly messy delivery network could find opportunities and solutions internal talent could not.
What's a must have on the new Wipro CEO's to-do list
A new CEO will be in an unenviable position – Wipro's market share is diminishing, it has a sprawling and, for many, confusing delivery network that needs rationalizing, and disparate business leaders all pushing in different directions. Getting on top of this is a major challenge – and one even a talented leader like Abid struggled with over four years. To turn Wipro's fortunes around they must:
Rationalize, not acquire: At least for the first few months, opening up the war chest may seem like the natural way for a new CEO to make a stamp on a firm. But with Wipro, acquisitions have a checkered past, and even those that have worked have taken several years to fully embed. Instead, the firm should focus on turning around creaking business lines – and above all, get them talking to each other. A process Abid started, but sadly failed to finish.
Build a truly distinctive vision for the modern enterprise: KPMG has its powered enterprise, TCS has business 4.0, HCL has Mode 1,2,3 – what's Wipro's vision, and how does it plan on delivering it. In a complex world where buyers are battered with bullsh*t, a clear vision goes a long way. A huge part of this process will be deciding which service lines to really push talent and resources into – being a leader in everything is unrealistic, Wipro new leadership needs to carefully prioritize.
Listen to the market: Wipro's biggest issue right now is it's looking at it's closest competitors – and throwing a tantrum when a big deal for HCL pushes them above in market cap. Instead, Wipro's leadership must listen to the market, speak to clients and look at solving real problems. A new CEO from outside the industry could go a long way to bringing fresh perspective – and a fresh lens to view and plan for Wipro's success.
Be unafraid to cut deep to re-energize the culture: Many of the longstanding senior Wipro managers remain in place – and some have lost touch with the market.  While this situation is not too different from other heritage services firms, Wipro's leadership has not had the courage to remove many of its leaders who are struggling to stay ahead of the curve.  It's time Abid's successor shakes up the status quo and bring in new blood with aggression to take on the competition and hustle harder than ever to win new deals. The firm needs to move away from rigid leadership stagnation with too many stale decade-plus veterans who are impeding progress.
Re-organize the firm around how clients want to buy, not how Wipro's become structured over years of fiefdoms: Far too many clients complain that working with Wipro on solution architecture is challenging – each solution area often requires different policies, procedures, pricing etc.  Wipro has lost many deals because its rigid structure often impedes its ability to take a portfolio approach to address clients' needs. While there has been some progress made to structure relationships around business outcomes, for example in business process services and digital, the firm needs to re-think how it goes to market and services its clients if it wants to hit back hard on the Infys, HCLs, Cogs and TCSes of this world.
Bottom Line: Abid's Impromptu departure belies a degree of chaos at Wipro – and his replacement will have their work cut out for them.
Ultimately, Abid's rapid departure tells the market one thing – chaos is brewing at Wipro. Radio-silence from the firm about the departure, and the fact many employees found out when the business media picked up the story is doing little to settle nerves in the market that Wipro is in utter disarray. The board must rapidly find a replacement to calm nerves, and one that will bring much needed fresh perspective to a firm that for the last few years has grappled with a modernizing CEO taking on the mammoth task of turning the fortunes of a traditional IT Services leviathan.  Whether they opt for an internal or external candidate is not nearly as important as ensuring the next candidate has the juice to fire low performers and bring in staff to work tirelessly to restore Wipro's former glories.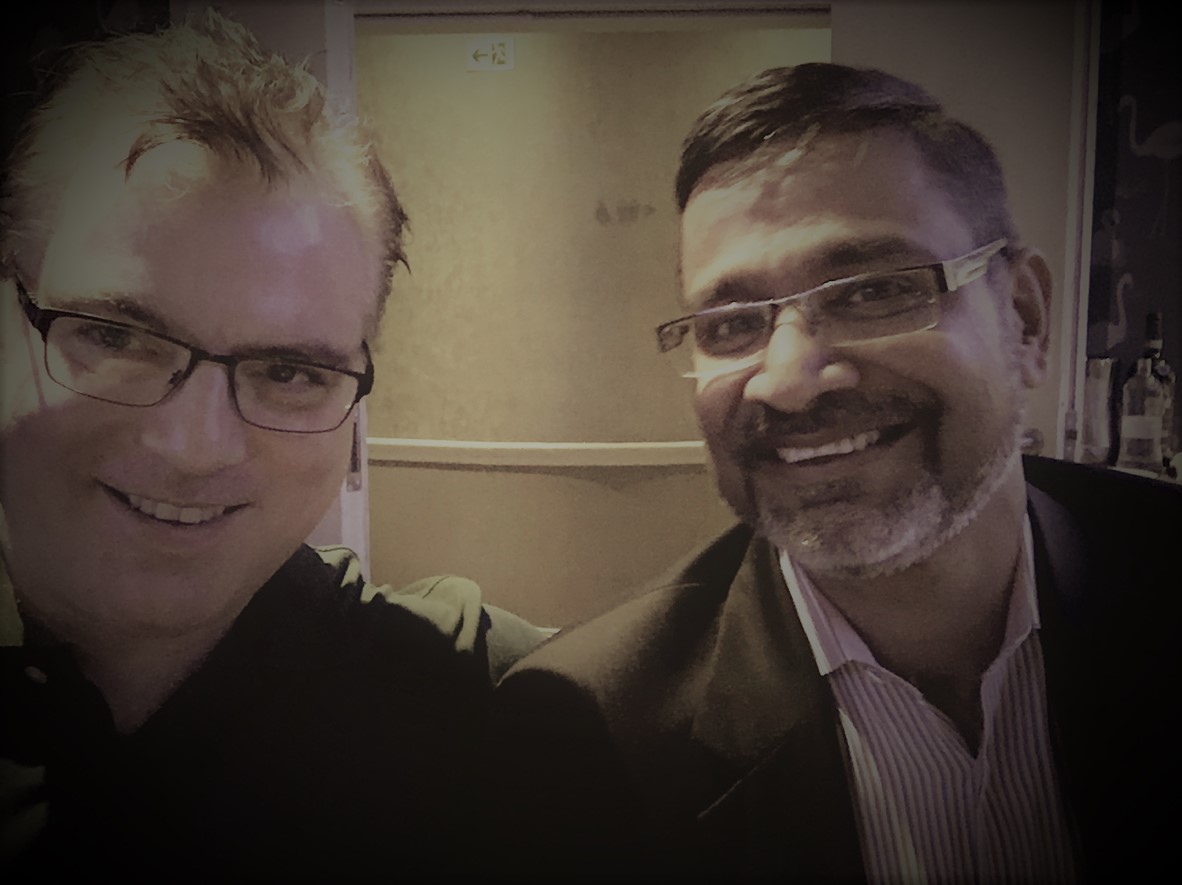 Abid showing off that smile…
Posted in : Business Process Outsourcing (BPO), IT Outsourcing / IT Services